FCC says pay TV providers and radio stations must put political ad spending information online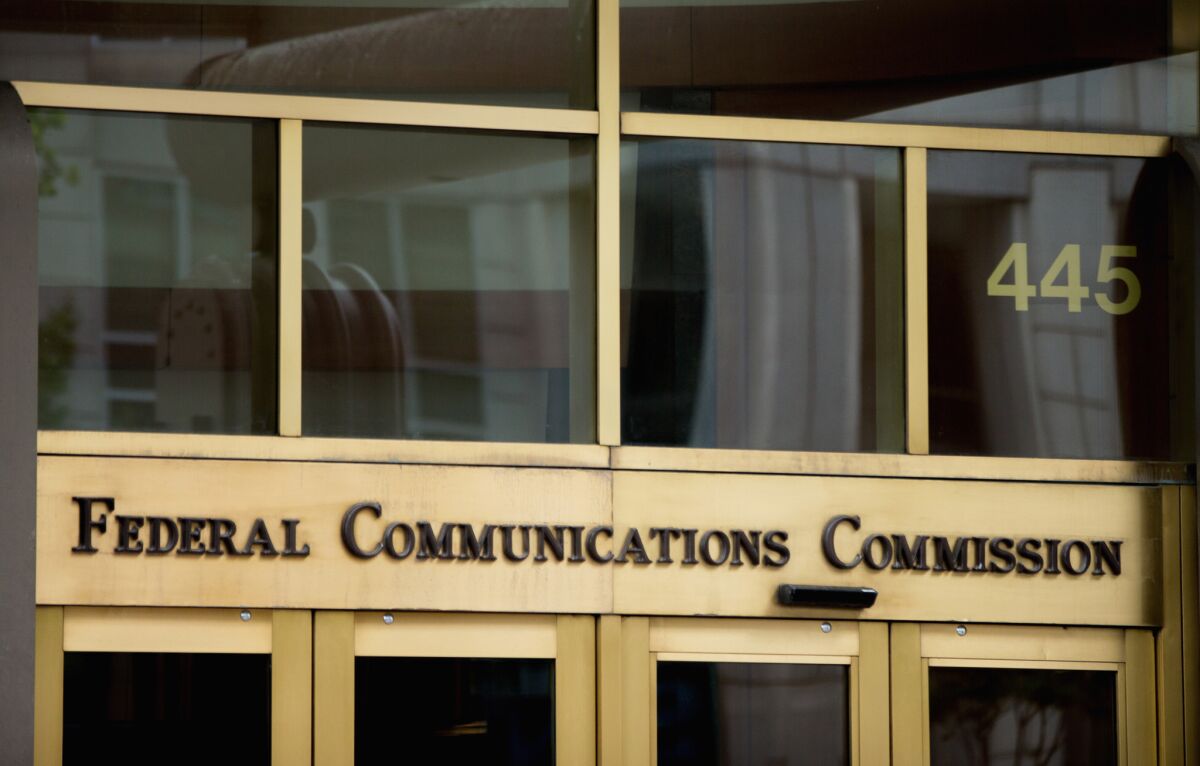 Reporting from Washington —
Federal regulators on Thursday voted to give the public easier access to data about advertising spending by presidential candidates and other political campaigns, requiring pay-TV providers and radio stations to post the information on an Internet database.
The 5-0 vote by the Federal Communications Commission expands a requirement that was placed on TV broadcasters in 2012 to make their so-called public files available on a central agency database instead of forcing people to physically view paper files at stations.
The expanded rules are expected to go into effect in time for the heavy political ad spending leading up to the November presidential and congressional elections.
"These days, it doesn't make sense for hard copies of the documents to gather dust in forlorn file cabinets," said FCC Commissioner Ajit Pai, a Republican.
Commissioner Jessica Rosenworcel, a Democrat, said the agency's rules were outdated and left the public data "locked in the information practices of the past."
"This kind of requirement may have made sense in the 'Mad Men' era, but it makes no sense in the digital age," she said of the old rules on public access.
Broadcast TV carries the most political advertising, the FCC said. But ad spending on pay TV and other media is growing so there was a need to expand the online access requirement.
The new rules apply to most cable and satellite TV providers, as well as broadcast and satellite radio.
"This is a huge step toward making political advertising more transparent," said John Wonderlich, executive director of the Sunlight Foundation, a public interest group that advocates more access to government information and the flow of political money.
"Political ad spending is already moving at a breakneck pace and the public deserves to know how much is being spent to influence our elections on the airwaves," he said.
Wonderlich urged the FCC to focus next on making the data more usable by requiring a standardized format to allow easier search and analysis.
The public files contain data about the purchases of political advertising, as well information on programming, station ownership and other details.
The rules are expected to take effect in three to six months, after publication in the Federal Registers and a review by the White House Office of Management and Budget.
Cable systems with fewer than 1,000 subscribers are exempted from the new rules because they have few requirements for their public files and do not have to provide political ad spending data. Cable systems with 1,000 to 5,000 subscribers will have two years to comply.
Follow @JimPuzzanghera on Twitter
ALSO
Retail workers would get double pay on Thanksgiving under California bill
Moratorium on Aliso Canyon natural gas operations gets Senate approval
State audit berates City of Industry accounting controls and questions employee charges
---
Sign up for the California Politics newsletter to get exclusive analysis from our reporters.
You may occasionally receive promotional content from the Los Angeles Times.