Line of ships waiting off coast grows as ports shut down for holiday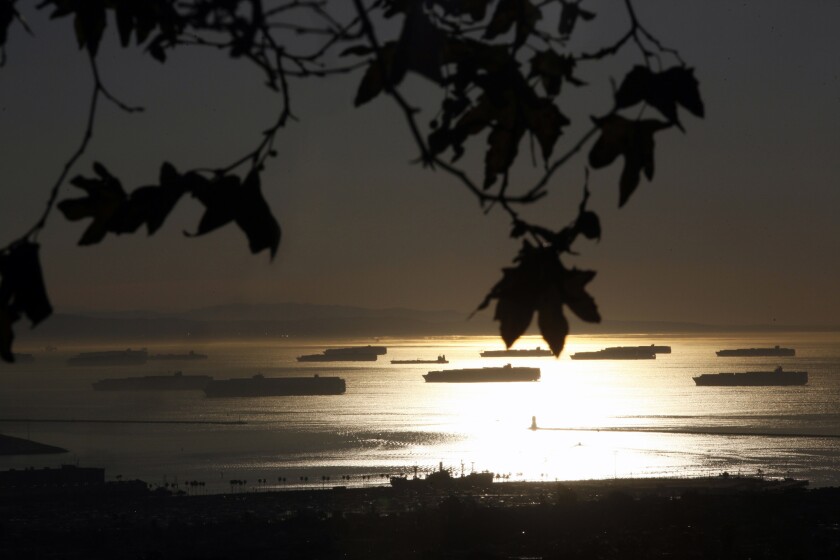 Ships are steadily backing up off the Los Angeles and Long Beach ports, as the nation's busiest complex remains largely shut down amid a labor dispute.
On Monday, there were 33 vessels anchored off the Los Angeles and Long Beach ports, unable to dock, according to the Marine Exchange of Southern California. That was three more than Sunday.
With the backlog worsening, businesses that depend on the trade gateways are hurting. They're paying extra to divert supplies by air, or simply waiting as their goods languish at sea or on congested docks.
The White House is sending Labor Secretary Tom Perez to jump-start stalled contract talks between the employer group, Pacific Maritime Assn., and the International Longshore and Warehouse Union. Perez is scheduled to meet with both sides Tuesday, according to a Department of Labor spokeswoman.
The parties have been locked in negotiations for nine months and have agreed on major issues such as healthcare. However, still undecided are rules for removing arbitrators, who settle disputes between the two sides when a labor contract is in place.
At stake is a new deal for roughly 20,000 dockworkers at 29 West Coast ports. The union has been working without one since July.
The shipping companies, who accused the union of purposely slowing operations to gain leverage during talks, have intermittently halted the unloading and loading of ships.
The companies did so again Saturday, Sunday and Monday at the 29 West Coast ports, saying they didn't want to pay overtime for work on the weekend and the Presidents Day holiday.
In Los Angeles and Long Beach, the employers allege the union is dispatching far fewer skilled crane operators to gain leverage, hampering the ability to clear the docks.
The union, in response, has said it is only limiting crane operators without the proper certification for safety reasons after several accidents.
The union charges that employers aren't training enough operators and could fill the missing positions with their own employees, instead of workers from the union dispatch hall.
Staff Writer Christi Parsons contributed to this report.
Twitter: @khouriandrew
---
Be your money's boss! Learn how to make a budget and take control of your finances with this eight-week newsletter course.
You may occasionally receive promotional content from the Los Angeles Times.