Q&A: Port dispute: What you need to know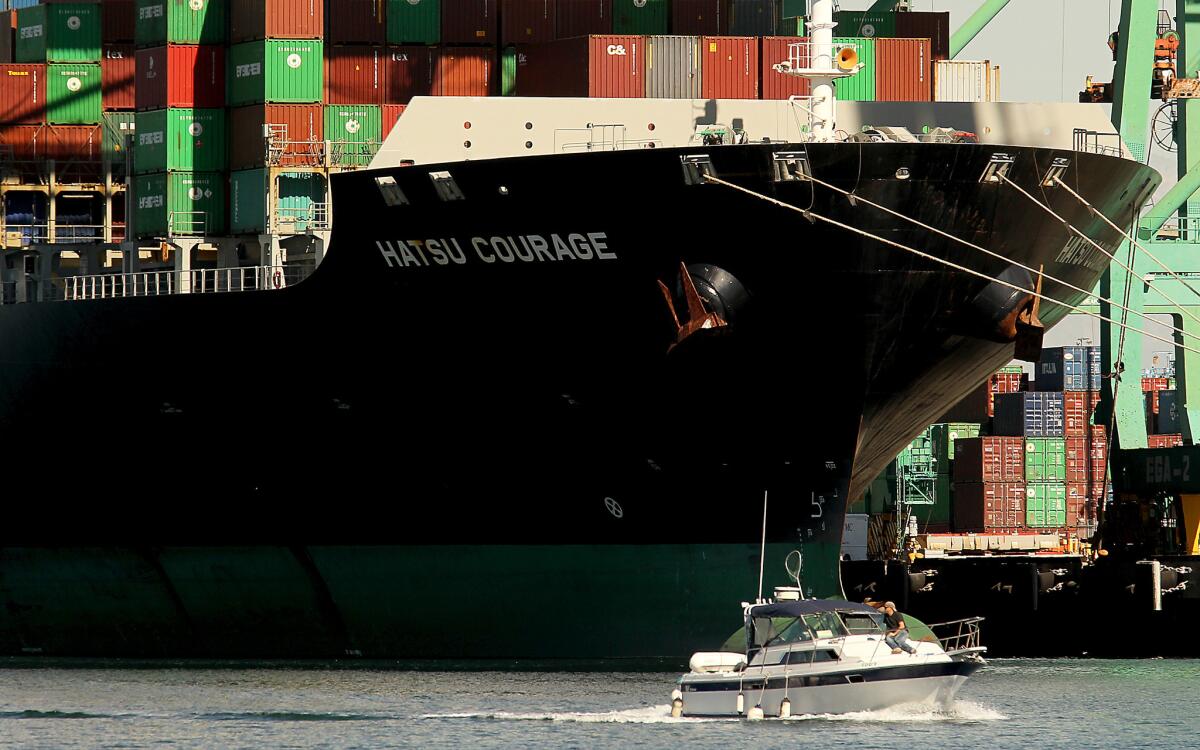 Shipping companies and dockworkers have reached a tentative deal on a new five-year contract, staving off a shutdown of 29 ports that would have crippled trade along the West Coast.
The agreement follows months of contentious negotiations and allegations of slowdowns by workers and shift cuts by employers. The dispute all but closed the ports over the long President's Day weekend, prompting President Obama to dispatch Labor Secretary Thomas Perez to jump start stalled talks.
The new deal, reached Friday, should start easing severe congestion that's been building for months at the nation's busiest ports, in Los Angeles and Long Beach, along with other major gateways.
How long will it take to clear the backlog?
Both sides have pledged to return the trade gateways to normal. However, trade experts caution the process will be a slow one.
Port of Los Angeles Executive Director Gene Seroka has said it could take up to three months to clear cargo that piled up during the labor dispute. On Wednesday morning there were 33 cargo ships parked outside the Los Angeles and Long Beach ports waiting to dock, according to the Marine Exchange of Southern California.
The congestion stems in part from issues unrelated to the labor dispute.
Before slowdown accusations surfaced in early November, the Los Angeles and Long Beach ports already were struggling with the worst freight backlog in a decade, in large part because of a truck trailer shortage and the increased use of mammoth container vessels that hold more cargo.
At the Port of Los Angeles, a single ship often carries 14,000 containers. Two years ago, a large ship would have held 8,000 to 10,000 of the steel boxes.
"These terminals were sized, in some cases, decades ago for ships a quarter or a third of the size," said Paul Bingham, a global trade economist with Hackett Associates.
Making matters worse, the larger ships now carry cargo from multiple shipping lines, and the containers often aren't sorted in a way that they can be swiftly moved out of port.
What is in the new agreement?
The parties haven't released specific details. However, in early February the Pacific Maritime Assn., which represents shipping companies, submitted what it called an "all-in" offer to International Longshore and Warehouse Union negotiatiors.
Employers said the proposal included a roughly 3% wage increase each year, a hike in pensions and continued union jurisdiction over the maintenance of truck trailers.
Since that proposal, talks stalled over a union request to change the process for removing local arbitrators who settle disputes between shipping companies and the union when a contract is in place.
According to people familiar with the talks, the union wanted to fire one man in particular: the arbitrator who handled cases in Los Angeles and Long Beach.
The arbitration stalemate broke when the sides agreed to a revamped arbitration system, with a new selection process for arbitrators, Perez said. Union President Robert McEllrath said the new process involves a panel of arbitrators rather than one person.
What were the consequences of the fight?
Businesses across the country took a hit as the labor dispute and other factors trapped exports on land and imports at sea.
Honda North America Inc. slowed production at factories in Ohio, Indiana and Canada because it couldn't get crucial parts from Japan. A Commerce toy manufacturer said the slowdown led to the layoff of more than 600 seasonal workers in recent weeks.
California citrus growers were also hit hard. Oranges, many bound for Chinese New Year celebrations, sat decaying on ships, at docks and on the ground.
The pain may continue.
The docks aren't expected to return to normal until well into the season for Valencia oranges and past season's end for navels.
Staff writer Diana Marcum contributed to this report.
Follow me on Twitter: @khouriandrew