State senator seeks to crack down on wage theft in port trucking industry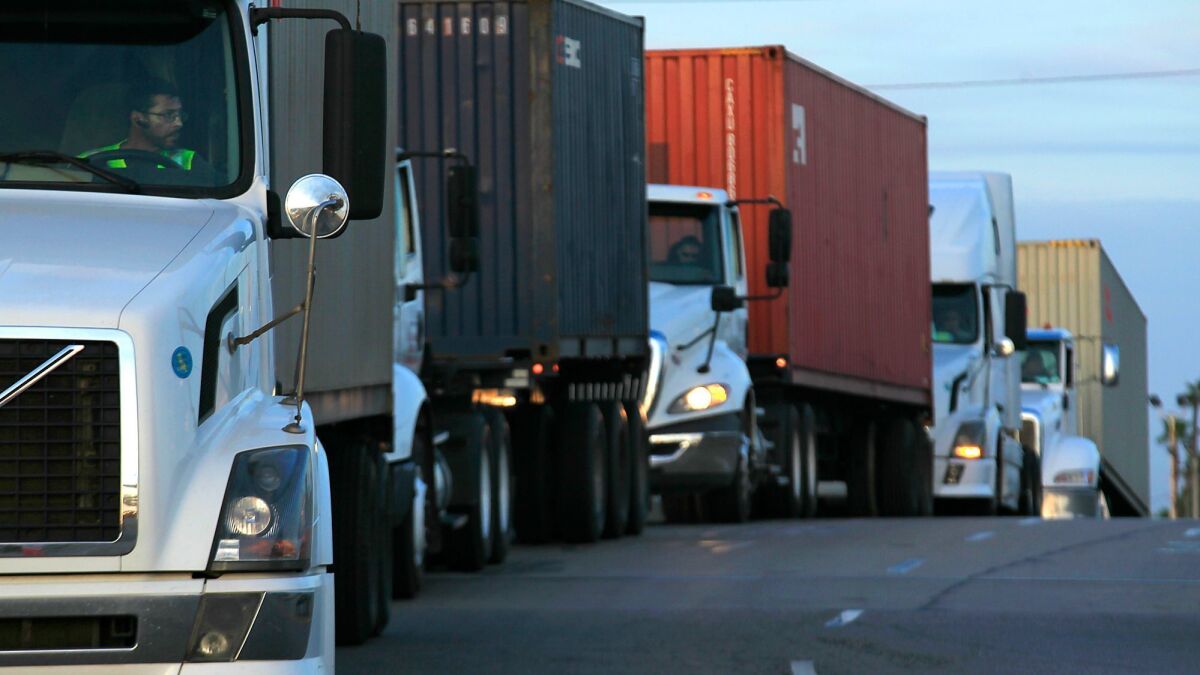 A California state senator is proposing a bill aimed at holding major retailers accountable for using port truck companies that have a history of engaging in wage theft of drivers who are misclassified as independent contractors.
Sen. Ricardo Lara (D-Bell Gardens), who represents the Port of Long Beach, put forth the bill this week.
"Port truckers are driving the global economy and delivering for the biggest brands but they can barely afford to buy clothes for their families," Lara said in a statement. "These used to be good jobs, and they can be good jobs again if retailers join us in improving labor conditions here in California and putting dignity back in the driver's seat."
Specifically, SB 1402 would create a list of trucking companies with unpaid final judgments for labor violations, especially wage theft and misclassification of drivers who meet the criteria for being an employee. If a retailer or any other company later hired one of those companies, either directly or through a third party, it would be jointly liable for future judgments.
The California Retailers Assn. did not respond to a request for comment.
Shawn Yadon, chief executive of the California Trucking Assn., said the bill is simply an attempt to unionize truckers, noting that that there is an exemption to joint liability for retailers who hire union trucking firms.
Michael Soller, a spokesman for Lara, said the exemption applies to companies with union contracts that provide for wages and a mechanism for resolving disputes over pay. Workers and management would also have to agree to waive the retailer liability imposed by the law.
"The real issue here is all of these problems … have involved misclassifications," said Soller, adding he's not aware of any wage theft issues with union firms who hire employees, rather than independent contracts.
The bill marks the latest attempt to change how trucking companies operate at the twin ports of Los Angeles and Long Beach, where many drivers say they are improperly classified as independent contractors and must lease their rigs under unfair terms.
The terms, they say, are so onerous that for some pay periods they make nothing and actually end up owing the trucking company money.
Earlier this year, the Los Angeles city attorney sued three port truck companies owned by NFI Industries, alleging the firms engaged in schemes to avoid paying minimum wage and employee benefits by classifying hundreds of workers as independent contractors even though they "exert near complete control" over the drivers' schedule.
And the California Labor Commissioner's Office has awarded port truck drivers more than $46 million since 2011 in cases in which they contended they were misclassified as contractors.
But Lara's office said those judgments often aren't paid — something Lara's bill seeks to address.
The proposal has the support of Los Angeles Mayor Eric Garcetti and Long Beach Mayor Robert Garcia.
The California Labor Federation and the Teamsters Public Affairs Council sponsored the bill.
Follow me @khouriandrew on Twitter
---
Sign up for the California Politics newsletter to get exclusive analysis from our reporters.
You may occasionally receive promotional content from the Los Angeles Times.