FBI raids controversial DNA testing company in Irvine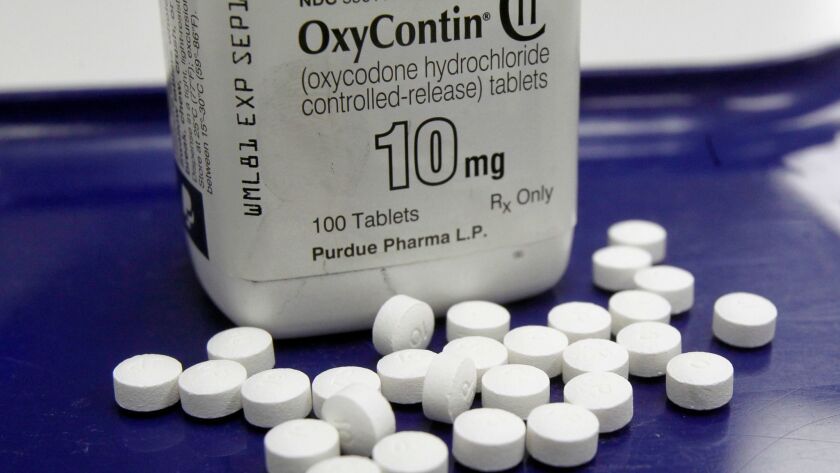 Agents for the Federal Bureau of Investigation on Wednesday morning raided Proove Biosciences, an Irvine company that sells a DNA test it claims can determine whether a patient is at risk of addiction to opioid painkillers.
In a press conference, FBI spokeswoman Cathy Kramer said the raid was part of an ongoing investigation concerning healthcare fraud. No arrests were made.
Anonymous company employees told STAT News, a healthcare news site, that about 25 agents arrived with a search warrant and spent several hours hauling out boxes of documents. The employees had been told by Proove to stay home for the day.
Proove maintains that its test can determine a patient's risk of addiction with 93% accuracy.
In December, an article published by STAT questioned the scientific basis for Proove's test. Rockefeller University's Dr. Mary Jeanne Kreek, who researches genetic links to addiction, told STAT that Proove's test was "hogwash." In February, the site said Proove's method of paying physicians to participate in clinical trials might violate anti-kickback laws.
That article included a statement from CEO Brian Meshkin, who said that "Proove is acting within the confines of the law … [and intends] to follow both the letter and spirit of the law."
Meshkin could not be reached for comment regarding Wednesday's raid.
Proove had 2016 revenues of $28 million, according to STAT. The company was able to collect more than 100,000 DNA specimens, largely because of a regulatory loophole regarding "laboratory-developed tests." Essentially, these tests are free from Food and Drug Administration regulation so long as they're designed, manufactured and used within a single laboratory.
Last November, the Obama administration halted plans to close the loophole, and the FDA elected to leave the decision for the Trump administration.
On average, 91 Americans die each day of an opioid overdose. From 2000 to 2015, more than half a million people died from overdoses, according to the Centers for Disease Control and Prevention.
Twitter: @jflem94
---
Your guide to our clean energy future
Get our Boiling Point newsletter for the latest on the power sector, water wars and more — and what they mean for California.
You may occasionally receive promotional content from the Los Angeles Times.