At top of L.A.'s tallest skyscrapers, diverse firms get great views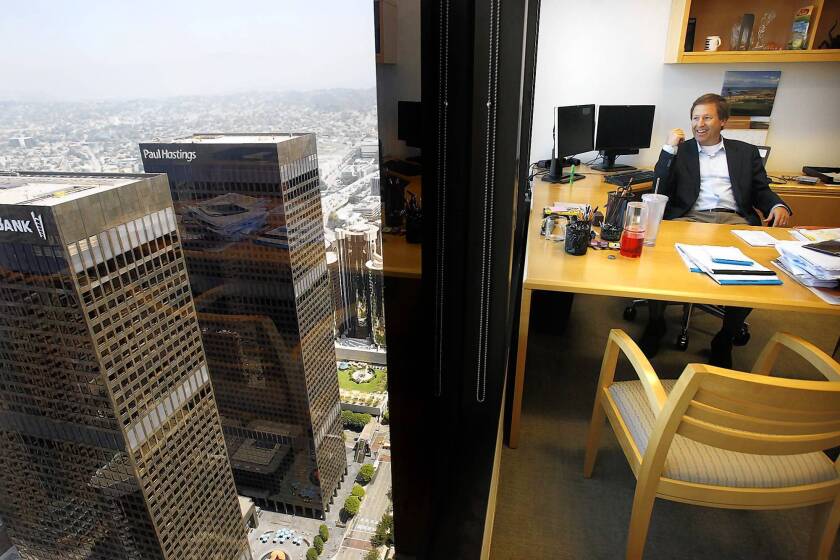 The top floors of L.A.'s tallest buildings offer a select few businesses stunning views of sprawling Southern California.
As the Los Angeles managing partner of a premier U.S. law firm, Greg Koltun finds himself at the top of the town — literally.
At Morrison & Foerster, a global firm with about 1,100 attorneys that is based in San Francisco, Koltun works atop the downtown Aon Center, the city's second-tallest office tower at 707 Wilshire Blvd. And with it comes a stunning view of sprawling Southern California.
"There's a lot of shock and awe," he said. "You just have to walk off the elevator and the view takes it from there. It looks like people painted a mural of Los Angeles on the windows."
Only a select few businesses find themselves atop the skyscraping office suites of downtown L.A., where ears pop on the way up, gourmet meals are served, VIP clients are entertained and earthquakes occasionally shake things up.
Working in these prestigious locations on the top floor of the city's five tallest towers are a big law firm, a metal service company, an investment management firm, a mutual fund company and a computer services firm involved in Japanese pornography.
Each player at the top offers a different perspective. None of their names is on top of their buildings. Some are new tenants; others, old-timers. Most of them occupy several floors, some with corner offices often going to the top executives. One has no windows, but an auditorium and conference rooms. Security is tight wherever you go.
The prestige factor is always there.
"When you get in the elevator and push that 50th button, people are like, 'What do you do on the top floor?'" said Kathi Dutton, the chief administrative officer at Analytic Investors on the top floor of the Gas Company Tower at 555 W. 5th St. "There's some prestige to be able to say you're at the top floor of a high-rise."
Dutton's building is located across the street from the Millennium Biltmore Hotel at the edge of Bunker Hill. Many of the city's tallest buildings are located there, where the city's high-rise development got started in earnest after voters in 1956 repealed a citywide 150-foot-high ceiling on development.
The tallest building west of the Mississippi River is the U.S. Bank Tower at 633 W. 5th St., and it extends 1,018 feet into the sky. The Aon Center is No. 2.
Third is Two California Plaza at 350 S. Grand Ave., finished in 1992. Reliance Steel & Aluminum Co., the largest metal services firm in North America, occupies the top floor. The fourth-tallest, Gas Company Tower, was built in 1991. A mutual fund firm, Capital Group Cos., has the top floor of the fifth-tallest building, Bank of America Plaza.
Despite the status that comes with downtown high-rise office space, more companies are starting to explore other options, said John Zanetos, first vice president of brokerage services at CBRE Group Inc. The U.S. Bank Tower currently has a 41% vacancy rate, he said.
"The creative space movement has brought the discussion into more conference rooms than it did 15 years ago," Zanetos said. "They're starting to realize that there are more options of what they can do with their space."
L.A.'s tall towers
The top floor of L.A.'s five tallest towers each vary drastically.
Earthquakes, fires and other emergencies are also nagging worries to some. In 1988, a fire broke on the 12th floor of the First Interstate Bank tower, now called the Aon Center. The blaze caused a great deal of smoke damage and extensive repairs were required on about a third of the building, including electrical rewiring and hooking up water systems.
"That building had no sprinklers at the time of the fire," said Timothy Kerbrat, a battalion chief at the Los Angeles Fire Department.
But now there are a number of drills and inspections high-rise buildings must do to prevent future tragedies. Kerbrat said all new office buildings — no matter how high — must have sprinklers, and any building taller than 35 stories must be completely evacuated through the staircase every three years.
"My calves felt it," says Chuck Freadhoff, a Capital Group spokesman who recalled working on the 49th floor of the Bank of America Plaza during the last drill. "It helps if you're in shape."
There's some prestige to be able to say you're at the top floor of a high-rise."

— Kathi Dutton, Analytic Investors
Karla Lewis, chief financial officer at Reliance, said she has felt a few earthquakes from inside Two California Plaza over the years. The company has been there since 2001.
"We just go to the center of the building, but for the people from out of town it's a bit more nerve-racking for them," Lewis said. There will often be debris from the ceiling drywall falling like snow during the quakes, she said.
The benefits, however, seem to outweigh the drawbacks. The offices lined with windows offer spectacular views of the Pacific Ocean, Malibu and the Hollywood sign. "There was a pretty lively debate about what was the best view," said Koltun of Morrison Foerster's.
The views are hard to beat over at the U.S. Bank Tower. But there was no opportunity to check out the vistas at a Web-development firm called DTI Services occupying floor 72. The firm was by far the most secretive, but some other tenants in the building seem to know it.
Graphic: L.A.'s tallest buildings
Sources: Pictometry; Council on Tall Buildings and Urban Habitat
Reporting by Scott J. Wilson. Graphic by Matt Moody. Programming by Anthony Pesce.
"Oh, you mean the porn company," said one longtime tenant who asked not to be named. The company did not return numerous calls asking about the office, its reputed sweeping views and possibility of a tour. A lawyer for DTI confirmed only that the firm was located there.
In the porn industry, however, DTI is well known, said Tom Hymes, senior editor at AVN, a media company that covers the adult entertainment industry. "They just do their thing. They don't send out press releases or anything," he said.
The company has "an obvious foothold" in the Japanese porn market, he said. "There's a tremendous market for Japanese adult content outside of Japan. In fact, Japanese porn is really restricted inside the country. They're not allowed to disseminate anything that isn't pixilated." That's why, Hymes added, many companies work from the U.S. and L.A. in particular. DTI Services, he said, runs several different Japanese porn sites.
The offices were well-appointed by a previous tenant with upscale furniture, fixtures and finishes, according to downtown real estate experts familiar with the building. The high perch has panoramic views of the ocean to the San Gabriel Mountains, from Glendale to the Palos Verdes Peninsula.
Not everyone has the same phenomenal view from the top: The highest floor at Bank of America Plaza, as designed, has no windows. And the space on the 55th floor is used for a theater that seats about 100 investment advisors who visit Capital Group. Stunning views don't elude the firm however; it also occupies floor 54.
Also on the top floor is a printing center used to prepare documents and presentations for many of the mutual fund firm's meetings. Down the hall are other smaller meeting rooms, along with a kitchen that's used to organize and disperse food to the firm's other 10 floors used in the building.
But the top never stops. Even as tenants enjoy their lofty positions today, replacements are never very far away. A new 73-story hotel, the Wilshire Grand at Wilshire Boulevard and Figueroa Street, is under construction. By 2017, it is slated to become L.A.'s tallest building.
Follow Cale Ottens (@CaleOttens) on Twitter
---
Your guide to our new economic reality.
Get our free business newsletter for insights and tips for getting by.
You may occasionally receive promotional content from the Los Angeles Times.