Office tower, apartment complex being built near Pasadena Playhouse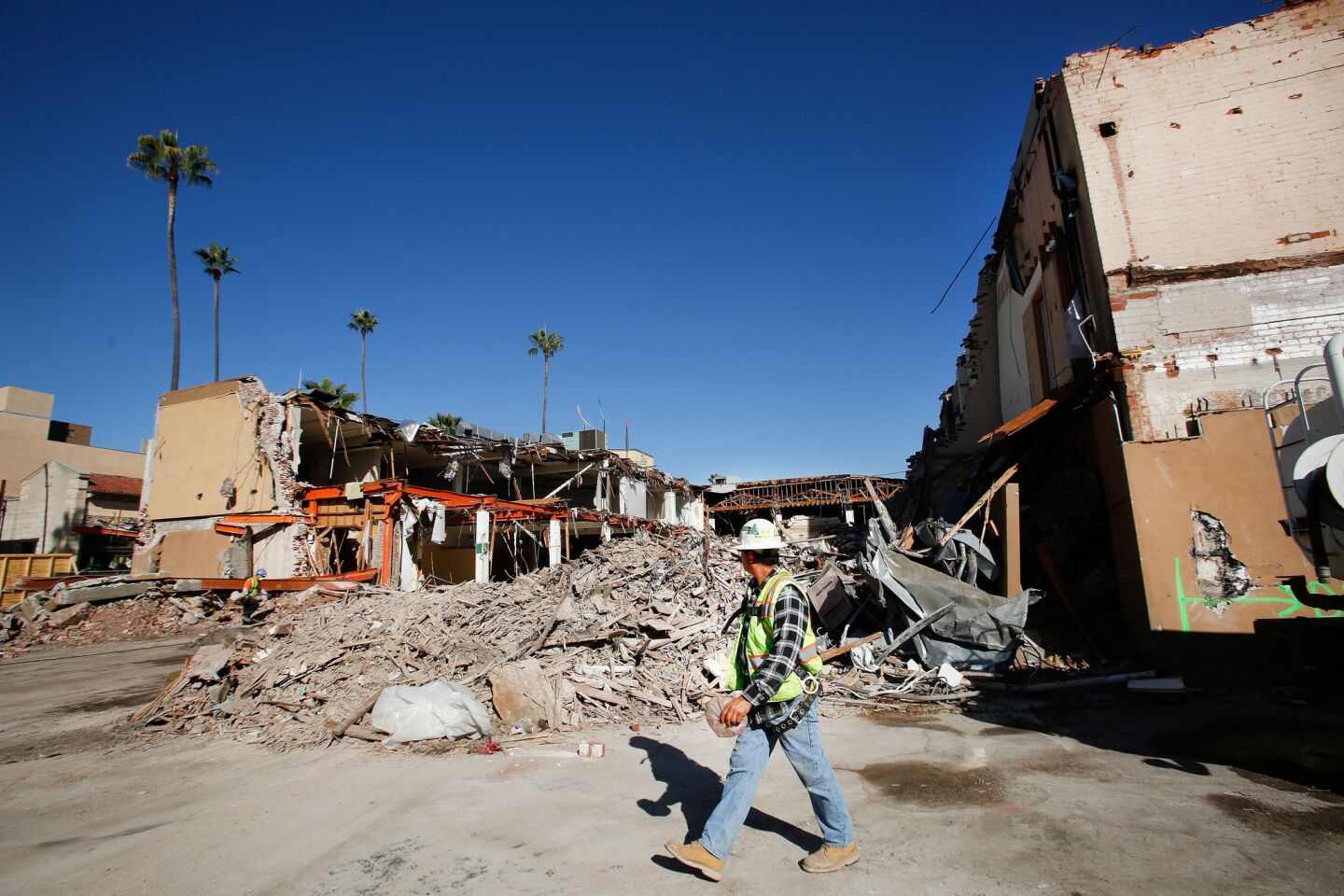 A furniture store was razed in 2013 to make way for the $75-million project. No tenants have signed leases yet, but real estate broker Todd Doney of CBRE Group Inc. is optimistic that the changing nature of the neighborhood will be a draw.
(Mel Melcon / Los Angeles Times)
The Pasadena Playhouse in 2010.
(Walt Mancini / Associated Press)
Two major developments with 1920s appearances — an office tower and a luxury apartment complex — are under construction in the once-sleepy neighborhood around the venerable Pasadena Playhouse theater.
With a combined value of $125 million, the projects are pillars of a city plan to give an increasingly lively part of Pasadena a more dense and urban feeling. The new projects are intended to bring still more people to an area of town that has seen a burst of new housing and dining options in recent years.
Developers will add more restaurants, shops and landscaped walkways to the 32-block Pasadena Playhouse District with Playhouse Plaza tower and Union Village apartments.
"This increases the livability of our district and makes it extremely walkable," said Elizabeth Doren, who is executive director of the theater and serves on the board of directors of the Pasadena Playhouse District Assn.
Both projects feature architectural styles of the 1920s, the decade when the Pasadena Playhouse was erected. But whereas Union Village apartments will be in the Spanish Revival fashion of the playhouse, the office tower will have more in common with an Art Deco masterpiece in Los Angeles.
"It has overtones of Bullocks Wilshire," developer David Saeta said, "and seems to be something that feels really at home in Pasadena."
Bullocks Wilshire was a luxury department store built in 1929 at 3050 Wilshire Blvd. in Los Angeles. Pasadena also got an elegant Bullocks outpost on Lake Street in 1947.
Now housing Southwestern Law School, the landmark L.A. building is clad in terra cotta and tarnished green copper. Playhouse Plaza tower will have a similar exterior made of reinforced concrete panels accented with green panels made of fiber-reinforced plastic.
Coming up with an appropriate appearance for Playhouse Plaza was difficult, he said, because the office building at the southeast corner of Colorado Boulevard and El Molino Avenue will stand directly across El Molino from the theater.
"Getting a design that was complementary but didn't mimic the playhouse was the big challenge," Saeta said. Some opponents of the development objected to an earlier, more modern design.
The approved look came from the collaboration of two architecture firms. Moule & Polyzoides is the design architect, and Gensler is the executive architect.
Also influencing the design was Pasadena's famous annual Rose Parade. Street-side viewing positions are highly prized, so Playhouse Plaza will have balconies intended in part for tenants and their guests to take in the spectacle as its passes down Colorado Boulevard every New Year's Day.
Saeta is senior vice president of IDS Real Estate Group, a Los Angeles firm that is developing the five-story, 155,000-square-foot building. It has the financial backing of PNC Realty Investors Inc., a union-backed investment fund.
Playhouse Plaza will have shops and a restaurant at ground level and 367 parking spaces underground that will serve the playhouse and surrounding neighborhood after business hours.
"The area is starved for parking," Saeta said.
A furniture store was razed to make way for the $75-million project expected to be completed by next April. No tenants have signed leases yet, but real estate broker Todd Doney of CBRE Group Inc. is optimistic that the changing nature of the neighborhood will be a draw.
"Traditionally, Lake Avenue was the main business core in Pasadena," he said. "A lot of the high-end retail along South Lake has now migrated to the Old Town area."
Consequently, the blocks between Old Pasadena and Lake are growing more desirable, he said, filling in with new restaurants, stores and housing. Hotels are expected to follow.
North on El Molino from the playhouse is the site of Union Village, one of the splashiest new residential developments in the district. The $50-million Union Village is about to get under construction at the southeast corner of Union Street and El Molino behind Vroman's Bookstore on Colorado. It will replace a two-story apartment building, three houses and parking lots.
Union Village — which may be renamed before completion in January 2016 — will range in size from two stories to six stories. It will have 118 units including 20 two-story town homes and 11 subsidized apartments for very low-income tenants. It will have stores, restaurants and underground parking.
"We'll cater to young professionals moving to Pasadena, and empty nesters," said John Gunn, managing director of Mack Urban. The Los Angeles company is developing Union Village with Pasadena's Mill Creek Development Co. and equity partner Cigna Investment Management.
The developers' goal is to create an authentic-feeling 1920s courtyard apartment complex that will include terraces, barbecues and outdoor fireplaces.
Kenneth McCormick of Mill Creek built a courtyard-style condominium complex called Granada Court in 2007 on Union Street next to the Union Village site. Units at Granada Court sell in the $1-million range, Gunn said.
Rents in the new apartment complex are expected to run from about $1,900 a month for a studio to $3,500 for a town home. There is little vacancy in the neighborhood, he said.
"Pasadena was a suburban city for a long time and is now becoming more urban and walkable," Gunn said. "People are trying to move into the core."
Twitter: @rogervincent