Downtown L.A. revival continues with remake of opulent Giannini building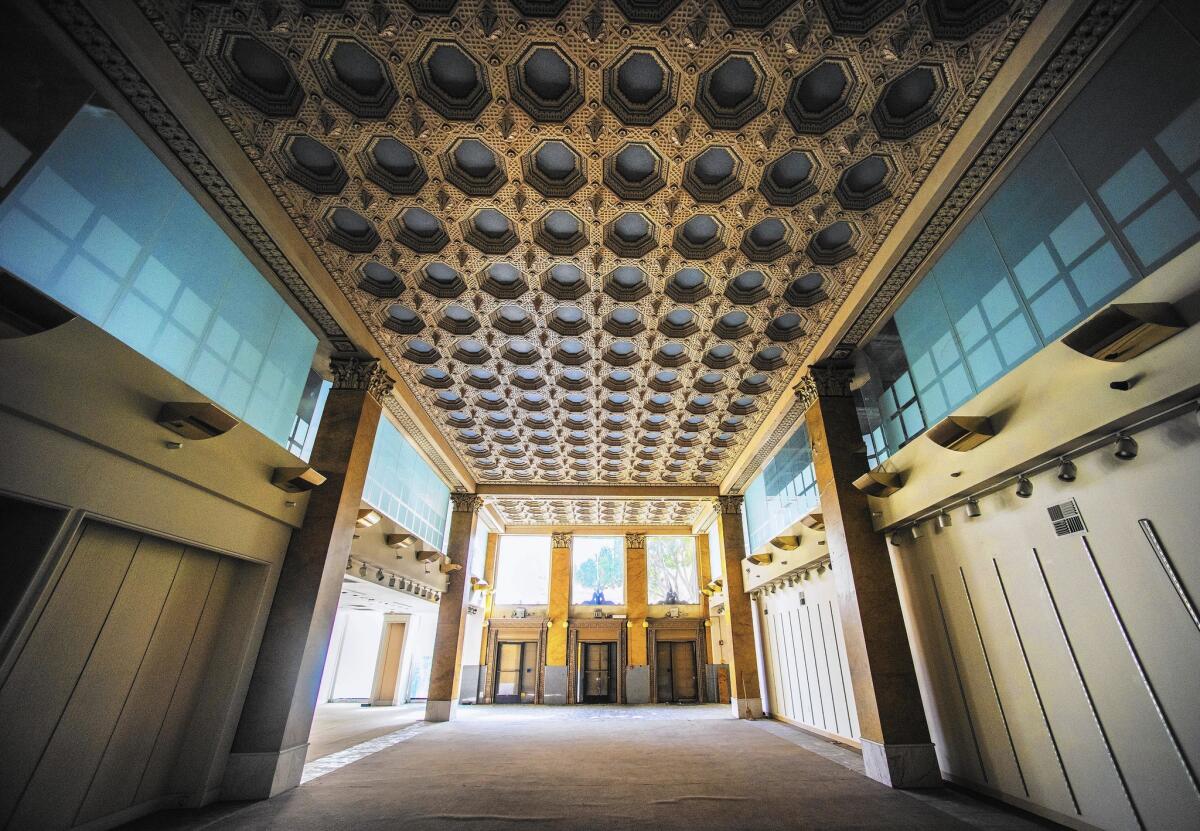 With its towering Doric columns, ornate golden ceiling and marble floors, the 12-story Giannini Place opened to much fanfare in 1923 as the opulent Los Angeles headquarters of Bank of Italy, the fore-father to Bank of America.
"Bank of Italy occupies palatial new home," the headline in The Times said of its opening day, when 20,000 curious visitors toured the building.
Once a source of civic pride, the neoclassical bank building succumbed to age and blight as downtown residents fled to the suburbs and businesses moved to more modern high-rise buildings nearby. In recent years, architecture critics dubbed it one of the top 10 eyesores in Los Angeles.
Now the once-magnificent office building at Olive and 7th streets is on the verge of a new life, resurrected by an expanding downtown Los Angeles renaissance that is bringing thousands of new residents and billions of dollars of new development and renovation.
The former Macy's Plaza near Giannini Place is undergoing a $180-million makeover to become a new hotel, office and shopping complex dubbed the Bloc. Obsolete office buildings are being converted to apartments while new construction is adding thousands of residential units to downtown's landscape. Just to the south a 700-unit apartment complex called Eighth and Grand is being built on top of a new Whole Foods market.
"We think downtown L.A. is finally, really going to make this incredible boom," said hotel developer Andrew E. Zobler, chief executive of Sydell Group, the New York developer that purchased Giannini Place for $39 million and plans to convert it into a hip hotel. "We see enough evidence that this is really happening and the change will be geometric."
The company already owns the nearby Commercial Exchange Building at Olive and 8th streets, another long-vacant 1920s office building that Sydell is converting to a hotel. A financial partner in both ventures is Los Angeles supermarket magnate Ron Burkle, the controlling shareholder of Ralphs, Food4Less and other chains.
Part of the appeal of Giannini Place is the contrast between its imposing exterior that implies the permanence and power typical of an American bank of that era and the more lavish, colorful Italianate interior where the Bank of Italy operated its main Los Angeles branch, Zobler said.
The building is named after A.P. Giannini, the son of Italian immigrants who founded Bank of Italy in 1904. He pioneered the notion that banks should serve ordinary people, not just cater to the wealthy. When Giannini Place — then known as the Bank of Italy Building — opened it had a massive vault that included space for 12,000 safe-deposit boxes. The main vault door weighed 50 tons.
Bank of Italy, already the largest bank in the West by 1923, also encouraged deposits from a group that most banks at the time overlooked — women and children. It became Bank of America in 1930.
The building was designed by renowned Los Angeles architects Morgan, Walls & Clements, which also designed the Pellissier Building and Wiltern Theatre on Wilshire Boulevard and the departed Art Deco masterpiece Richfield Tower downtown.
The main former banking floor will be converted to a "living room" lobby for the hotel where guests can lounge or work, Zobler said. The first floor will have a bar and a restaurant.
Sydell will operate the hotel, perhaps as a second branch of its NoMad Hotel on Broadway in New York. Plans call for 250 guest rooms that would either face outward or look into a large existing light well in the center of the upper floors of Giannini Place.
A rooftop swimming pool and event space with panoramic views of downtown are also on the drawing board. The hotel is to be a step up in room price and sophistication from Sydell Group's Freehand hotel being built in the former Commercial Exchange Building.
The Freehand will include a mix of conventional guest rooms and larger rooms with as many as six beds. Those beds could be reserved as a group or individually, as is common in youth hostels around the world.
It will take about 18 months to finish the Freehand and another year to open the hotel in Giannini Place, Zobler said.
The rapid revival of downtown's older neighborhoods has raised concerns among some housing activists, who say too many units serving low-income tenants are being lost as old hotels are turned into apartments or condominiums. There are also concerns that the building boom will erect more high-priced apartments than the market can support.
But the comeback of moribund Giannini Place is unlikely to ruffle many feathers.
"With all the adaptive reuse and restaurant revivals going on, this is the missing link on 7th Street," said Ken Bernstein, a principal city planner and manager of the Office of Historic Resources. "As you march down the street to Broadway this has been the remaining building awaiting rebirth."
Across 7th street from the Giannini Building is Bottega Louie, a restaurant on the ground floor of a former office tower that has been converted to upscale apartments. It's one of the highest-grossing restaurants in the city, pulling in more than $22 million a year, according to its chief financial officer.
Another neighbor is the venerable Los Angeles Athletic Club, which opened in 1912 at 7th and Olive and is undergoing a $10-million renovation.
"Giannini Place is a historic beauty that fell into decline and sat empty for too many years," said Councilman Jose Huizar. "I'm thrilled that this incredible piece of architecture will be restored as a vital part of downtown."
Twitter: @rogervincent