Measure to create L.A. public bank fails in setback for Council President Herb Wesson and advocates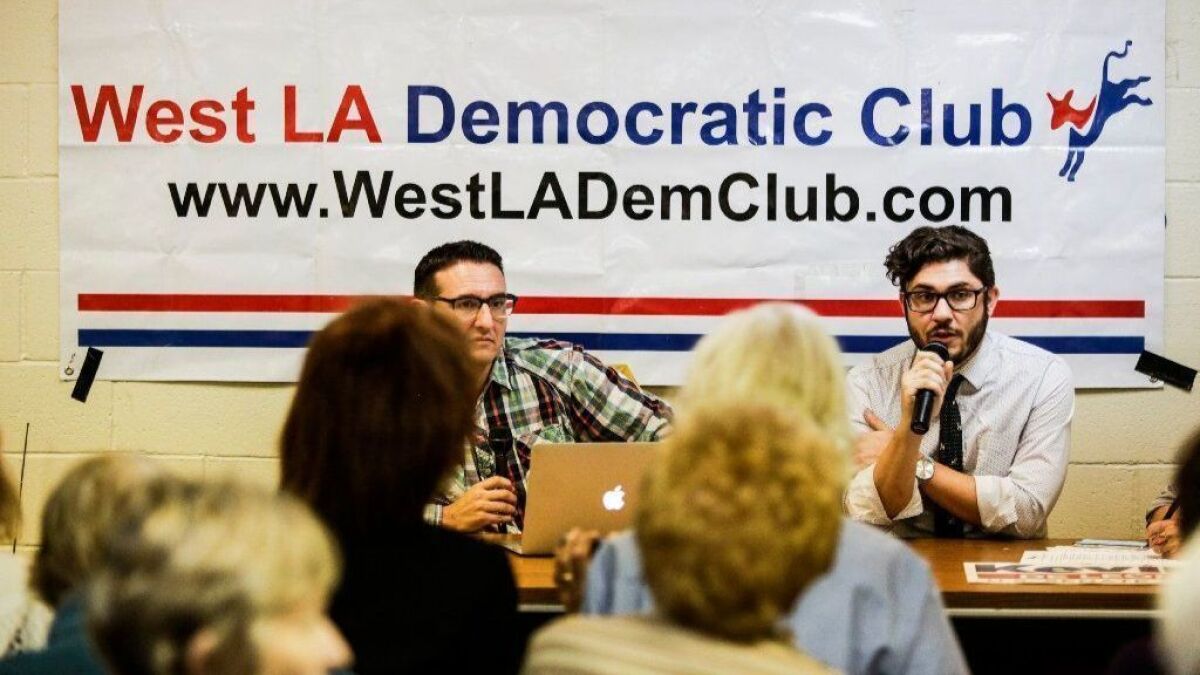 Los Angeles voters rejected a ballot measure that would have allowed for the creation of a city-owned bank — a major setback for supporters of public banking and for City Council President Herb Wesson, who had made the bank one of his priorities.
Measure B, which would have amended the city charter to allow for the establishment of a "purely commercial" enterprise, received the support of only 42% of voters. It needed a simple majority to pass.
Backers of the measure say they didn't have the time or resources to run a winning campaign and that Wesson and the City Council put it on the ballot before they were ready.
"I think this could have used a lot more resources, and more time, and more concrete commitment from city leaders to the idea of a public bank," said David Jette, legislative director of advocacy group Public Bank L.A. "If we're going to seriously consider this, it's going to take more than a quick ballot referendum and a few dozen incredibly dedicated activists."
Jette said he hoped to have at least a year to educate voters about the notion of public banking. Instead, the measure was added to the city ballot just four months ago. What's more, the Yes on B campaign raised only $44,000, not nearly enough to finance a meaningful citywide effort.
Wesson's office did not respond to requests for comment.
The council president said in 2017 that creating a public bank could have a range of benefits, from helping finance affordable housing to giving cannabis businesses a place to stash their cash. Most banks refuse to offer accounts to marijuana businesses because of federal drug laws.
Wesson later backed away from the cannabis aspect because of the added complexity and uncertainty it would bring to a public bank. But he told city staff this year he remained interested in a city bank despite numerous obstacles identified in a report from the city's legislative analyst.
"If it was going to be easy to create some kind of municipal bank, it would have already been done," he said in February.
As election day approached, though, Wesson was more reserved in his support for Measure B, pitching it as simply a way to gauge voter interest in the idea of a municipal bank.
"If people say, 'We don't want you to do this,' then we don't move forward with it," Wesson said last month. The Times' independent editorial board came out against the measure, calling it "half baked."
There was little organized opposition to Measure B, though opponents — including Valley Industry & Commerce Assn. President Stuart Waldman — questioned whether the city could realistically manage a financial institution and keep it free of political influence.
But Jette said he suspects the measure failed in large part because most voters simply aren't familiar with the idea of public banking. There are just two public banks in the U.S. — one in North Dakota and a new institution in American Samoa.
Ellen Brown, founder of the nonprofit Public Banking Institute, said she thought Measure B's 42%-to-58% margin was impressive given that lack of familiarity.
"This is a long fight," she said. "We're trying to transform how banking works and how people perceive banking."
In the run-up to the election, though, Brown and others said a failure for the ballot measure could be a big setback for the public banking movement in the U.S., giving critics more ammunition.
Interest in the idea of public banks — that is, banks that are owned by states or cities rather than by shareholders — grew in the wake of the financial crisis and various banking scandals, including Wells Fargo's 2016 admission that it had created millions of unauthorized accounts. The movement has also picked up some new backers in the cannabis industry, who hope public banks would be willing to work with them.
Because most banks won't offer them even basic checking accounts, cannabis businesses often must deal exclusively in cash, which they complain is both expensive and risky.
San Francisco and Oakland are also studying the idea of creating public banks and have support from some cannabis businesses.
At the state level, outgoing California Treasurer John Chiang said early this year that his office would study the feasibility of a public bank that would serve cannabis businesses. That study is set to be released early next month. Treasurer-elect Fiona Ma, who was elected Tuesday, said she'll continue pushing the issue when she takes office in January.
"This is a serious public safety issue that isn't getting any better," she said.
Still, even if the state or cities push ahead with creating public banks, it's not a sure thing they would be able to serve cannabis businesses. Because of federal drug laws, federal bank regulators could prevent a public bank from getting access to payment-processing systems and other infrastructure that would allow such a bank to provide basic services such as check- and payment-clearing.
Ken Berke, president of cannabis payment processing business PayQwick, said interest in public banking among cannabis businesses has waned over the last year, in part because business owners realize a public bank could be years away from taking shape — a fear perhaps borne out by Tuesday's election result in Los Angeles.
"They've stopped talking about it," he said. "I think either they think it's not going to happen or it's too little too late. I haven't seen the same kind of fervor we saw a year ago."
The federal stance on cannabis remains murky and may now be more so. Atty. Gen. Jeff Sessions — a fierce critic of cannabis legalization — resigned Wednesday morning. It's not clear if his replacement will take a more dovish approach to cannabis as more states continue to legalize the drug.
On Tuesday, voters in Michigan approved a ballot measure legalizing cannabis for recreational use, while Missouri and Utah voters signed off on cannabis for medicinal use.
Follow me: @jrkoren
---
UPDATES:
1:45 p.m.: This article was updated with comments from Ellen Brown of Public Banking, California Treasurer-elect Fiona Ma and Ken Berke of PayQwick, as well as more details on the cannabis industry.
This article was originally published at 10:25 a.m.