Ratkovich Co. sells interest in mixed-use Bloc project in downtown L.A.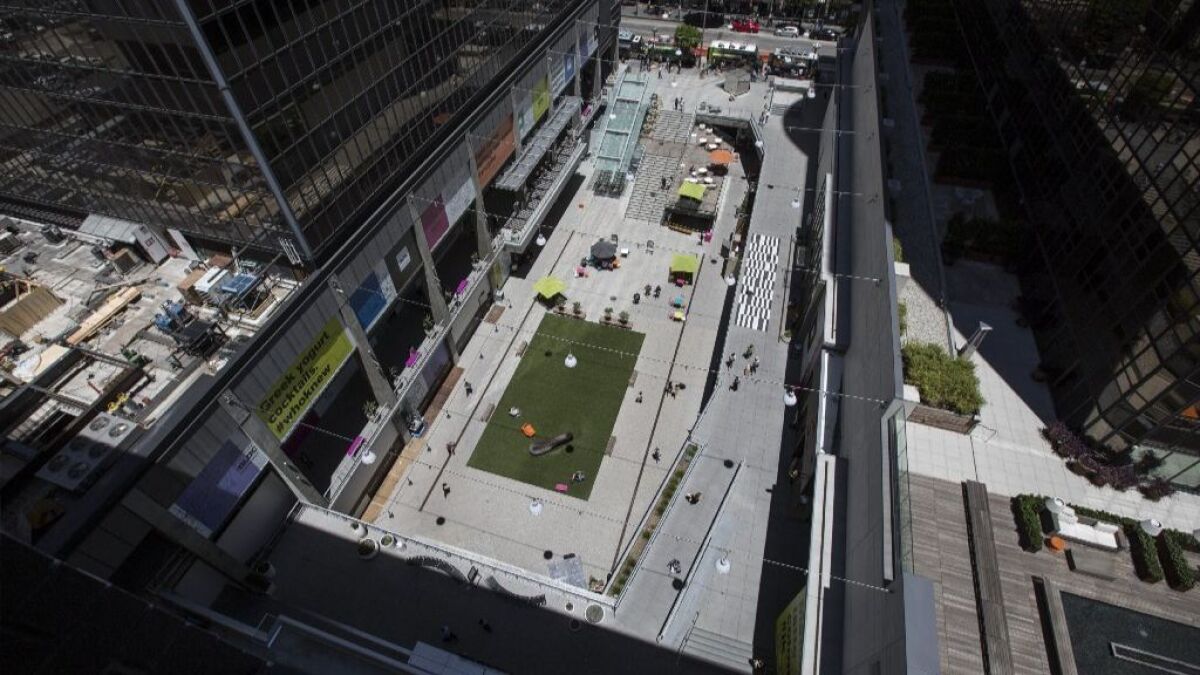 Los Angeles developer Ratkovich Co. has sold its interest in the Bloc office, hotel and shopping complex in downtown Los Angeles to one of its financial partners, National Real Estate Advisors.
The two companies announced the deal for the Bloc, formerly known as Macy's Plaza, in a joint statement Monday. Terms of the sale were not disclosed.
National, based in Washington, D.C., will take over management of the property at 7th and Flower streets and may add a residential tower in the future.
Ratkovich Co.'s ambitious makeover of the city block-sized complex from a 1970s-era indoor mall to an outdoor center is nearly complete after a long process that was sometimes a struggle.
Last summer Ratkovich Co. acknowledged the project was a year and a half behind schedule. The delays prompted several announced tenants to bail out of the project, including Davio's Northern Italian Steakhouse, gelato store Popbar and Killer Cafe restaurant.
Unexpected construction issues slowed work and helped drive costs well over the original $180-million budget to more than $250 million, the company said.
Upgrades included turning a shabby Sheraton hotel into a more upscale Sheraton Grand. The 33-story office tower was renovated and more entrances to the complex were created, including an underground portal to the 7th Street/Metro Center light rail station.
After the roof of the old mall was removed, much of the main floor was cut away to create a sunken, sunlight-filled public plaza. The formerly bunker-like exterior was opened up for new shops and the 2,000-car garage was renovated.
"It's a massive undertaking," company President Wayne Ratkovich said in June.
The sale frees Ratkovich Co. to work on its other projects, he said Tuesday.
"We have done our job on the Bloc and are happy to turn it over to a partner who has been great," he said.
Ratkovich Co.'s other projects include a residential and office complex long underway in Alhambra and a planned makeover of the city of L.A.'s retail complex on the San Pedro waterfront.
"We are very excited about the San Pedro Public Market," he said. "We think it's another project in which we can really make a difference for the city."
Ratkovich Co. will keep its headquarters at the Bloc, he said.
Finishing touches to the Bloc will continue, National's president, Jeff Kanne, said, but the hard part is over.
"We bought Wayne out because construction is basically complete," Kanne said.
The Bloc is now an operating property, he said, and National will take over managing it for current and future tenants including Texas-based theater chain Alamo Drafthouse. Its cineplex is under construction and set to open in several months.
Getting the chain was considered a coup. Moviegoers can eat dinner and drink beer in their seats, and the theater will be equipped with state-of-the-art digital projection, along with 3-D capability and conventional 35-millimeter projection to show classic movies.
National plans to own the Bloc for the foreseeable future, Kanne said, and may eventually add to it.
"We're hoping to build a residential tower on top of the parking garage," he said. "Maybe 40 stories."
Twitter: @rogervincent
---
UPDATES:
4:20 p.m.: This article was updated with comments from developer Wayne Ratkovich and Jeff Kanne, president of National Real Estate Advisors.
This article was originally published at 6 a.m.
Sign up for the California Politics newsletter to get exclusive analysis from our reporters.
You may occasionally receive promotional content from the Los Angeles Times.