The FBI is reportedly looking into practices of largest lender of PACE home-improvement loans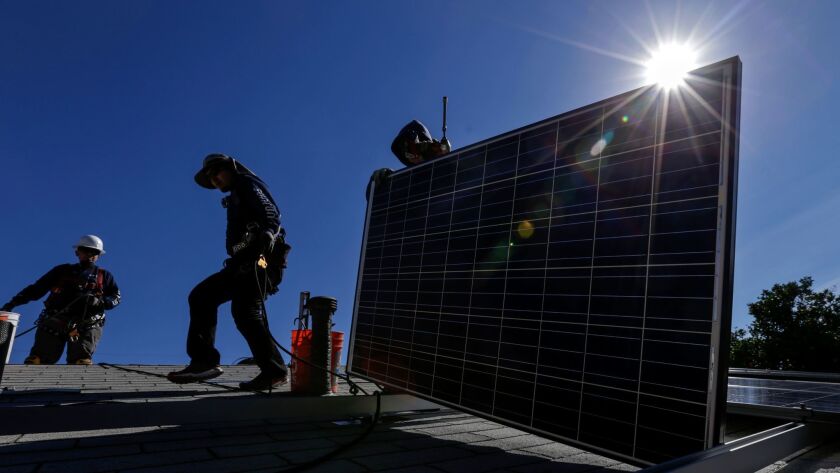 The Federal Bureau of Investigation is reportedly inquiring about the operations of San Diego-based Renovate America, which is the largest lender of PACE loans, a type of financing that funds energy-efficient home improvements.
The company and other PACE lenders have come under increased scrutiny after complaints that too many borrowers are taking out unaffordable loans for solar panels and other energy-efficiency projects after contractors misrepresented how the financing is to be paid back.
The FBI is looking for documents that detail how Renovate America trained its sales force and contractors, as well as how the company marketed its financing to homeowners, according to the Wall Street Journal, which cited a document it reviewed.
The Journal said it couldn't determine the purpose of the inquiry.
Renovate America, in a statement, said the company is cooperating with an investigation into a "contractor and its affiliated entities who offered their home-improvement customers financing from several Property Assessed Clean Energy administrators, including Renovate America."
Renovate America said the company no longer works with that contractor and said federal law enforcement authorities and prosecutors have "repeatedly assured" Renovate America that it is "not a subject or target of that or any federal investigation."
The FBI said it could neither confirm nor deny the existence of an investigation.
First started in 2008, PACE, or Property Assessed Clean Energy, programs typically are established by local governments, which tie the privately financed loans to the home and allow them to be repaid as line items on property tax bills. Beyond energy efficiency, the loans can be used for items such as low-flow toilets that save water.
In Southern California, Los Angeles, Riverside, San Bernardino and San Diego counties have approved PACE lenders to operate.
The programs can be a moneymaker for governments, which take fees for collecting the loan payments and turning them over to the lenders. Contractors who pitch the loans to consumers are paid and managed by the lenders.
If PACE bills go unpaid, a homeowner could lose his or her house to foreclosure. But the three major lenders — Renovate America, Ygrene Energy Fund and Renew Financial — say the vast majority of their thousands of customers come away happy after completing energy efficiency projects. And they say they haven't foreclosed on anyone for not paying an assessment.
Consumer groups counter that too many contractors have misrepresented how the loans are to be paid back, particularly to elderly people who now are struggling to make payments. Kern County and its largest city, Bakersfield, recently voted to end their PACE programs because of such concerns.
Other cities, including Visalia and Rancho Santa Margarita, have voted to keep their programs after a debate over those same issues.
This month, the California Legislature passed two bills that aim to increase consumer protections, including one that for the first time establishes income as an underwriting requirement.
Renovate America supported those bills, but consumer groups expressed concern there were too many loopholes.
Follow me @khouriandrew on Twitter
---
UPDATES:
3:00 p.m.: This article was updated with details on cities that recently voted to keep PACE programs.
This article was originally published at 1:05 p.m.
---
For reporting and exclusive analysis from bureau chief John Myers, get our California Politics newsletter.
You may occasionally receive promotional content from the Los Angeles Times.