Sears preparing to file for bankruptcy perhaps as early as this weekend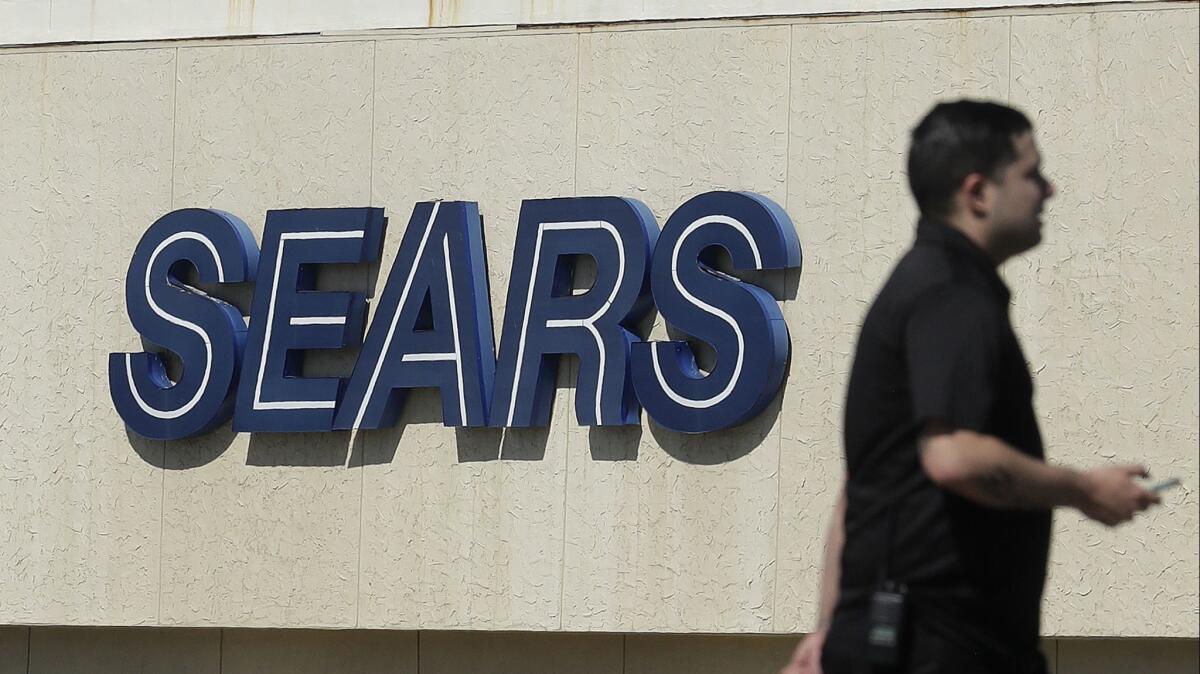 Bloomberg
The long goodbye for America's most iconic retailer inches closer to an ending.
Sears Holdings Corp., the struggling U.S. chain owned by hedge fund manager Edward Lampert, is preparing for a bankruptcy filing as soon as Sunday, according to a person familiar with the plan. The company faces a crucial debt maturity next week.
The plan to file for Chapter 11 protection is a rebuff to Lampert, whose fund, ESL Investments Inc., is the retailer's biggest equity holder and a major debt holder. For weeks, ESL had been pushing a debt restructuring proposal that would avoid a bankruptcy filing. The company is now focused on securing financing that would fund operations through bankruptcy, said the person, who asked not to be identified because the discussions are private.
A Chapter 11 filing would be the culmination of years of decline as Sears has struggled to adapt to a changing retail environment. It would also mark a stunning downfall for a company that for much of the last century epitomized America. Its wide-ranging popularity enabled it to dominate its industry as much or even more than Amazon.com Inc. does today.
Representatives of Sears and ESL didn't immediately return requests for comment. Sears shares closed down 10 cents, or 16.8%, to 49 cents, a decline of more than 90% in the last year. The future of Sears' 89,000 employees — down from 246,000 in 2013 — remains unclear.
"In the face of a very robust economy and a very dynamic retail environment, they just failed to reinvest in all the pillars that allow a retailer to succeed today," said Steve Goldberg, president of Grayson Co., a New York consulting firm. "Infrastructure, real estate, digital presence — it's hard to name a place where they really kept their profile in connecting with the customer."
The company has taken a number of steps in recent days to prepare for a filing. It hired boutique advisory firm M-III Partners, the Wall Street Journal reported late Tuesday, citing people familiar with the situation it didn't identify. The company separately said it named restructuring expert Alan Carr to its board of directors. CNBC earlier reported that the company was arranging a bankruptcy loan, known as debtor-in-possession financing.
Sears faces $134 million of debt maturing Monday. ESL said in a filing last month that the borrowings coming due were among those creating "significant near-term liquidity constraints" for the company. ESL proposed last month for Sears to refinance its debt and sell real estate to help pay down borrowings.
Lampert's restructuring plan received no support from other creditors, who saw it as a maneuver for ESL to be paid for Sears' real estate, according to a person with direct knowledge who asked not to be named. After what happened with Toys R Us, distressed-debt investors are steering clear, the person said.
Toys R Us, once a leading U.S. retail chain, filed for bankruptcy protection in September 2017. In January, the company said it would liquidate many of its stores — a fate many Sears creditors say they want to avoid.
Fairholme Capital Management, TPG Specialty Lending and Guggenheim Partners have been among Sears' creditors, according to data compiled by Bloomberg.
Lampert has been using his own money for years to keep Sears afloat. The 125-year-old retailer, based in Hoffman Estates, Ill., has relied on piecemeal deals and infusions from the hedge fund manager to offset billions of dollars in losses. It has closed hundreds of money-losing stores, and it promised to close an additional 150 this year.
The fate of satellite companies, such as Sears Hometown Stores and the Kenmore appliance brand, remains up in the air. Lampert has proposed a sale of Kenmore to ESL Investments. Shares of Seritage Growth Properties, the real estate investment trust that counts Sears as its biggest tenant, dropped 5.9% after reports of Sears' possible bankruptcy filing.
"There is a potential for this to turn ugly, particularly with all the direct lending from ESL and the losses incurred by firms like Fairholme," said Noel Hebert, who covers Sears for Bloomberg Intelligence. "If I put myself in the shoes of the board, allowing the company to sell off what little of value remains to its largest shareholder for a short-term reprieve doesn't reflect too well on me."
Beginning as a Minneapolis watch company in 1886, Sears rocketed to fame and fortune as a mail-order business at the end of the 19th century. As Sears, Roebuck & Co., the company sold a "Stradivarius model violin" for $6.10 and an $8 brass banquet lamp for $2.30. By the late 1920s, a new Sears store opened on average every other business day.
Recent history is more checkered as Sears dealt with the fluctuating popularity of malls and the ease of online shopping. Lampert, 56, helped engineer a merger with Kmart in 2005, and in 2013 he became the company's chairman and chief executive.
The chain went from 863 mall-based stores and an additional 1,200 retail locations in 2000 to about 500 today. Sears Canada Inc. liquidated exactly a year ago. About 12,000 people lost their jobs. Lampert was Sears Canada's biggest shareholder and partially spun off the company from its parent in 2012.
"The handwriting has been on the wall for years," said Allen Adamson, co-founder of Metaforce, a marketing consulting firm. "It's been like watching an accident. You can't look away, but you know it's coming."
Doherty, Coleman-Lochner and McNeely write for Bloomberg.
---
UPDATES:
3:20 p.m.: This article was updated with Sears' closing stock price.
9:05 a.m.: This article was updated throughout with additional details on Sears' possible bankruptcy filing, financial position and history.
This article was published at 6:45 a.m.