Throughout Sears' long struggle, some vendors learned early to reduce their exposure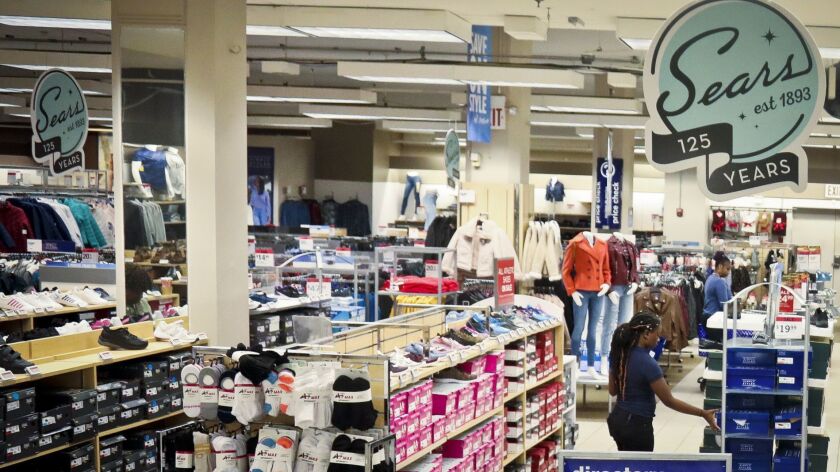 Bloomberg
If Sears Holdings Corp. ends up in Bankruptcy Court, there will be plenty of pain to go around between investors losing money and thousands of job cuts. Suppliers, however, may be more protected than you'd expect.
In bankruptcy, vendors often recover only a fraction, if anything, of what they're owed. Some Sears suppliers said they started to reduce their exposure to the struggling retailer long before the latest developments, buffering them in the event of a possible restructuring.
"We have been selling [to] them, but keeping a tight leash," said Jay Foreman, chief executive of toymaker Basic Fun.
Given Sears' years of struggles, some vendors said they negotiated favorable payment terms well ahead of news that it could file for bankruptcy protection as soon as this weekend. Many large suppliers are getting paid in advance of shipping goods, while some smaller ones have cut payment terms to a few weeks, instead of months, according to people familiar with the situation who asked not to be named because the dealings are private.
That gives them less exposure than suppliers had with Toys R Us Inc., which surprised many vendors by filing for bankruptcy in September 2017 — and then liquidating. Sears this week was said to have hired M-III Partners LLC to prepare a bankruptcy filing; lenders are said to be hammering out a deal that would keep some stores open through Christmas.
For the Sears vendors that reduced risk, they've been more willing to keep selling to the company.
"If we get hung with a bit of a loss, it wasn't unexpected, and the business we've done along the way made the risk worthwhile," said Foreman, whose business did take a hit from Toys R Us.
The favorable payment terms also let some suppliers get an early sense that the company's financial stress may have increased, people familiar with the situation said. In an instance a few weeks ago, Sears delayed a payment to a vendor without explanation, giving that supplier an indication that things may had turned south, one person said.
Another company, which asked not to be identified because the matter is private, was shipping goods only if Sears paid in advance. The retailer recently said it couldn't keep doing that, and the supplier stopped shipping. A third vendor had a load of goods ready to ship, but it had been waiting for a couple of weeks for Sears to pay.
"Bottom line: They've been on the death watch for years," Foreman said.
Townsend writes for Bloomberg.
---
Must-read stories from the L.A. Times
Get the day's top news with our Today's Headlines newsletter, sent every weekday morning.
You may occasionally receive promotional content from the Los Angeles Times.