Can a new killer whale attraction help rescue SeaWorld?
A symphonic score fills the former Shamu Stadium at SeaWorld, the tempo building suspense as footage of an icy landscape in Antarctica moves across a 140-foot-wide screen.
A little off cue, an 8,000-pound orca named Keet appears, speeding along the perimeter of the pool as waves crash over where a crowd of SeaWorld visitors will sit when the San Diego park's Orca Encounter debuts this weekend. On the wide screen above, killer whales in the wild work in tandem to manufacture waves, dislodging their prey — a lone seal perched on an ice floe.
"Keet is demonstrating this wave-making technique," a trainer explains, "showing the complex and impressive hunting abilities killer whales have developed around the world."
The hunting demo is one of many whale behaviors seen in the wild that are being reenacted as the San Diego marine park rehearses its much anticipated Orca Encounter.
SeaWorld San Diego is the first of three namesake parks to introduce the 22-minute killer whale experience, which replaces the Shamu orca-performance shows, a fixture in San Diego for more than half a century.
The pre-opening outings let trainers practice guiding gargantuan orcas through movements meant to sync up with National Geographic-style video displayed on a new infinity, high-definition screen. Also newly installed is a backdrop meant to mimic a rugged coastal inlet in the Pacific Northwest.
"It's still a work in progress," reminds a SeaWorld staffer, watching the first complete run-through of the new attraction.
The same could be said of SeaWorld the company, which has struggled the last several years to regain its financial footing as it navigated one public relations crisis after another.
While rival theme parks saw steady growth, SeaWorld Entertainment's stock fell sharply, revenues slowed and attendance dropped amid the public's rapidly changing sentiments about animal entertainment and care.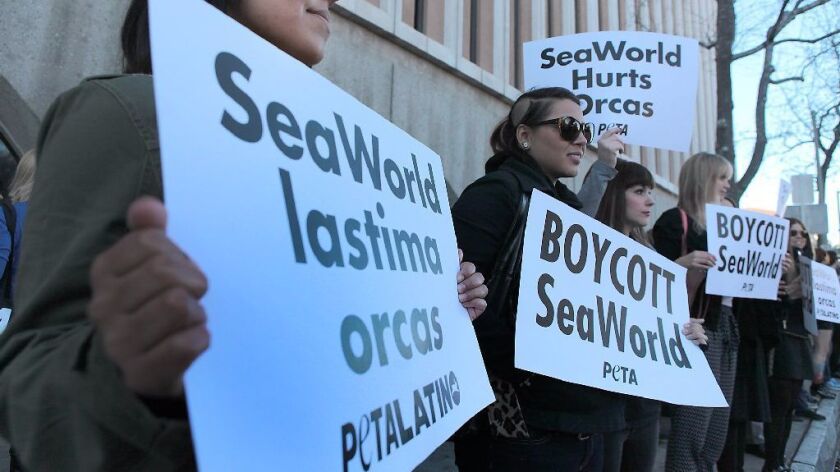 The 'Blackfish' effect
Call it the "Blackfish" effect — the fallout from the repeated airing on CNN of the 2013 anti-captivity documentary "Blackfish."
The film accused the company's parks of mistreating killer whales and used as its centerpiece the now deceased killer whale, Tilikum, responsible for the 2010 death of SeaWorld Orlando trainer Dawn Brancheau.
SeaWorld denounced the film as propaganda, inaccurate and unfair. But public backlash persuaded the company that consumer attitudes toward animal entertainment were changing.
SeaWorld Entertainment Chief Executive Joel Manby said in 2015 that the Orlando company would phase out theatrical killer whale shows, then followed up in March 2016 by announcing the end of all captive breeding of orcas.
With its debut this Saturday, Orca Encounter marks a milestone in the reinvention of SeaWorld the brand.
The company boasts that this year it is opening $175 million worth of new attractions at a number of its 12 U.S. theme parks, representing one of the heftiest capital investments in more than 50 years.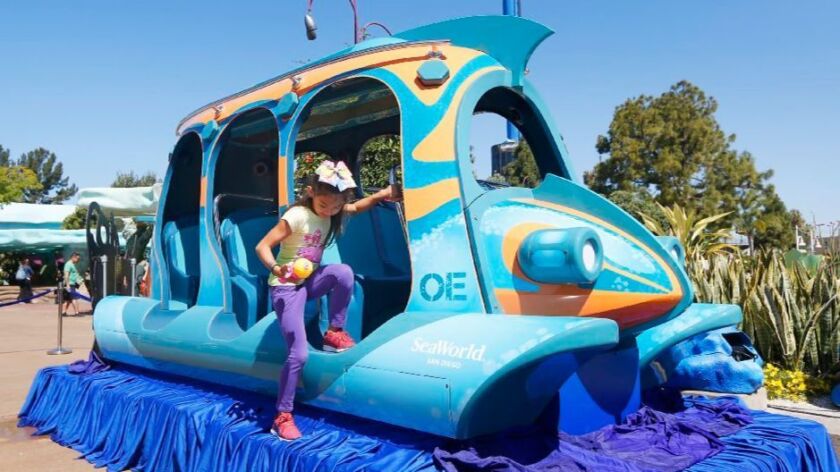 In addition to Orca Encounter, which will educate its audiences on how killer whales communicate, socialize, hunt and contribute to scientific research projects, the San Diego park will unveil a new area, Ocean Explorer, themed around underwater exploration. The centerpiece of the family-oriented attraction will be Submarine Quest, a three-minute ride that transports riders in six-seat mini subs outfitted with interactive screens that rely on "smart play" technology developed just for SeaWorld.
SeaWorld wants to prove that it genuinely cares about the ocean and the animals that populate it while once again enticing sizable crowds with the help of cool rides showcasing cutting-edge technology.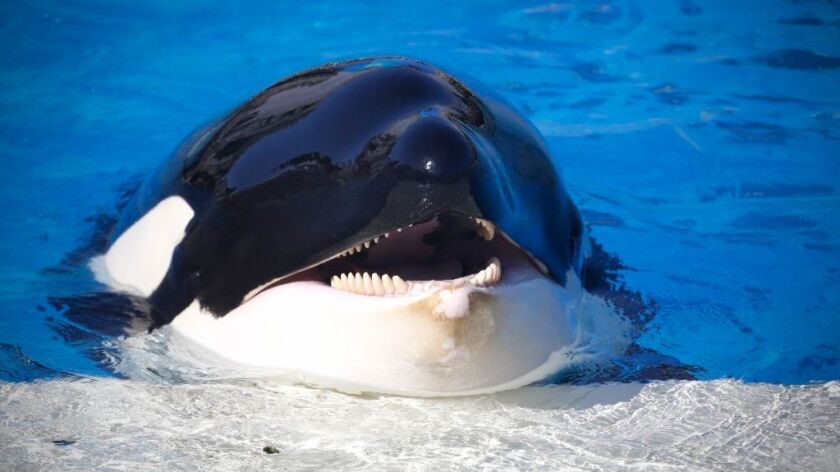 Trying for a comeback
"We've always had experiences that matter, but admittedly, we marketed ourselves primarily as animal theatrical shows, leading with Shamu, even though we were always a great rescue organization. But that's how people perceived us," said Manby, who arrived at SeaWorld a little more than two years ago to help engineer a comeback after the previous CEO stepped down.
The SeaWorld brand, he emphasized, will rest on multiple pillars, including animal exhibits that are more educational, animal welfare-themed rides and the increasing use of virtual reality to deliver experiences and creatures that wouldn't be possible in a zoo or aquarium environment.
At the same time, Manby said, the company will stay true to its animal rescue work and more recent initiatives it has undertaken with a former adversary, the Humane Society, to protect the environment and end practices such as shark finning.
SeaWorld is aiming to be "fun and meaningful," Manby said. "But it has to be fun first or people won't show up."
Their identity used to be these spectacular live animal performances, but if SeaWorld is moving away from that, what are they moving toward?
Robert Niles, ThemeParkInsider.com
A future without orcas
As SeaWorld prepares for the day when orcas no longer inhabit the parks, it will gradually become more theme park than a zoological enterprise, predicts theme park analyst Bob Boyd of Pacific Management Group.
"Two years ago, I would have said SeaWorld was in a negative spiral and would have a difficult time navigating their way out of it," Boyd said.
"I think Manby is adapting the current parks into a type of experience that is less expensive, more regional and much more sustainable," he said. "It's probably the brightest outlook SeaWorld has had in many years, although they have many challenges ahead of them."
Southern California-based theme park expert Robert Niles said he is wondering what exactly is SeaWorld morphing into.
"Their identity used to be these spectacular live animal performances, but if SeaWorld is moving away from that, what are they moving toward?" said Niles, founder of Themeparkinsider.com. "Even in its current state, SeaWorld remains one of the great zoos in the world for marine mammals, but how big is that market relative to what they're now trying to go after with thrill rides and attractions that appeal to theme park fans?"
Still, signs of a turnaround are starting to emerge. After three years in a row of sometimes steep declines in attendance, visitation at the San Diego park was flat in 2016, while down for the company as a whole.
Globally, the theme park company has forged partnerships to expand its brand via new parks in the Middle East and Asia — minus the whales. Just this month, SeaWorld announced it is planning a second Sesame Street-themed amusement park to open somewhere in the United States by 2021 as part of its longstanding partnership with the nonprofit behind the children's television series.
Near term, this summer will be a crucial test of whether the company can really reverse the slide.
"The numbers are showing it's stabilizing and turning," Manby said. "We made good decisions. The research says people are much more favorable to SeaWorld after those decisions."
---
Your guide to our clean energy future
Get our Boiling Point newsletter for the latest on the power sector, water wars and more — and what they mean for California.
You may occasionally receive promotional content from the Los Angeles Times.