Here's why SeaWorld probably won't release its whales into the wild
As SeaWorld moves to end its orca breeding program and phase out its killer whale shows, don't expect the company's orcas to swim off into the sunset.
In an op-ed published Thursday, company Chief Executive Joel Manby said releasing the orcas into the wild, as animal rights activists have demanded, is "not a wise option."
"Most of our orcas were born at SeaWorld, and those that were born in the wild have been in our parks for the majority of their lives," he wrote. "If we release them into the ocean, they will likely die."
Animal rights groups, such as People for the Ethical Treatment of Animals, have called for SeaWorld to release its 29 orcas to sea pens.
But SeaWorld and other marine biologists have said the whales could not survive outside the park without human care because they have lived all or most of their lives in captivity. Critics have said the idea was dismissed because SeaWorld does not want to consider an alternative to captivity.
Read on to find out more about why the orcas likely will never be released.
The Keiko example
The killer whale featured in the 1993 film "Free Willy" is often cited in the debate over sea pens.
Keiko was captured off the coast of Iceland in 1979 and trained to perform at theme parks. Many years later, the orca was transported to a sea pen in Iceland in 1998 after spending several years at a Mexico City theme park.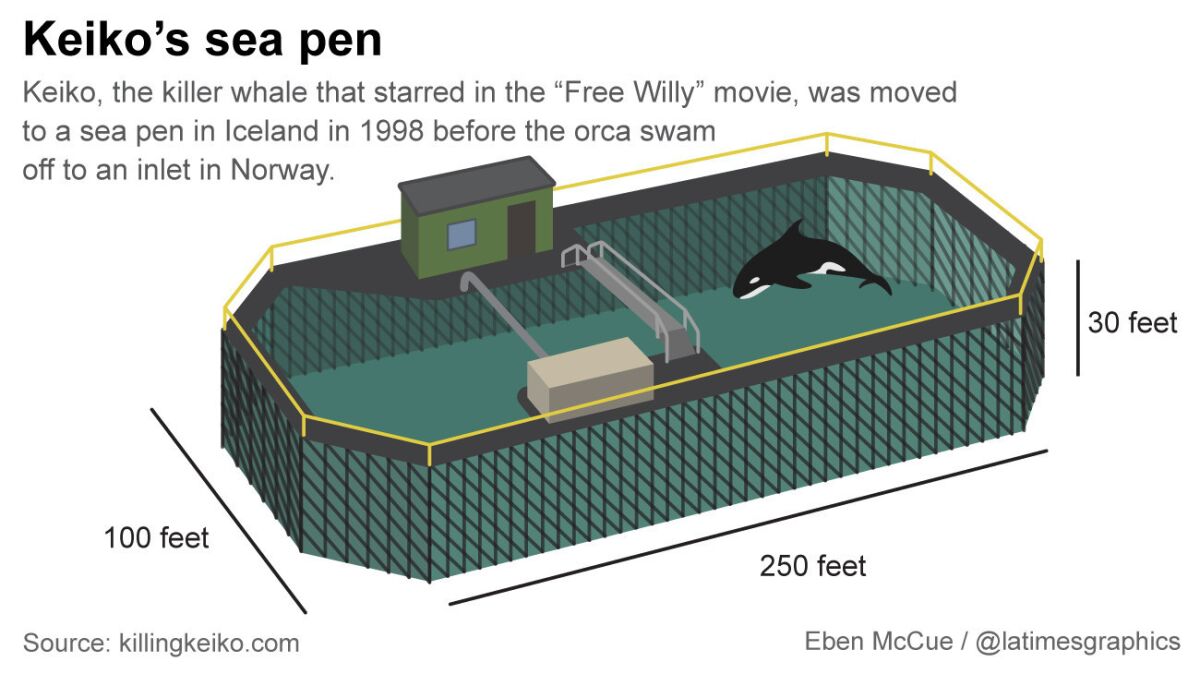 Keiko swam away during a short cavort outside of the pen while accompanied by caretakers on a ship. He later turned up in a deep inlet in Norway and was found playing with children and fishermen. The whale died a few months later of acute pneumonia.
SeaWorld trainers have said the experience showed that sea pens were not a safe environment for orcas. Others countered this view, saying the experience with Keiko taught experts how to build a better sea pen.
The expense
No enclosed sea pens exist to hold all 29 of the company's orcas, either as a group or individually. And the cost of building such pens could reach $5 million each, with staffing costs of up to $500,000 a year for each pen, according to experts.
Potential ocean toxins
SeaWorld's chief veterinarian, Chris Dold, and other SeaWorld supporters have said sea pens can expose the orcas to viruses and harsh weather that they say the captive whales can't endure.
On Thursday, SeaWorld reiterated its previous stance, saying, "These orcas could not survive in oceans that include environmental concerns such as pollution and other man-made threats."
Breeding problems
Experts have said captive whales would not be allowed to breed in sea pens to eliminate the need to care for offspring. But because no long-term contraception for orcas exists, male and female whales likely would have to be separated, at least during some times.
Times staff writer Hugo Martin contributed to this report.
For more business news, follow @smasunaga.
ALSO
Money motivated SeaWorld's choice to stop breeding orcas
SeaWorld CEO's op-ed on ending the orca breeding program
SeaWorld workers posed as animal activists to spy on opponents, CEO acknowledges
---
Sign up for the California Politics newsletter to get exclusive analysis from our reporters.
You may occasionally receive promotional content from the Los Angeles Times.