Elon Musk's tweets prompt SEC official to call for guidelines on CEOs' social media use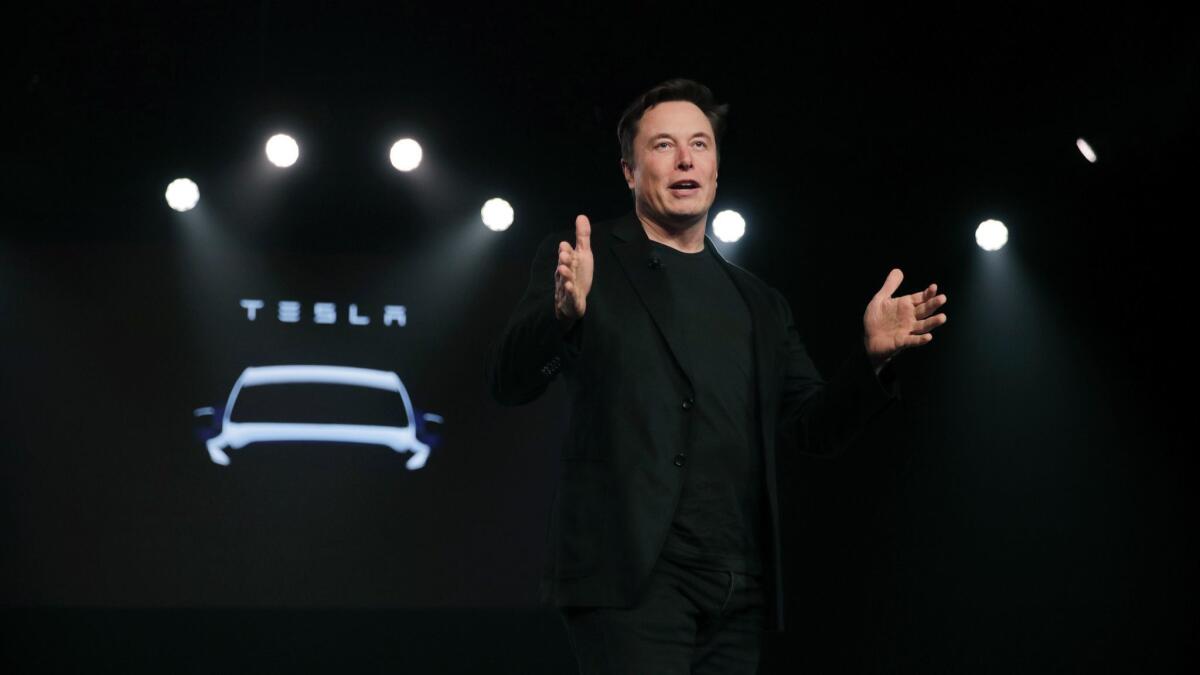 Bloomberg
Robert Jackson, one of the Securities and Exchange Commission's four commissioners, said the agency should consider publishing new guidance on chief executives' use of social media platforms such as Twitter and Facebook, in the wake of controversies involving Tesla founder Elon Musk.
"Without prejudging a particular matter, it might be time for us to come forward and say, here are some principles of this game," said Jackson, a Donald Trump appointee and a Democrat, speaking at an industry conference on Thursday.
Earlier this year, Jackson dissented from an agreement between the SEC and Musk concerning the Tesla chief executive's use of Twitter.
Musk was sued by the SEC in 2018 after falsely claiming he had secured funding for a buyout of the car company, leading to a settlement under which Musk was required to receive legal preapproval for tweets that could affect Tesla's share price.
But that deal unraveled this year after Musk tweeted about the number of cars Tesla expected to make in 2019. A new accord was struck in April, from which Jackson dissented.
"I cannot support a settlement in which [Musk] does not admit what is crystal clear to anyone who has followed this bizarre series of events," Jackson said in a statement at the time. "Musk breached the agreement he made last year with the Commission — and with American investors."
"What's important to me is that the legal principles we've always had in the securities markets apply to all the innovative things that are happening," Jackson said Thursday, "but Twitter is a little different. It's a medium; it's informal. It can be responsive, there can be retweets, there can be a conversation, in ways that are not contemplated by every single SEC rule."
He added: "CEOs want to share what they can within the bounds of the law. And of course they should. The question is, how can we do that in a way that protects investors?"
The rising number of corporate executives that use platforms like Twitter and Facebook to divulge news — albeit often fluffy announcements rather than market-sensitive facts — had become a headache for the SEC even before Musk's tweets.
In July 2012, when Reed Hastings, the Netflix chief executive, wrote on his personal Facebook page that the company had just enjoyed a record-breaking month, Netflix's shares rose. The SEC warned Hastings it may censure him for breaching fair disclosure rules, but the executive countered that he had 200,000 subscribers to his Facebook page so the post should be considered a public disclosure.
In April 2013 the SEC agreed with Hastings and Netflix that social media disclosure could constitute public disclosure, provided that investors have properly been alerted to which social media will be used to disseminate information.
"One set of shareholders should not be able to get a jump on other shareholders just because the company is selectively disclosing important information," George Canellos, then-acting director of the SEC's enforcement division, said in a statement at the time. "Most social media are perfectly suitable methods for communicating with investors, but not if the access is restricted or if investors don't know that's where they need to turn to get the latest news."