Landlords could not ban Section 8 tenants under proposed L.A. ordinance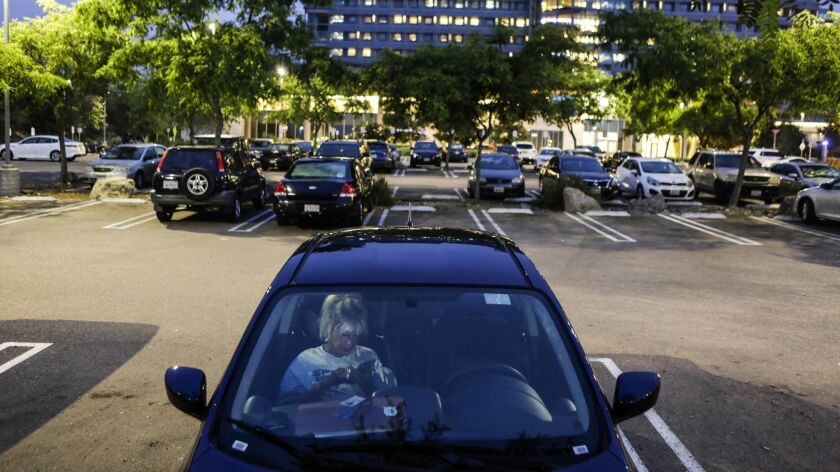 The Los Angeles City Council is expected to vote Wednesday to draft an ordinance that would bar landlords from establishing blanket bans on tenants with Section 8 vouchers.
The law would extend protections against so-called source-of-income discrimination to people who pay with vouchers so they have a better chance to get off the streets or end their crushing rent burdens.
A growing number of municipalities, including San Diego and Santa Monica, have passed such laws as tenants increasingly can't find landlords who accept the vouchers. Experts say the federal rent subsidies have not kept pace with rising rents that higher-income tenants are willing to pay.
Although the proposed law does not directly address the problem of soaring rents, it does prohibit landlords from refusing to consider Section 8 tenants and outlaws common advertisements that state vouchers aren't accepted. A recent Urban Institute study found that 76% of Los Angeles County landlords with units affordable to Section 8 tenants refused to accept vouchers.
"It's one thing to provide Section 8 certificates to low-income people," said Larry Gross, executive director of the Coalition for Economic Survival, "but if they are not able to use them and the landlord shuts the door on them, it's meaningless. It's like going to shop at the supermarket and the shelves are empty."
Among the reasons landlords cite in not accepting Section 8 vouchers are concerns over government red tape or a belief that people who need the subsidies are problem tenants, according to the Urban Institute and other studies.
Housing advocates say those beliefs are inaccurate and can reflect negative stereotypes of low-income households, as well as racism against people of color, who make up the majority of voucher holders.
The Apartment Assn. of Greater Los Angeles, which represents mom-and-pop landlords, has come out against the proposed ordinance.
Daniel Yukelson, the group's executive director, said many landlords would rent to Section 8 tenants, because the government guarantees payment. But he said the program can be cumbersome and difficult to navigate, particularly in Los Angeles.
The program requires landlords to have units inspected before they can be rented with the federal subsidy. Yukelson said landlords can wait weeks for an inspection and can then be dinged for minor violations that don't put tenants at risk, further delaying move-in and collection of rent during a time of high demand.
"It's not a discrimination issue," he said. "It's a huge hassle and administration burden issue."
Instead of a source-of-income ordinance, the association has urged the city to focus on "improving program administration and incentivizing participation."
Eric Brown, a spokesman for the city's Housing Authority, said that inspection wait times typically are just a week and that the authority is working to reduce that to two days.
The ordinance also would prevent landlords from denying housing to Section 8 tenants simply because of the wait times, according to a spokeswoman for Councilman Paul Krekorian, who proposed the legislation.
Section 8, which gets its name from a section of the federal Housing Act, was launched in the 1970s as an alternative to costly public housing projects, which were criticized for segregating poor families in neighborhoods with low-quality schools.
However, low subsidy levels and negative stereotypes, advocates say, have restricted the ability of families to move into neighborhoods with more opportunities.
In addition to banning source-of-income discrimination against Section 8 tenants, Los Angeles' proposed ordinance would stop landlords from rejecting tenants outright who pay through other subsidy programs, including those specifically designed to house homeless individuals.
If the proposal moves forward Wednesday, the city attorney would draft an ordinance, which would then need to come before the council for a final vote, which is often a formality.
If the ordinance becomes law, Los Angeles would join 11 states and nine cities with policies in place to outlaw blanket Section 8 bans, according to a city report.
A pending state bill, Senate Bill 329, would extend those protections across California, and in January, the Los Angeles County Board of Supervisors voted to draft an ordinance that bans source-of-income discrimination in unincorporated areas.
Follow me @khouriandrew on Twitter
---
Your guide to our clean energy future
Get our Boiling Point newsletter for the latest on the power sector, water wars and more — and what they mean for California.
You may occasionally receive promotional content from the Los Angeles Times.