China's stock market drops 8.5%, its biggest single-day fall since 2007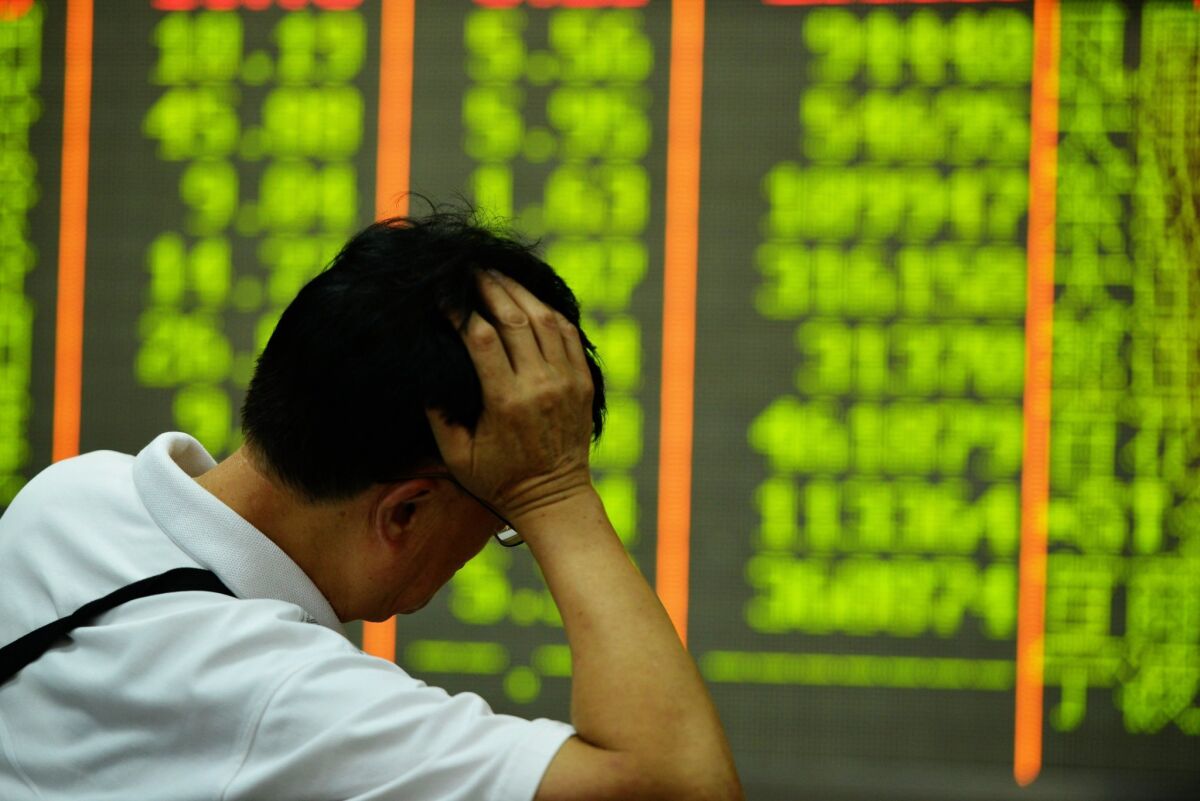 Reporting from Beijing —
China's summer stock market roller coaster took a deep dive Monday as the Shanghai composite index dropped 8.5%, its biggest single-day fall since 2007, casting doubts on stabilization moves from Chinese authorities.
The Shanghai composite lost 345.35 points to 3,725.56, with about 1,800 listings falling by the daily limit of 10%. That's off more than 28% from Shanghai's peak in mid-June, but is still 76% higher than it was a year ago. The Shenzhen composite fell 7%.
Other Asian markets closed down as well, though their drops were not as steep. Japan's Nikkei index lost about 1%, and Hong Kong's Hang Seng index fell about 3%.
The drops followed a downbeat week on Wall Street last week and data showing slowing activity in China's manufacturing sector last month. That sign of sluggish demand in the world's second largest economy led investors to shun commodity-oriented shares, analysts said.
"A weak lead from the U.S. and ongoing nervousness about commodity markets will see stock market trading start the week on a downbeat note," said Ric Spooner, chief analyst at CMC Markets.
Chinese stocks have swung wildly this summer, wiping out billions of dollars in gains and prompting intervention from Chinese authorities earlier this month.
The government restricted selling, halted initial public offerings, urged brokerages to hold stocks, seeded a $19-billion fund to encourage brokerages to buy shares and tamped down on negative sentiment online and in the media. That led to some rebound in prices.
Though Chinese markets are largely closed to foreign investors, the volatility — and China's response — has raised concerns around the world. Some observers have praised China's interventions, but others have said the moves call into question Chinese leaders' professed commitment to market liberalization and integration with the wider global financial system.
Sign up for our free weekly business news briefing newsletter>>
Chinese authorities have talked up stock market investments in recent months, encouraging citizens to buy shares even as economic growth looks to be flat or slowing. China's gross domestic product, or total economic output, grew 7% in the first half of the year, faster than most countries but a decline from the double-digit growth rates of just a few years ago. Last year, China's GDP grew 7.4%.
Continued volatility in the stock markets could lead to a loss of confidence among investors and weaken consumer demand just as Chinese authorities are trying to rebalance the economy to rely less on manufacturing and exports and more on services and domestic consumer demand.
"The bottom line is, when you have a market as volatile as China, you're going to have violent corrections," said Fraser Howie, coauthor of "Red Capitalism: The Fragile Financial Foundation of China's Extraordinary Rise."
"Downside moves are more extreme than upside moves because fear overpowers greed," he said.
Howie noted that Monday's tumble is likely an unintended consequence of Beijing's major stock market intervention early this month.
"The reality is you have a highly rigged market at the moment, and you have a lot of panic and fear that if the government isn't there, it's going to collapse," he said. "This is a horrible situation to be in."
Tommy Yang in the Times' Beijing bureau contributed to this report.
Sign up for the California Politics newsletter to get exclusive analysis from our reporters.
You may occasionally receive promotional content from the Los Angeles Times.