Slacker Radio agrees to be acquired by LiveXLive for $50 million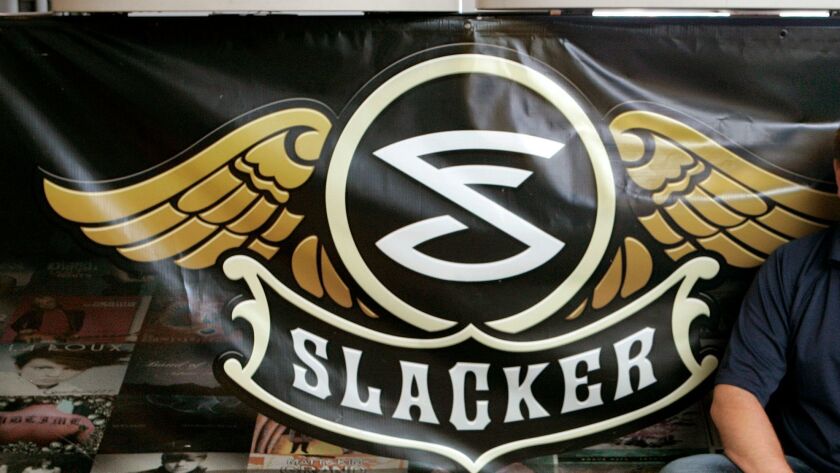 Slacker Radio, an online music streaming outfit, has agreed to be acquired by LiveXLive Media Inc. for $50 million.
The deal is contingent upon LiveXLive completing a pending public stock offering, where it expects to generate proceeds of at least $100 million.
LiveXLive, formerly Loton Corp., is based in Beverly Hills and traded over the counter. It expects to pay $44 million in cash and $6 million in stock for San Diego-based Slacker, subject to adjustments.
Founded in 2006, Slacker has just under 50 employees, most of them based in San Diego. LiveXLive Chief Executive Robert Ellin said there are no changes planned in Slacker's operations.
Slacker delivers free and subscription online radio, including music, news, sports and talk shows. The key to the company's strategy is creating handcrafted shows — the kind that are harder to find on today's over-the-air radio dial, which is dominated by cookie-cutter formats.
The company tries to set itself apart from other streaming services such as Pandora, Spotify and Apple Music by using radio experts to curate uncommon programs such as "Artist DNA," where artists' musical influencers and collaborators are featured along with their songs.
Slacker has raised more than $70 million in venture capital and debt financing over the years. It has 1.5 million unique users monthly and 400,000 subscribers, according to filings with the U.S. Securities and Exchange Commission.
But the company has struggled to make money. For the first six months of this year, Slacker posted revenue of $13.4 million, down from $21 million for the same period in 2016. It reported a loss of $3.76 million, compared with a loss of $2.5 million a year earlier, according to SEC filings.
Launched in 2015, LiveXLive delivers live music and music-related video content over the Internet. It expects to provide live music audio streaming to Slacker's audience, as well as combine teams of both companies to offer both personalized audio and music-centric video content across mobile devices, TV apps and in-car infotainment systems.
"We are excited to be joining forces with LiveXLive to extend the capabilities of Slacker to create a broader set of consumer experiences and leverage the reach and resources of LiveXLive to accelerate growth in the business," Duncan Orrell-Jones, chief executive of Slacker, said in a statement.
LiveXLive has limited revenue and posted a $14-million loss for the year that ended March 31, according to SEC filings. It is trying to build its business through acquisitions. Earlier this year, it bought online nightlife and event ticketing platform Wantickets. Along with Slacker, it has reached an agreement to buy live video social network outfit Snap Interactive for $34 million.
The company recently named Andy Schuon — a former executive at MTV, VH1, Universal Music Group, Ticketmaster/Live Nation and Infinity/CBS radio — as its president.
"I look forward to working with the Slacker team to bring the worlds of recorded music and live music together with the best audio and video content," Schuon said in a statement.
---
Your guide to our new economic reality.
Get our free business newsletter for insights and tips for getting by.
You may occasionally receive promotional content from the Los Angeles Times.