Those Nikes — buy, sell or hold? Sneakers are now assets trading like stocks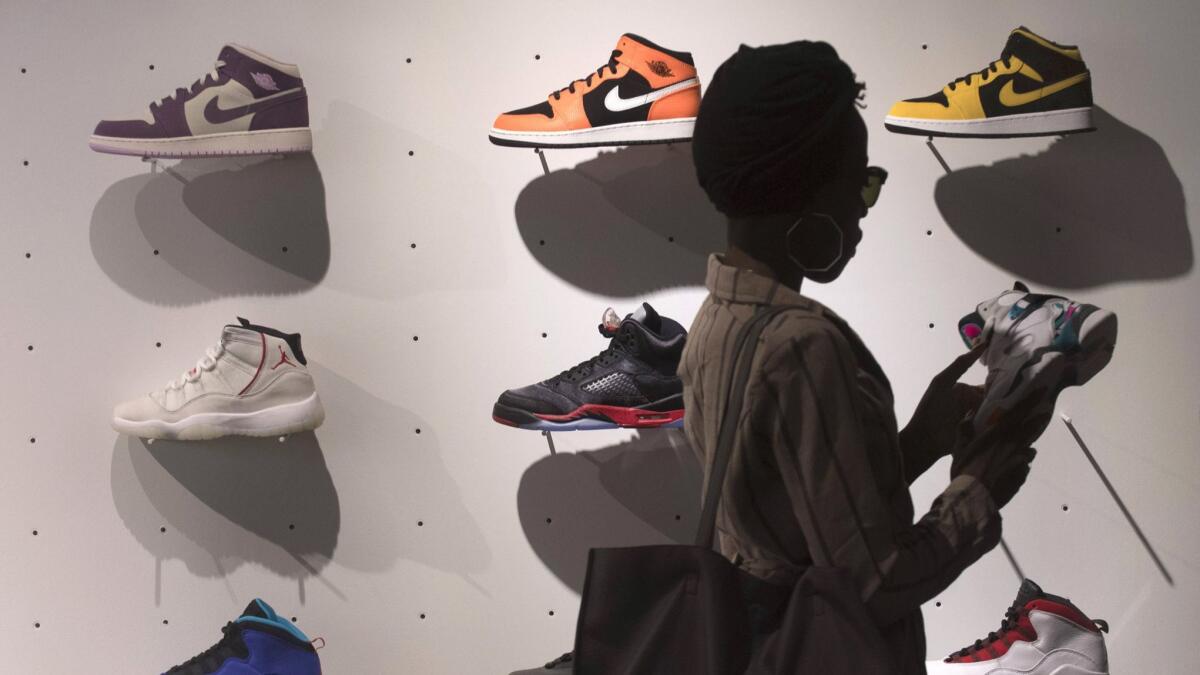 Like many traders, Johan Aguirre makes a daily check on his holdings' ups and downs across an electronic spreadsheet.
Aguirre, however, isn't analyzing stocks, bonds or cryptocurrencies. He specializes in an increasingly tradable asset class — sneakers — on his favorite shoe reseller platform, StockX. Sometimes, he'll pick up only one pair; at other times, he'll buy in bulk.
"If it's a shoe that I know I can sell," he said, "typically I'll buy the whole inventory that's presented to me. And from the moment I know the sizes and the styles and the product code, I list it on StockX and it's live right away."
Aguirre, 31, is part of the evolution of the multibillion-dollar worldwide sneaker resale market, which is looking less like a hobby these days and more like an occupation.
The people who buy and sell sneakers will camp out at specialty retailers before a product drop, compulsively check Nike's SNKRS app and haunt resale sites such as StockX, GOAT, Flight Club and Stadium Goods where sneakers are authenticated and offered for resale.
Most are small-time entrepreneurs hoping to earn some spending money on one or two pairs, maybe dreaming of snagging once-in-a-lifetime kicks that might bring five figures in the thriving secondary market for basketball-inspired shoes.
But for Aguirre, this is a serious second-income business. Aguirre says he sold $50,000 in sneakers last year and estimates he cleared about $7,000 in profit.
"The sales depend on the shoes I list," Aguirre said, "but it can get to the point that I'm selling more than a hundred pairs of shoes a month. It's almost become a full-time job."
From Nike to Gucci, a guide to the fast break of basketball-inspired sneakers »
Dedicated resellers like Aguirre drive the action at StockX, which Chief Executive Josh Luber helped found in 2016 with the idea of bringing Wall Street to streetwear.
Now Luber's pushing the investment angle even harder by striking exclusive deals with manufacturers to sell products through blind auctions in something StockX is calling a "sneaker IPO," for initial product offering. There's benefit for shoe companies and deep-pocketed buyers, but the product-drop-via-auction approach could leave behind the small-time sneakerhead that was the core of the resale market.
Sneaker resellers have been around for decades, but it took the likes of Ebay, Craig's List, Facebook and Instagram to enable a vibrant secondary market, said Matt Powell, vice president and senior industry advisor for the research firm NPD Group.
NPD's last study of the global reseller market estimated sales at $1 billion in 2016, a total that Powell said could be as high as $3 billion today but "no one really knows."
That compares with a retail sneaker industry of about $100 billion in sales worldwide, up from $55 billion in 2016, Powell said.
Investors lately have been showering money on resale platforms.
In February, retail giant Foot Locker announced a $100-million equity investment in Culver City-based GOAT Group, which a year earlier had raised $60 million and acquired Flight Club, another sneaker sales marketplace.
In December, online fashion retailer Farfetch bought the 3-year-old consignment platform Stadium Goods for $250 million.
StockX, which also sells watches, handbags and streetwear, in September announced that it had attracted $44 million from GV, formerly known as Google Ventures, and other investors. The company's co-founders include billionaire Dan Gilbert, who started Quicken Loans and is majority owner of the Cleveland Cavaliers.
Through Detroit-based StockX, Luber, 41, was able to marry his love of data and footwear. Luber, who has both an MBA and a law degree from Emory University, first came to Gilbert's attention through a sneaker sales data company Luber created in 2012 called Campless.
Powell, of NPD Group, said he credits the entrepreneur for taking sneaker reselling to the next level.
"It was Luber who was producing algorithms to track pricing on shoes and was publishing it for free," Powell said. Later, StockX "would become the original sneaker marketplace online."
StockX and other resale platforms grew with the help of a committed vendor pool: young people who were willing to get up early to be first in line at the latest signature sneaker drop. Then they hoped to make some money on reseller sites and avoid taking a boring summer job.
"There's a subculture of people who in many ways are just really wrapped up and into the shoes," said George Belch, marketing department chairman at San Diego State University.
"They will camp out for them, they will pay exorbitant prices for them, and they want to be the trendsetters, the first to have them. But then within that subculture, there's also become this almost, like, entrepreneur-investor group that really sees this as almost like a memorabilia market."
Downtown L.A.'s latest retail renaissance? Broadway's burgeoning 'Sneaker Row' »
The sneaker secondary market has reached a level of sophistication surpassing that of past collecting fads, such as Beanie Babies and baseball cards, with timely price information giving clear signals about the market forces surrounding any particular shoe, said financial analyst Dylan Dittrich, author of "Sneakonomic Growth: Scarcity, Storytelling, and the Arrival of Sneakers as an Asset Class," which was published in February.
Dittrich said he was inspired to write the book when he saw the Sean Wotherspoon Nike Air Max 97/1 suddenly $100 off its asking price of more than $600 on StockX on news of a fresh production run.
"It happened in a day or two, a really quick reaction for something you wouldn't think would adjust so quickly," Dittrich said. "I was seeing true stock market style dynamics." The shoe that originally retailed for $160 has since recovered, most recently selling for $950.
Brands can also manipulate supply to raise prices, Dittrich said, such as the case when Adidas deliberately reduced the supply of the Stan Smith Boost for 18 months. And, as with any investment, there is always the risk of losing money on sneakers, he said.
Some purists have been turned off by changes that they feel could raise prices and exclude people from the market.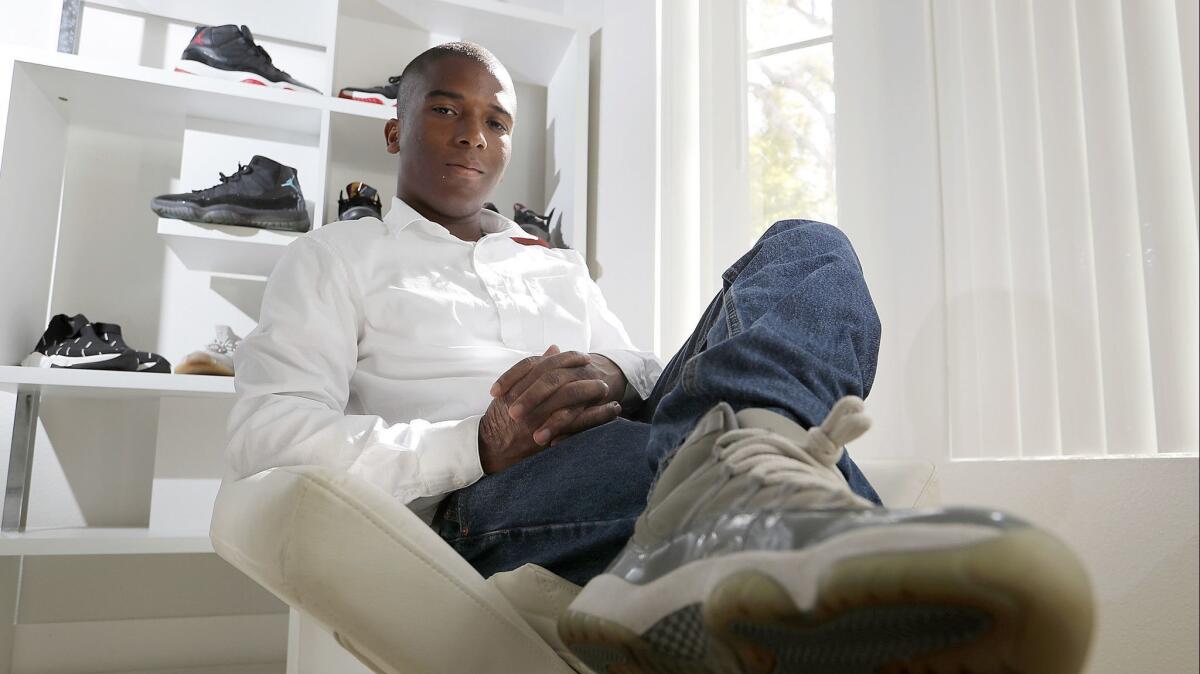 Loyola Marymount University finance student Maliek Reed, 19, said he has been collecting and selling sneakers since middle school, starting on Facebook.
Reed remembers the day in 2013 when he was first in line at a WSS store in San Pedro for a pair of shoes he couldn't wait to own — Air Jordan 11 Retro Gamma Blues. That's when the adult stranger approached with an offer.
"I'm like, 'Yo, I'm going to get these shoes. They're going to be nice.' I'm excited. First person in line," Reed said. "And some guy tells me, 'I'll give you $200 if you let me get in line with you right now, and I'll buy your shoes.' But I saw every single person behind me, just kids like me who had saved up their money. I said, 'No, I can't do that. I'm sorry.'"
Reed said he formed the Los Angeles Sneakerhead Society, which has had as many as 6,000 members, during his freshman year at LMU, and was surprised by how many adults wanted to join. It was far from the days when a bunch of like-minded kids treated the whole thing like trading baseball cards.
"It used to be like a scavenger hunt to get it, you know?" Reed said. "With these sneaker IPOs, it's going to get really expensive."
StockX hosted its first sneaker IPO in January with an exclusive listing of 800 slides, in red or black, by celebrity jeweler Ben "Baller" Yang. The slides, manufactured by L.A.-based Straye, were printed with "Ben Baller did the chain" — a line from rapper ASAP Ferg's 2017 hit "Plain Jane."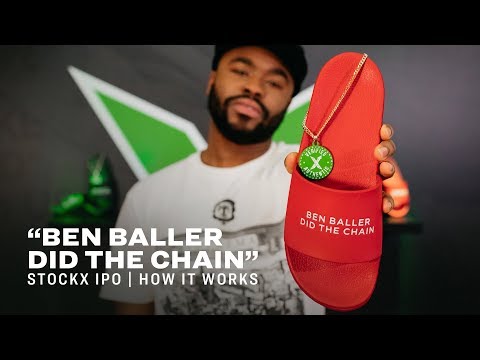 The sale was a blind auction — known on Wall Street as a Dutch auction — in which bidders commit to the maximum they would be willing to pay. The final price for all bidders is determined by the lowest bid that would clear out the inventory. If, for instance, there were 20 pairs of black slides available in size 9 and the top bids for 20 pairs ranged from $200 to $1,000, then all the buyers would pay $200, according to the StockX primer.
Over three days, StockX said, the marketplace received nearly 10,500 bids that typically ranged between $50 and $5,000, although some people bid $1 million or higher. These were bidders pursuing a risky strategy of trying to ensure that they got the product while betting that they wouldn't be on the hook for their full bid.
In the end, the clearing price ranged from $75 for size 5 black slides (no doubt, a great relief to the person who bid $1 million in that auction) to $350 for size 13 red slides. If the slides had been sold in a store, they probably would have cost about $70 a pair, StockX said.
"We want to work with the brands, the industry, Nike and Adidas and Supreme, etc., to release products directly into the market, to literally IPO them," said Luber, who began collecting athletic shoes when he was 8 and now has about 350 pairs. "And in that scenario, then we really start to play both halves of the retail and resell sneaker markets."
Luber says the IPO model gives major brands the potential for larger profits without appearing to gouge regular customers.
"There's been a lot of reasons for Nike to distance themselves from the secondary market," Luber said. "They never wanted to say, 'Oh, I want that extra $300.' This is the major wedge in our relationship. But I think the basic belief today is: The secondary market is not going away, we have to figure out how to work with them as opposed to against."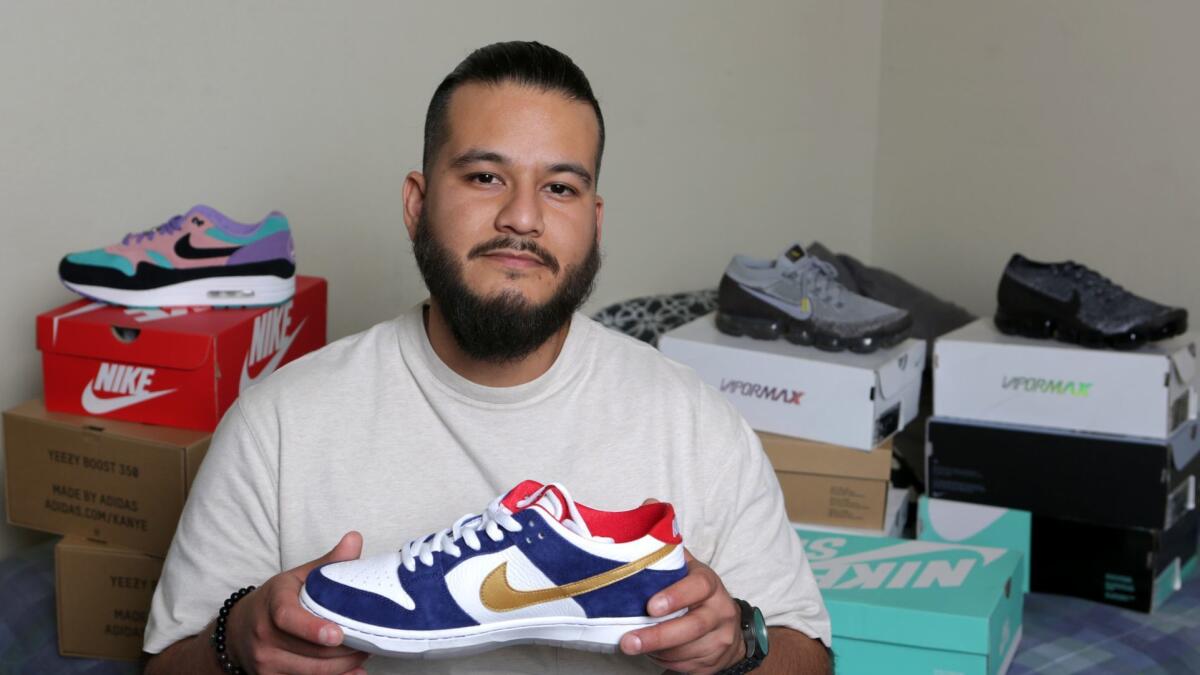 Aguirre doesn't think that sneaker IPOs, if they become more common, will disrupt what he's doing. It will still require patience and research.
Aguirre had been studying accounting with the intent of opening a bricks-and-mortar shoe store, he said, but in 2016 pivoted to selling shoes online through Shopify. Then along came StockX, where he was seeing higher profits. StockX also had hundreds of authenticators on staff who took over ensuring that the shoes weren't fakes.
"From then on, I just focused on StockX," Aguirre said, "and my sales really took off in 2017."
Aguirre is also a collector, with a revolving stock of about 60 pairs of shoes, largely limited by his housing space constraints.
"Everything has to be original and brand new. You can't have any creases, they can't be worn, there can't be scuffs on the shoes, they can't be dirty on the bottom of the shoe. The box has to be intact with no damage. I look at all those before I decide to purchase a pair, in order to sell on StockX," Aguirre said.
His best sellers to date? "Most of them were Jordan retros. The top ones were the Gatorades that came out in 2017, the Jordan 1 Retro Olympic Medals that came out in fall 2017, in October. Those did really well for me. And also, Jordan 1 Black History Month that came out February 2018 for All-Star Weekend."
"Before I buy shoes, I'm always on blogs and on websites just to see what's new, what's hot, something that people want, a collectible," said Aguirre, who works as a safety coordinator at a hazardous waste facility by day. "So, I have an understanding of what would sell and what wouldn't sell."
Aguirre said business is good.
"I've sold over 1,000 pairs of shoes on StockX in less than two years' time and I have a 100% authentic record," Aguirre said. "I don't see this slowing down. It's just something that's going to explode."
For more business news, follow Ronald D. White on Twitter: @RonWLATimes