Must Reads: Downtown L.A.'s latest retail renaissance? Broadway's burgeoning 'Sneaker Row'
Los Angeles has a vibrant sneaker culture, and downtown is its nerve center.
USC freshman Mahmood Alfayoumi, 18, had heard about "Sneaker Row" in downtown Los Angeles, but even this seasoned fan of athletic footwear wasn't prepared for what he found.
At a recently opened Jordan-Nike-Footaction collaboration, Alfayoumi ogled hard-to-find sneaks, browsed the onsite customization center and ran on a VR Mars simulator (a treadmill, in real life). He strolled past exercise physiology and metabolic testing machines, checked out the plush television lounge, then headed to the rooftop basketball court to shoot hoops.

For the record:
1:30 p.m. Dec. 10, 2018An earlier version of this story incorrectly identified the vice president and general manager of the Jordan Brand in North America as Mitch Drummond. The correct name is Scott Dixon.
"I've never seen a store like this before," Alfayoumi said. "This is pretty cool."
Called Jumpman L.A., the venture is one in a fast-growing collection of athletic shoe and street wear stores on South Broadway between 4th and 9th streets. And Sneaker Row, as the stretch has been nicknamed, is only a portion of the expanding shoe scene downtown.
"This part of downtown has really become the sneaker center," said Brigham Yen, author of the DTLA Rising blog and a real estate broker. "Broadway itself was the retail corridor for Los Angeles, historically speaking."
The street wear crowd had been mostly drawn to the Fairfax and La Brea districts of Los Angeles, Yen said, where retailers such as Supreme, Champion, Undefeated and A Bathing Ape, or BAPE, can be found.
"I think it's just sort of split from La Brea and Fairfax to downtown," Yen said. "The rent is cheaper. Two, there's a cool factor with downtown just being authentically urban."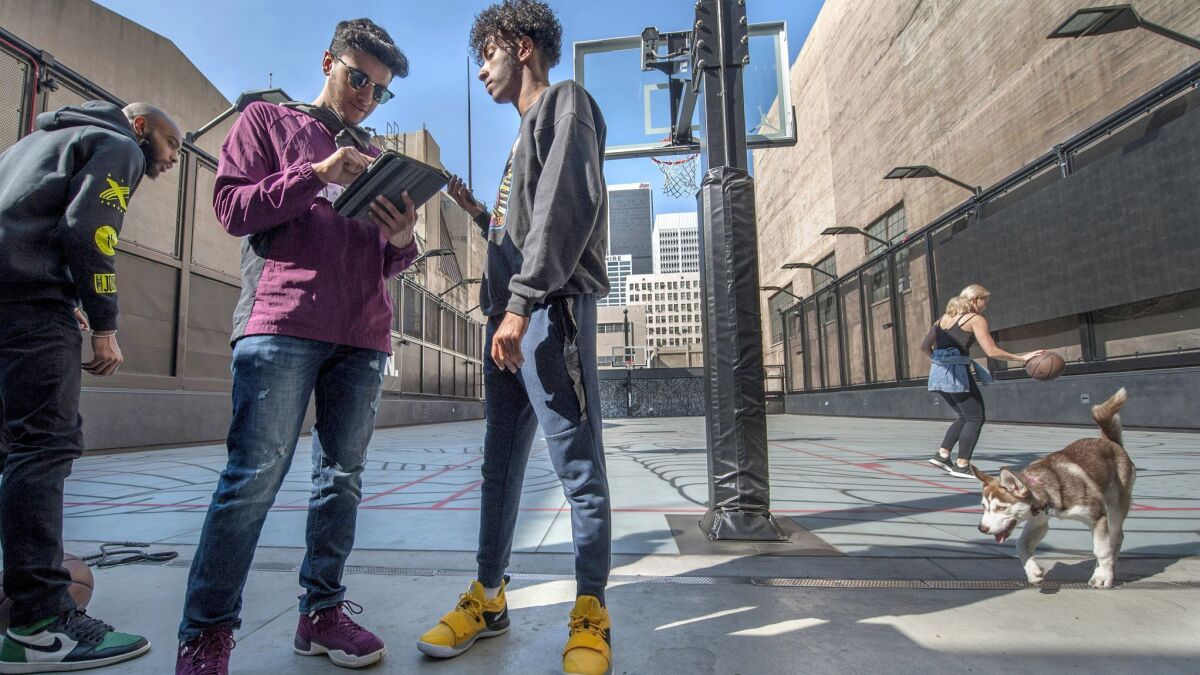 The proliferation of sneaker stores highlights the changing retail component of downtown's renaissance.
Decades ago, downtown was a thriving shopping district with popular department stores such as Bullock's, May Co. and Robinson's. In the latter part of the 20th century, downtown withered as stores followed families out to the suburbs, although Broadway and the Garment District in particular morphed into a draw for immigrant consumers.
Starting around 2000, a host of new businesses and residences began arriving, profoundly transforming the area.
In addition to Jumpman L.A., which opened in October, South Broadway also is home to a low-frills WSS outlet and a Sheikh Shoes store, more commonly found in malls, with a kind of industrial glitz theme.
There's also a 6,700-square-foot Footaction plus Nike Kicks Lounge store, in a four-story 1930s-era building big enough to accommodate multiple events at once.
In 2019, Vans will open a 9,000-square-foot mixed-use space that will be "a brand showcase," Vans Vice President David Theiss said. Vans' ambitious plans include a second floor that can be used by local artists, chefs and others as a popup spot to highlight their specialties.
"Our company has very deep roots in Southern California, but this will be our first one, really, in downtown," Theiss said. "We're excited to be part of the renaissance, which is in our backyard. We want to have a meaningful role in how that's going to evolve."
Ken Side, vice president and general manager for the Footaction division of Foot Locker Inc., said the company has been changing its largely mall-based footprint and ended up doubling down on Broadway with two stores only about 1,000 feet apart.
"We did a lot of research on L.A. and didn't want to be a 'Me too' and go out on Fairfax and Melrose," Side said. "We thought the Broadway theater district was super important because it has great history, it has great DNA. And it was starting to get that feel of being a cool place to go."
The two Footaction ventures are very different.
The 749 S. Broadway store is divided on the ground floor into a Footaction shop, carrying a variety of brands, and a Nike Plus Lounge featuring only Nike products. The two stores are connected by a large open doorway. Upstairs is reserved for event space.
The Jumpman store is all Jordan and all basketball.
Ground-floor retail is topped by a second floor where customers can get shoes customized using a 3-D printer, lift weights, get some cardio in or kick back in a VIP lounge. The rooftop court comes with house rules restricting footwear to Jordan or Nike athletic shoes only.
For a less-exclusive experience, shoppers also can find kicks on Sneaker Row at Ross Dress for Less, Burlington and Shoe Looker.
The clustering of so many similar stores in such a small area creates a curious phenomenon: Although each store lays claim to exclusive items, they also carry some of the same shoes and clothing as their rivals. Each, for instance, has Nike shoes, and three have special 23-themed areas devoted to selling Michael Jordan merchandise (23 being the jersey number Jordan wore) as well as to holding special events.
Why locate so close to competitors who might be siphoning off business?
But that's not the way retailers view it, said Derrick Moore, senior vice president and a retail property specialist for CBRE, a commercial real estate firm.
"It not only keeps them on their toes," Moore said, "they also get to see what the competition is doing."
Once a nucleus of stores has grown sufficiently large, as the Broadway sneaker stores have, it becomes a focal point for shoppers and retailers.
"It starts to brand an area, which is really good for the consumers and great for landlords," Moore said.
Not everyone coming to the area is drawn to the growing Broadway presence. Sneaker stores — some carrying new shoes and others consigning collectible shoes (wrapped in more plastic than your grandma's couch) — are scattered around downtown, such as Little Tokyo's Rif.la and the Fashion District's Nice Kicks and Holy Grail.
And another shoe cluster is developing at Row DTLA, a 30-acre retail-restaurant-entertainment-office complex in the Arts District.
The exclusive Bodega shoe brand is there. Athletic Propulsion Labs will be opening a store and Adidas plans a creative studio.
Bodega's entrance is hidden speakeasy-style at the end of a short hallway lined with old banana and coconut boxes in a far corner of Row DTLA.
Oliver Mak, a Bodega co-founder, said the company located downtown because it has "the largest concentration of artists and designers outside of New York all in one space, and that has always been a draw for us as artist and designers. It's just a culmination of a lot of factors that brought us to Los Angeles, downtown specifically because it just has this melting-pot element."
On Sneaker Row, prices can range from $19.99 for a pair of Fila Classic Canvas shoes, on sale at WSS, to quite a bit more. For instance, a pair of Air Jordan 11 Concords, due to be released Saturday, is expected to sell for $220 and up.
Bodega, Mak said, leans to the high end, including very limited editions, such as a pair of Adidas Hender Scheme NMD R1's listed for $1,000.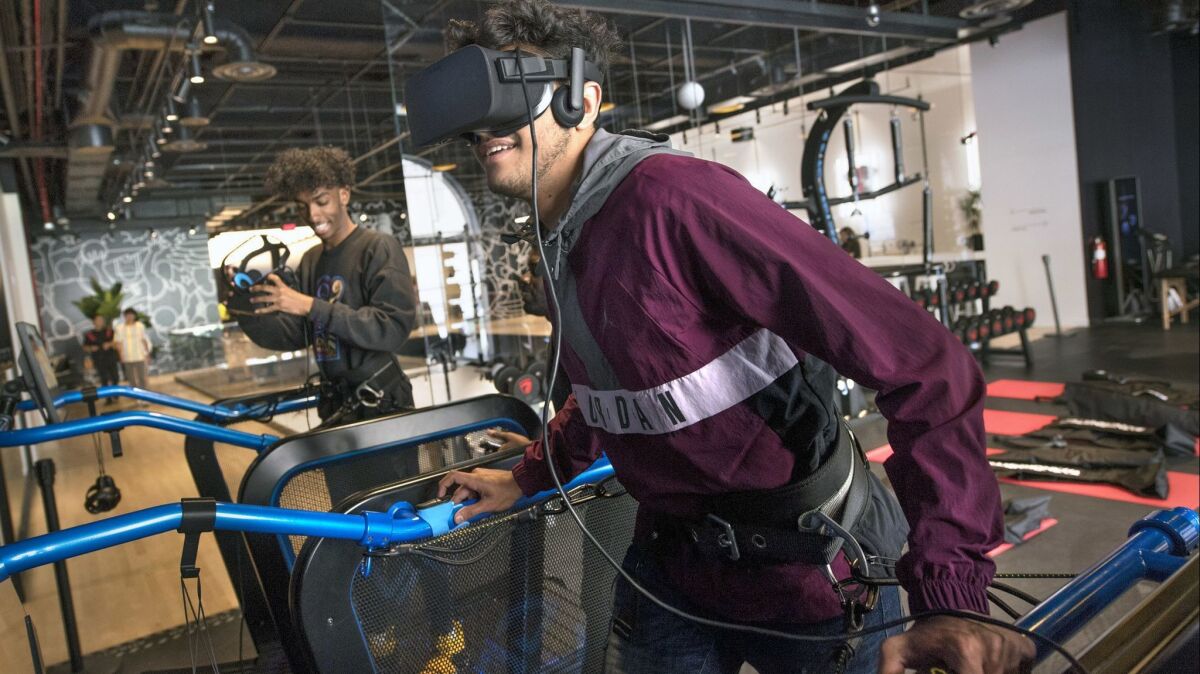 Yen, the author of the DTLA Rising blog, said downtown's sneaker scene, to become a real draw, has to do more than just shout out that "we're downtown, we're cool, come see us."
"It won't happen if there are just shoes and clothes on the racks," Yen said. "Now you have to have something else in there to really kind of make people go, 'Wow, I really wanna come here.' "
The clientele has high expectations and lots of retail experience.
Alfayoumi, the USC freshman, for instance, already owns 19 pairs of sneakers. At the Jordan store he was wearing his favorite ensemble: Air Jordan 12 Bordeauxs with a matching Jordan brand hoodie of the same red wine color.
An ordinary store wasn't really going to cut it.
Alfayoumi was thrilled by the range of experiences he could have at the store. "I ran on the treadmill and played VR games. One was a first-person shooter game and the more I ran, the more ammo I had. I've never seen anything like this in a store where you are actually moving and playing in VR."
That's exactly what Scott Dixon, vice president and general manager of the Jordan Brand in North America, wants to hear.
"That's what this space is all about," Dixon said. "It's really trying to pioneer the future of retail. We see this location in downtown L.A. becoming an increasingly influential part of the city and we just felt like it was a perfect launch pad for the Jordan Brand's future."
For more business news, follow Ronald D. White on Twitter: @RonWLATimes