Home prices fall in Southern California for the first time in 7 years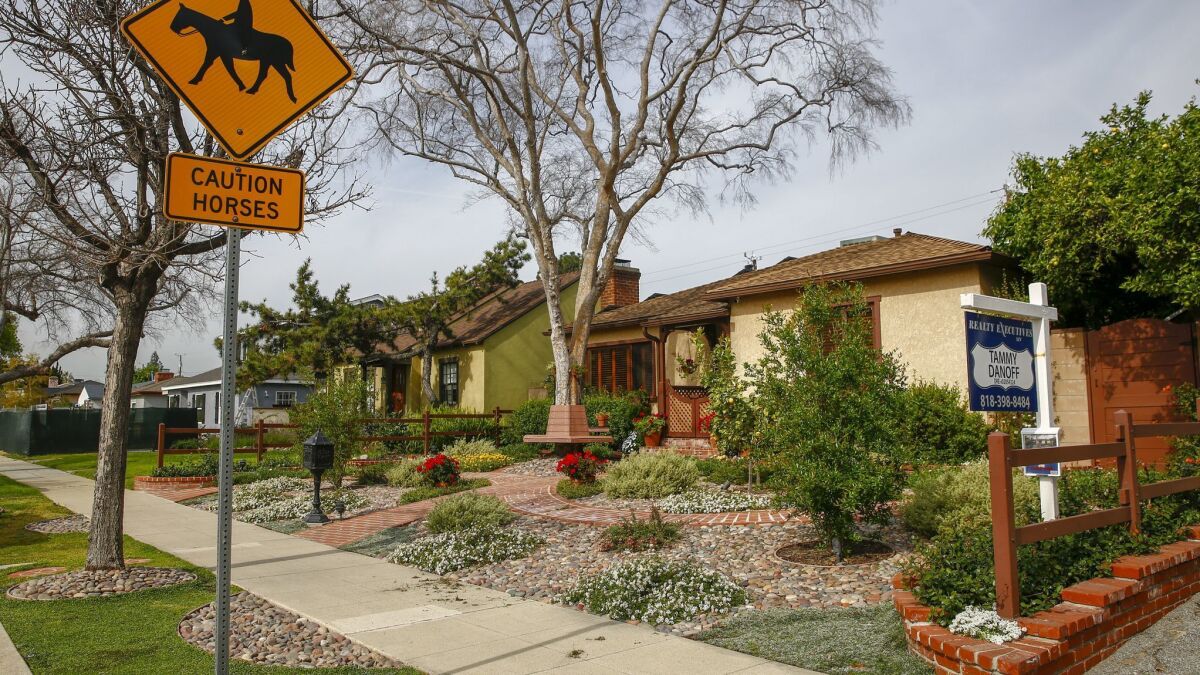 The Southern California median home price dipped slightly in March from a year earlier, the first annual decrease since 2012 and a sign of a remarkable downshift from the once-sizzling regional housing market.
The 0.1% drop, reported Friday by CoreLogic, means prices for the six-county region were essentially flat year-over-year. But given a pullback in previous months, prices are $18,500 off their June 2018 peak, and that raises the possibility of a sustained decline in the months ahead.
The median price for new and resale houses and condos — the point at which half the homes sold for more and half for less — was $518,500 in March, $500 less than a year earlier and off the all-time high of $537,000 reached in June.
The dip from March 2018 doesn't mean values declined across the board. In fact, when broken down by county, the median dropped only in Orange County, while remaining areas — including Los Angeles County — still posted a slight or modest increase compared with a year earlier.
Sales, however, continued their declines across the board and have now dropped in each county for at least eight consecutive months. Sales for the region fell 14.1% in March.
If prices follow and enter into a tailspin, many buyers struggling to afford a home would rejoice — provided it wasn't accompanied by an economic downturn and return to high joblessness.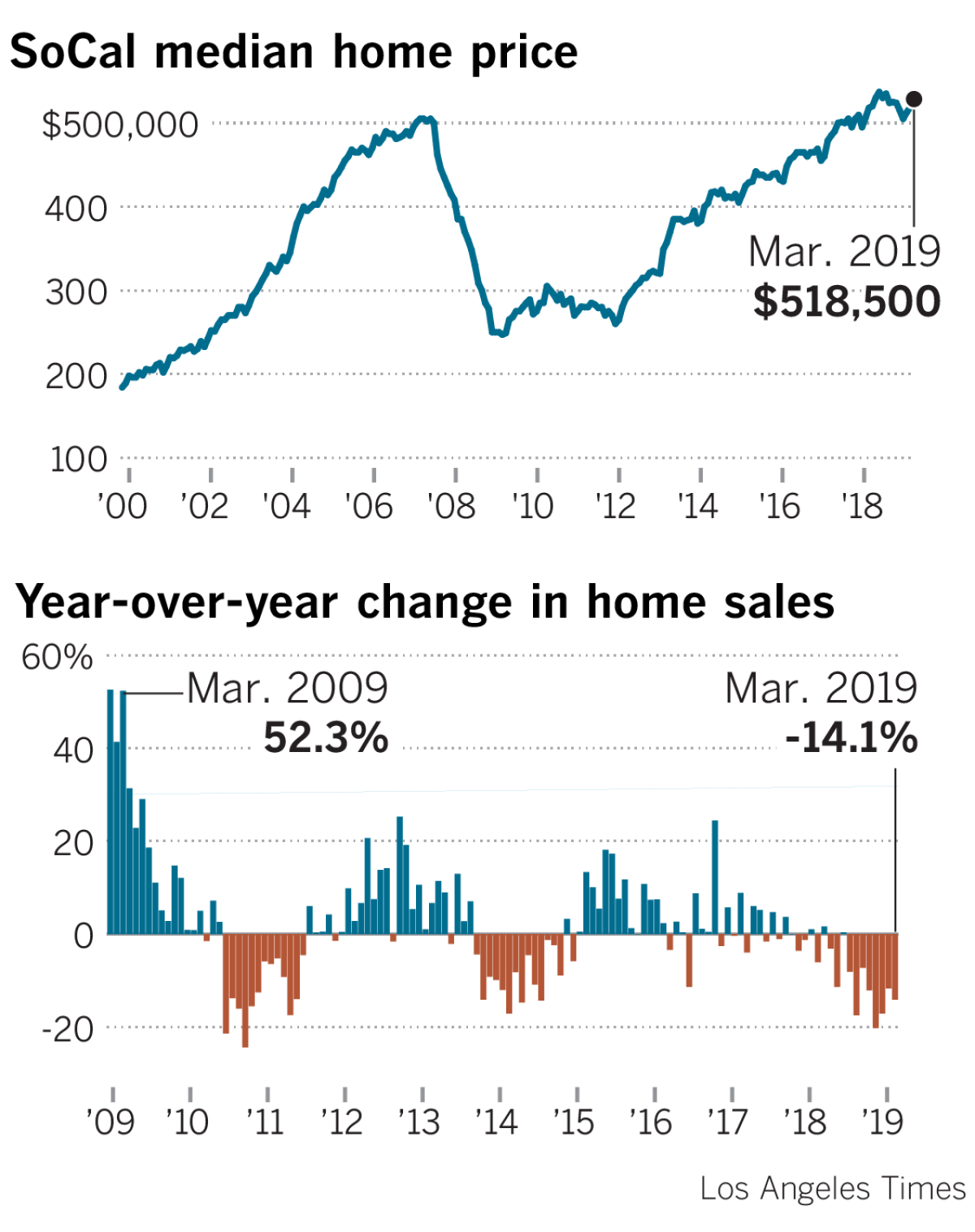 Many economists say either scenario is unlikely. Today, there is still lots of demand to live in a state where developers can't easily ramp up construction. Unemployment in California is 4.3%, near a record low and a far cry from a height of 12.3% after the Great Recession.
Experts say it is more likely the market is pausing and, although prices may turn negative for a time, a crash the likes of the one last decade isn't in the offing.
"What we are going through is a market adjustment," said Skylar Olsen, director of economic research at Zillow. "Home prices were outpacing incomes at an unsustainable rate."
Predicting a downturn is always fraught. But factors that led to previous housing busts aren't readily evident today.
In the early 1990s, defense cutbacks hammered the local economy. Last decade, risky — and sometimes fraudulent lending — inflated a bubble to unsustainable heights.
Today, lending is tighter and recession fears lately have eased. Experts generally predict slower, but continued, growth.
Open houses have also been increasingly busy as the opening of the traditional spring buying season coincides with a drop in mortgage rates, some agents said. Any upsurge in demand wouldn't fully be captured by March data.
"I don't see any kind of crash anytime soon," said Steven Thomas, who tracks the Southern California market at Reports on Housing. Absent an unexpected economic downturn or surge in mortgage rates, he predicted prices would be flat or increase slightly over the next year.
Los Angeles real estate agent Simone Poingsett said she's seeing more interest as rates have dropped from a height of nearly 5% in November to 4.2% this week. But buyer psychology hasn't returned to that of previous springs.
Home shoppers are pickier, and sellers are seeing fewer multiple offers. Poingsett said shoppers are coming to one of her listings, a Sherman Oaks condo, and finding carpet when they prefer hardwood floors.
"A year or two ago, they'd overlook that," Poingsett said, adding the seller is now seeking homeowner association approval to rip out the carpet. "Little things are stopping them from jumping on something."
Potential buyers worry about buying at the top, she said. And those who are willing to pull the trigger have more options to choose from.
The latest data show home inventory — the supply of property offered for sale — is rising. According to Zillow, there were 24% more homes for sale in L.A. County last month than in March 2018. In Orange County, listings rose 40%.
The increases stem largely from homes going unsold, rather than a flood of owners suddenly deciding now is the time to cash in, Olsen said. That indicates the chief culprit of the slowdown is affordability.
In Los Angeles County, March's median price was 85% above 2012 levels, according to CoreLogic. Average weekly earnings over that same time frame rose 27%, according to non-inflation adjusted numbers from the Bureau of Labor Statistics.
Supply has been extremely tight for years across the state — in part a function of home builders pulling in their horns after the financial crisis and local restrictions on new development. And thanks to Federal Reserve stimulus, buyers were able to take advantage of rock-bottom interest rates. Now, buyers may finally be balking.
Here's how the home price and sales data broke down by county:
In Los Angeles County, the median price rose 2.1% to $597,500, while sales dropped 15.5% from a year earlier.
In Orange County, the median price dropped 0.7% to $720,000, while sales fell 22.8%.
In Riverside County, the median price rose 3.9% to $389,500, while sales fell 11.1%.
In San Bernardino County, the median price rose 2.1% to $336,000, while sales fell 9.5%.
In San Diego County, the median price rose 0.9% to $555,000, while sales fell 8.6%.
In Ventura County, the median price rose 3.3% to $583,750, while sales fell 20.4%.
On a regional basis, the median ticked up 1.2% from February to March, lower than the typical increase seen between those two months.
Helping drive down the overall median from March 2018 was a greater share of sales in the lower-cost Inland Empire, CoreLogic said. And in the five counties that still saw positive price growth last month, the gains were all smaller than last year. Last March, L.A. County posted a gain of 6.6%.
"It's slowed down a lot from last year," said Andrew LePage, an analyst at CoreLogic. "That's more important than whether we are north or south of zero by one-tenth a percentage point."
Richard Green, director of the USC Lusk Center for Real Estate, said the shift toward lower-priced homes indicates the softening is focused on the top of the market — a dynamic that recent tax changes may be contributing to.
In L.A. County, the softening could also stem from people outright leaving the area or refusing to move here given high costs. According to the latest census estimates, L.A. County's population declined by 13,000 in the year that ended July 2018.
"It appears we may have hit an inflection point," in terms of population growth, Green said.
Regional trends, of course, can mask hot markets, particularly cheaper neighborhoods where higher-income individuals are moving because they've been priced out elsewhere.
In the gentrifying L.A. neighborhood of Jefferson Park, the median rose 6.5% in March, compared with a citywide gain of 2.7%, according to separate data from Zillow.
It's also possible any downturn in prices will be short lived. The sales data CoreLogic released Friday reflect deals that closed in March, meaning many buyers would've entered escrow in February and late January — a slower part of the year.
Mortgage rates were also higher. The drop to 4.2% this week from 4.94% in November, as reported by Freddie Mac, would have saved $176 on a monthly mortgage payment for a $500,000 house.
Mario Gamboa, an Irvine real estate agent, said the market isn't as hot as last spring, but he's noticed an uptick in the last three to four weeks, with the strongest interest in homes priced at less than $1 million.
"Maybe," he said, "we are just a little late in picking up."
Whether that's enough to firm prices in coming months is unknown.
Orange County's median in March was $20,000 below its all-time high of $740,000 reached in May, June and September of last year. L.A. County's median last month was $17,500 below its record of $615,000 reached in June.
In L.A. County, March prices haven't been below June levels since 2012, while in Orange County that last happened in 2016.
Green, of USC, had previously predicted Southern California prices would fall 5% to 10% over the next two years. Now that the Federal Reserve has signaled it won't raise rates again this year, he doesn't think the decline will be as steep. But he still expects a price change of zero to a 5% drop.
"Housing costs got beyond their fundamentals," he said. "It doesn't surprise me much that this is happening."
Twitter: @khouriandrew
---
Sign up for the California Politics newsletter to get exclusive analysis from our reporters.
You may occasionally receive promotional content from the Los Angeles Times.