Amid housing slowdown, Southern California prices rise slightly in April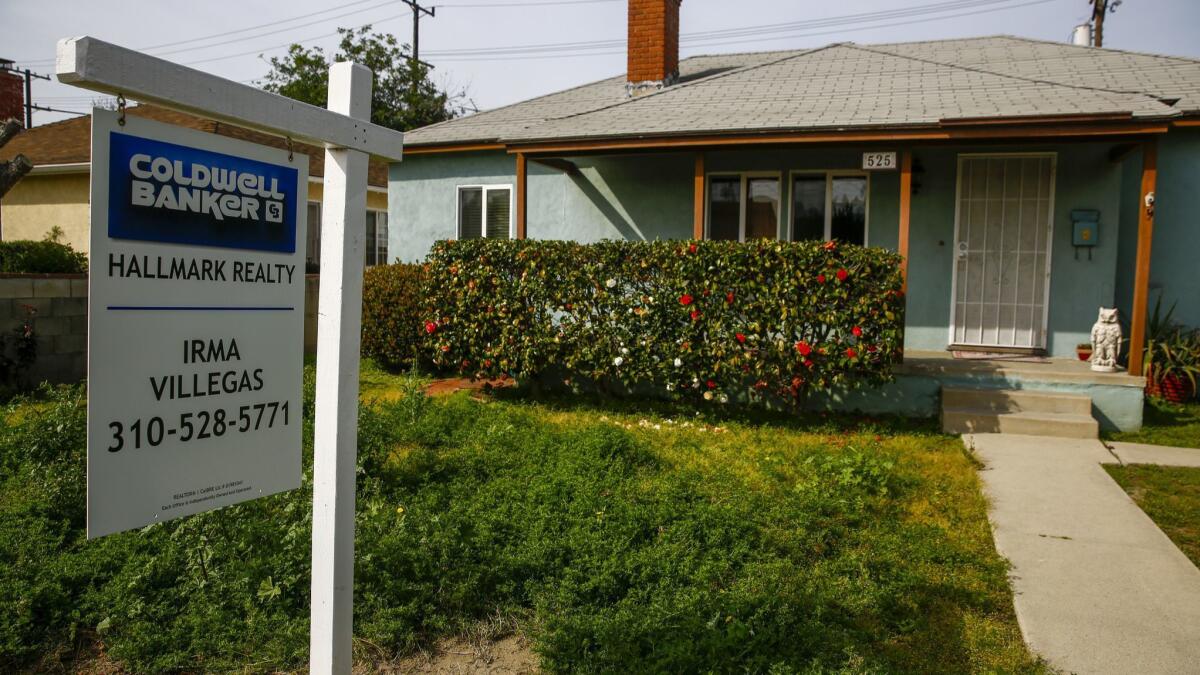 The sluggish Southern California housing market showed signs of perking up in April, as prices ticked up one month after they fell for the first time since 2012.
In a report released Wednesday, real estate firm CoreLogic said the six-county median sales price climbed 1.4% from a year earlier to $527,500. Sales, meanwhile, were up nearly 12% from March — far more than the average 2.2% month-to-month increase seen in April as the home-selling season heats up.
CoreLogic analyst Andrew LePage said the slight annual rise in the median price and the double-digit jump in sales indicate a sustained drop in mortgage rates has brought some buyers back into the market.
However, the annual gain in prices was far smaller than in recent years and the median — the point where half the homes sold for more and half for less — remains $7,500 below the all-time high reached in June.
That raises the prospect of declines in the future. And it suggests that while falling borrowing costs may have attracted more prospective buyers, they haven't been spurred to engage in aggressive bidding wars.
"Buyers are being pickier," said Michael Nourmand, president of L.A. area brokerage Nourmand & Associates Realtors. "They think they can negotiate more than they could before."
Reflective of that psychology, sales were still down 3.3% compared to April 2018. The decline marks the ninth straight month of year-over-year decreases, though it was the smallest of those drops.
Given the strength of the economy and the region's severe housing shortages, many experts don't predict a housing crash. But they say prices aren't likely to rise much, if at all, until incomes can catch up. In Los Angeles County, the median home price has risen 96% since 2012, while average hourly earnings rose 26%.
Nourmand said the slowdown has been steepest for homes priced at the high end for a given neighborhood, while more affordable homes can still "fly off the shelves."
The decline in borrowing costs has helped affordability somewhat. The average rate for a 30-year fixed mortgage was 4.06% last week, down from a recent high of 4.94% in November, according to Freddie Mac. The decline would cut $209 from a monthly mortgage payment on a $500,000 house.
"The market has picked back up from the fourth quarter, but it's not as strong as it was a year ago," said John Burns, an Irvine-based consultant for national home builders. "Affordability is clearly the problem and that problem is not likely to go away."
To make deals go through, more sellers are trimming their asking prices. In Los Angeles County, 13.5% of listings had at least one price cut in April, up from 10% a year earlier, according to Zillow.
In March, the six-county median price declined, on a year-over-year basis, for the first time in seven years — though prices kept rising in most counties.
Last month, the median increased or stayed flat in each corner of the Southland, with recorded gains smaller than in years past.
In Los Angeles County, the median rose 3% from a year earlier to $607,750, while sales fell 0.9%.
In Orange County, the median rose 2.8% to $735,000, while sales fell 8%.
In Riverside County, the median rose 3.6% to $390,000, while sales fell 3.3%.
In San Bernardino County, the median rose 1.5% to $335,000, while sales fell 4.7%.
In Ventura County, the median was flat at $585,000, while sales fell 0.2%.
In San Diego County, the median was flat at $570,000, while sales fell 3.4%.
Other housing measures also show a slowdown. The S&P CoreLogic Case-Shiller index is considered the gold standard of price measurements, though it provides a delayed snapshot. On Tuesday, the latest data were released, showing prices in Los Angeles and Orange counties rose 1.3% in March from a year earlier.
The rate of growth as measured by that index has declined every single month, since hitting a recent peak of 8.2% in April 2018.
Richard Green, director of the USC Lusk Center for Real Estate, predicted Southern California homes prices will be flat or down a bit over the next year.
"Prices," he explained, "got too high."
Follow me @khouriandrew on Twitter