Astronauts prepare for flight in SpaceX capsule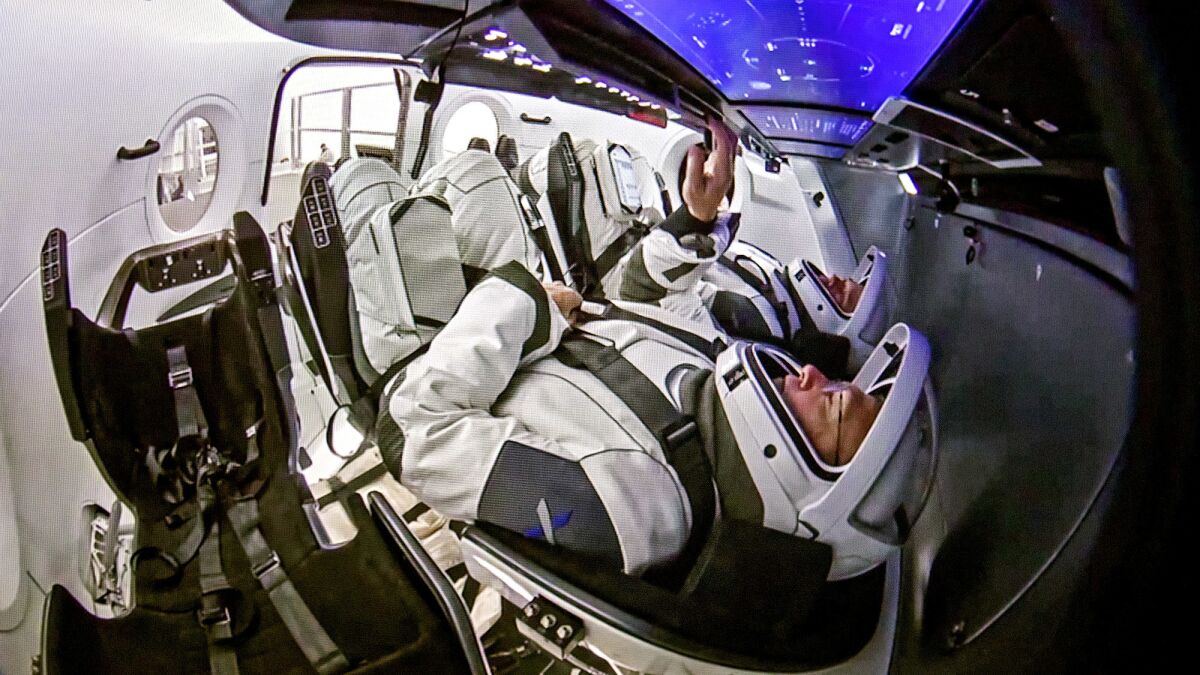 NASA astronauts Bob Behnken and Doug Hurley kept their eyes on the touch-screens in front of them in the SpaceX Crew Dragon training vehicle as the capsule neared the International Space Station in a training simulation at SpaceX headquarters in Hawthorne on Wednesday.
But just as it will be when things get real, the spacecraft was on autopilot.
With a final call-out of "self-capture confirmed," the capsule successfully docked with the station. In a normal situation, the crew only has to monitor the docking. All of the maneuvering is done by the Crew Dragon capsule.
Behnken and Hurley will fly the actual capsule this summer in its first test flight with humans aboard. Crew Dragon's first run without a crew is set for next month.
"We feel pretty good," Hurley said. "We've been associated with this program now for … 3½ years, so it's great to see the progress that we're finally at the point where we're going to launch an uncrewed test flight."
SpaceX and aerospace giant Boeing Co. won contracts worth a combined $6.8 billion to build capsules that will ferry astronauts to the International Space Station. After certifying the two spacecraft, NASA will pay the companies per flight. That's a change from the past, when NASA astronauts rode to space exclusively on agency-owned vehicles, such as the space shuttle.
Since the space shuttle program ended in 2011, NASA has paid the Russian space agency to transport its astronauts to the space station.
The new reliance on commercial companies has also led to changes in astronaut training. Although NASA still conducts training for astronauts for their duties aboard the space station, SpaceX and Boeing are now responsible for instruction related to the capsule and rockets that will launch them to space.
"All of this is with NASA looking over our shoulder every step of the way," said Josh Barrett, a spokesman for Boeing, which trains astronauts in Houston on the use of its Starliner capsule. "We have to make sure we're meeting their requirements, and they have to be happy with how we're meeting their requirements."
The astronauts have also given input into how future crews will be trained. Hurley and Behnken flew on space shuttle missions and have relied on that experience, along with their previous work as test pilots, to advise Crew Dragon training.
So far, Behnken and Hurley estimate they've spent hundreds of hours training on the SpaceX vehicle. The most obvious difference between flying the shuttle and Crew Dragon is how the crew interacts with the vehicle, Hurley said. Two or three people were needed to handle flying tasks on the shuttle, which had 2,000 switches and circuit breakers.
"Dragon is much more automated. It's a cleaner crew module. There's less interaction with the vehicle," he said. "It's just learning a different plane as a pilot. Flying is kind of the same."
The dual training model will be even more prevalent as NASA increasingly relies on private-company partnerships, such as its proposed plans to create a "lunar gateway" to deep space exploration, said Evelyn Miralles, principal engineer and technology strategist for CACI International, a professional services and information technology company that helps NASA develop the astronaut training program for spacewalks.
"NASA oversees in partnership with them to support them and guide them through what we have learned," Miralles said.
Twitter: @smasunaga