Elon Musk says SpaceX's giant new Falcon Heavy rocket will launch in November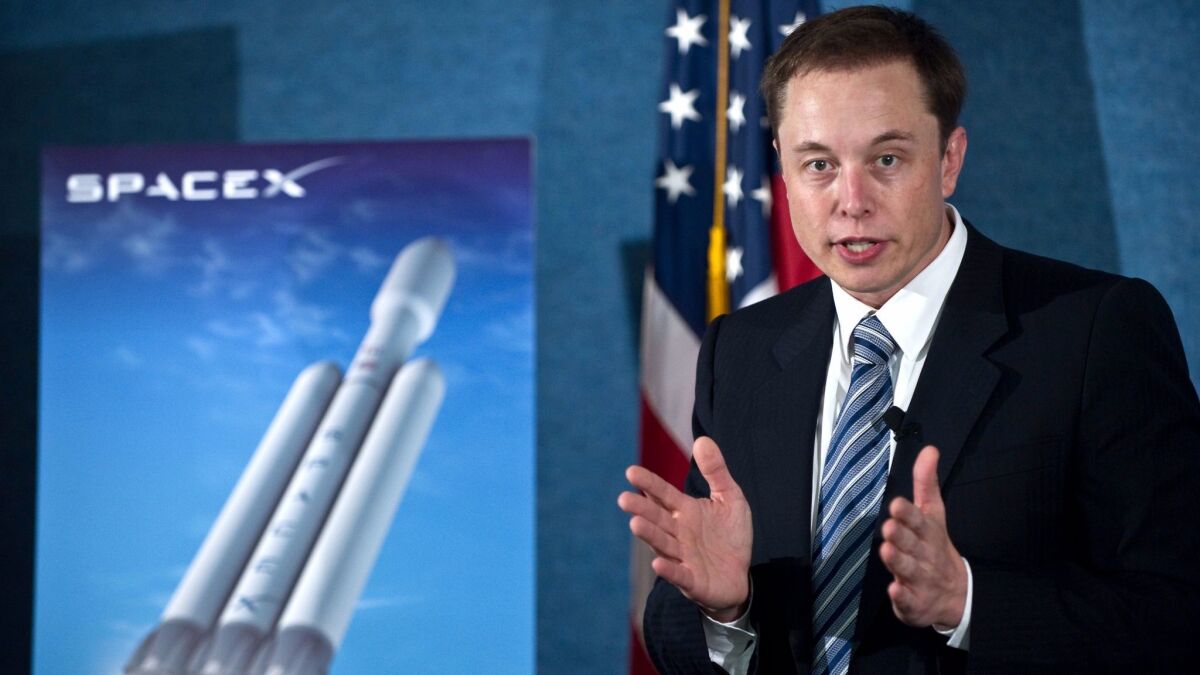 After a series of delays, SpaceX's heavy-lift rocket is now set to lift off for the first time in November, Chief Executive Elon Musk said Thursday night.
Musk announced the date for Falcon Heavy's first flight in an Instagram post that showed a rendering of the 229.6-foot-tall rocket.
Falcon Heavy — set to be the most powerful rocket since the 1960s-era Saturn, capable of carrying about 140,000 pounds to low-Earth orbit — is key to SpaceX's plans to take two tourists around the moon and to launch heavier national security or commercial satellites. It is the first of a new generation of giant rockets.
This is just the latest launch date for the massive rocket announced by the Hawthorne company. Earlier this year, SpaceX said the rocket could launch for the first time this summer, then later said a first flight could happen sometime in September or October.
SpaceX has said it needs to get its launch pad at Florida's Cape Canaveral Air Force Station up and running before it launches the first demonstration flight. The company plans to move launches of the smaller Falcon 9 to the Cape Canaveral pad to continue working through its backlog of launch customers, while the Falcon Heavy will launch from the pad SpaceX is currently using at Kennedy Space Center.
SpaceX's pad at Cape Canaveral was damaged in a launch pad explosion last year, which also destroyed a Falcon 9 rocket and commercial communications satellite perched atop it.
Musk has downplayed expectations for the first demonstration flight of Falcon Heavy. Last week, he told an audience at a space conference in Washington that there was a "good chance" the rocket will not make it to orbit altitude in its first go.
"I hope it makes it far enough away from the pad that it does not cause pad damage," he said during the speech. "I would even consider that a win, to be honest."
Musk has said the rocket's center core proved more difficult to develop than originally anticipated. For the demonstration flight, Falcon Heavy's two side boosters will be reused first-stages from previous missions. SpaceX will attempt to land all three boosters.
Twitter: @smasunaga
---
Sign up for the California Politics newsletter to get exclusive analysis from our reporters.
You may occasionally receive promotional content from the Los Angeles Times.