In a first, SpaceX launches and lands a rocket at Vandenberg base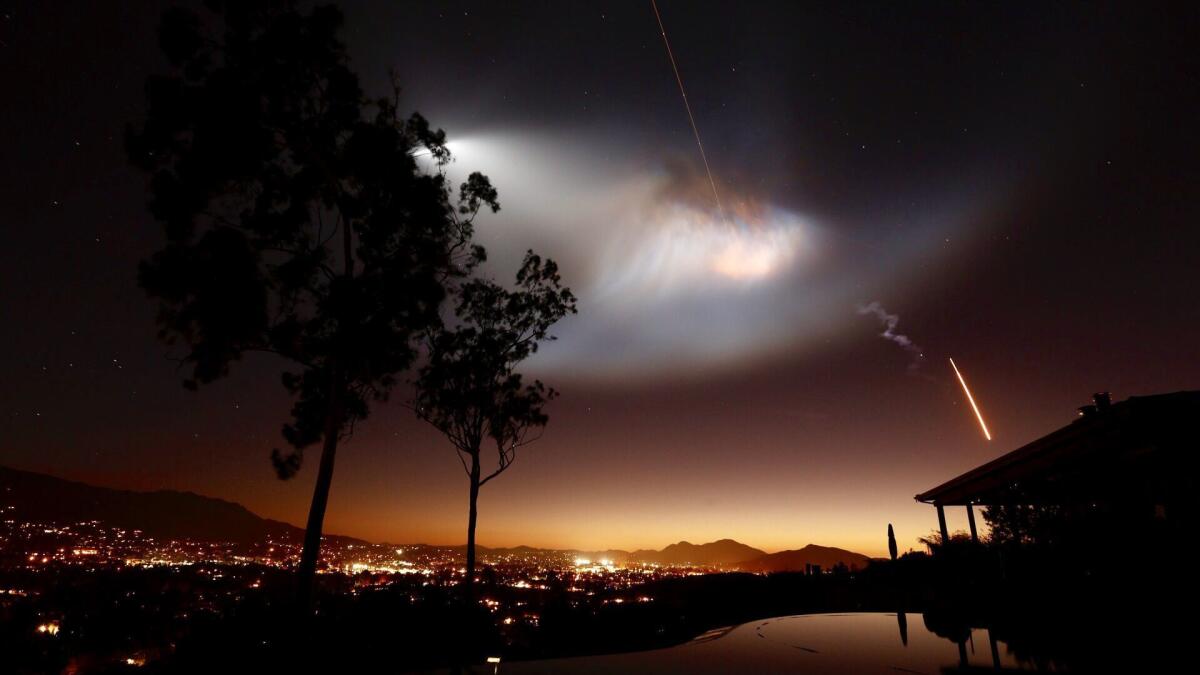 In a move that could cut its costs to launch space hardware even further, SpaceX landed a first-stage booster on a pad at Vandenberg Air Force Base on Sunday night.
It marked the first time the company has pulled off its now-signature rocket recovery method on land on the West Coast.
Hawthorne-based SpaceX has been landing rocket boosters regularly at its Florida launch sites, but the California landing pad could allow the company to refurbish rockets at Vandenberg. First-stage boosters that landed on SpaceX's floating platform in the Pacific Ocean returned to the Port of Los Angeles and were then trucked to Hawthorne for refurbishment.
The landing came after the Hawthorne company launched the SAOCOM 1A Earth observation satellite for Argentina's national commission on space activities at 7:21 p.m. Pacific time. The launch was delayed one day for "pre-flight vehicle checkouts," SpaceX tweeted last week.
The launch illuminated the sky, prompting a flood of social media messages from those caught off guard by the eerie display in California.
Still, Vandenberg Air Force Base had warned residents last week in nearby Lompoc and other Central California cities that they could hear "one or more" sonic booms associated with the landing of the first-stage booster.
Landing and refurbishing first-stage boosters is key to SpaceX's plans to decrease launch costs. The company, led by Elon Musk, sells launches on used Falcon 9 first-stage boosters at a discount to the $62-million price of a launch on a new Falcon 9 rocket.
Since landing its first booster back on Earth in 2015, SpaceX has fine-tuned the inspection and refurbishment process. Its fastest turnaround time so far is a little more than two months. Including Sunday's successful landing, SpaceX has returned 30 total boosters back to land or to a floating sea platform.
The SAOCOM launch marks SpaceX's 17th launch of the year.
Twitter: @smasunaga
---
UPDATES:
8:45 p.m.: This article was updated with social media reaction to the launch.
This article was originally published at 7:50 p.m.