Meet the man who's paying SpaceX to fly him around the moon and back: billionaire Yusaku Maezawa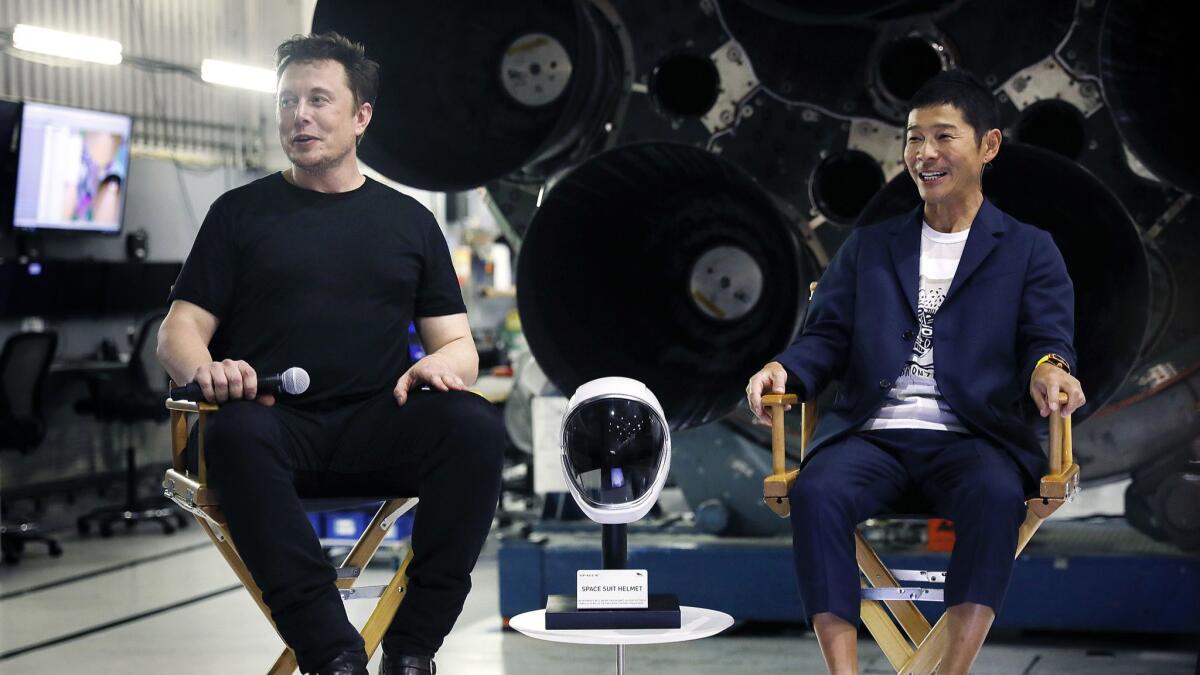 Japanese e-commerce billionaire Yusaku Maezawa will be the first paying customer to travel around the moon on SpaceX's yet-to-be-developed BFR rocket, the company announced Monday night.
In a presentation at SpaceX headquarters in Hawthorne, Maezawa — who is worth $2.9 billion, according to Forbes — said that his flight will occur in 2023 and that he wants to invite six to eight artists to accompany him. He called his trip around the moon a "lifelong dream."

For the record:
10:40 p.m. Sept. 17, 2018A previous version of this article said Elon Musk estimated that development of BFR could cost $5 million. His estimate was $5 billion.
Maezawa said he could not disclose how much he would pay for the trip, only that he had already submitted a down payment.
Through a translator, Maezawa said in an interview with The Times that he chose SpaceX for this voyage because he wanted to go as quickly as possible and to support the company. He said he witnessed the first launch of the Falcon Heavy onsite in February.
"I trust his company, his team and his BFR," Maezawa, 42, said of SpaceX Chief Executive Elon Musk.
Musk said during the event that the trip should take "about four to five days" and that the company would do a "bunch of test launches" before putting people aboard.
Lunar missions are SpaceX's first venture into the space tourism market. Other companies, such as Blue Origin and Virgin Galactic, are planning to fly tourists into suborbital space. Passengers on Virgin Galactic's spaceship pay $250,000 per seat.
Last year, SpaceX said two private passengers had put down a "significant" deposit and would begin training to travel around the moon in late 2018 in a Crew Dragon capsule that would be launched atop a Falcon Heavy rocket. The company did not disclose the identities of the two individuals, and Musk would only say at the time that it was "nobody from Hollywood." Maezawa was one of those individuals.
The mission was intended to be a weeklong loop around the moon that would be "super inspirational," he said.
SpaceX has been developing Crew Dragon under a NASA contract to transport astronauts to the International Space Station. It is set to make its first flight in November, followed by a crewed flight in April. Falcon Heavy, the world's most powerful operational rocket, made its first flight in February.
By then, Musk seemed to have second thoughts about using Falcon Heavy and Crew Dragon for the lunar mission. He told reporters in February that development of a new rocket and spaceship system known as BFR was progressing quickly enough that Falcon Heavy would not need to be qualified to carry humans.
The company has already developed a massive carbon fiber tank to hold liquid oxygen propellant for the rocket and subjected it to pressure tests, Musk said last year. SpaceX has also started to test the rocket's Raptor engine, which will be fueled by liquid oxygen and methane.
"What we decided internally is to focus our future developments on BFR," Musk said at the time. "If that ends up taking longer than expected, then we'll return to the idea of sending a Crew Dragon around the moon."
BFR, which is key to Musk's plans to colonize Mars, is currently being developed at a facility at the Port of Los Angeles. A SpaceX official estimated earlier this year that production and fabrication of the rocket would begin in about two to three years. On Monday, Musk estimated that development of BFR could cost $5 billion, though he hedged by saying it was probably not more than $10 billion and not less than $2 billion.
The massive spacecraft system — which, when stacked, will measure more than 340 feet tall — will need to be transported via ship through the Panama Canal to reach its launch pad at Cape Canaveral in Florida, a company official said this year. SpaceX's workhorse Falcon 9 rocket, which is about 229 feet tall, travels to launch sites via truck.
In addition to Mars and moon missions, Musk has also mused that BFR could be used for point-to-point travel on Earth. Last year, a video he showed at a space conference said the rocket's maximum speed would be 16,000 mph, making a flight from New York to Shanghai as short as 39 minutes, though questions remain about the practicality of such a service.
Analysts noted that SpaceX has a habit of taking on a number of projects at the same time — and announcing new ones before current ones have been completed.
So far this year, SpaceX has launched 16 times, a mix of commercial, national security and NASA payloads. It has been working to improve its turnaround time for refurbishing the first-stage rocket boosters it now regularly lands back on Earth.
And the company is continuing to provide NASA with proof of qualification testing for its Crew Dragon capsule that is intended to show it is meeting all agency requirements, a company official said last month.
On Monday, Musk tweeted that the "top SpaceX priority" was supporting the NASA crewed missions to the space station and launching national security payloads. Musk said during the event that less than 5% of the company's resources were currently focused on BFR.
Twitter: @smasunaga
---
UPDATES:
Sept. 18, 10:50 a.m.: This article was updated to clarify that the information about BFR needing to be transported to Florida for launch came from a SpaceX official this year.
Sept. 17, 8:50 p.m.: This article was updated to include an interview with Yusaku Maezawa and additional details from the event.
This article was originally published Sept. 17 at 6:40 p.m.