In a giant step for the private space industry, SpaceX launches its Falcon Heavy rocket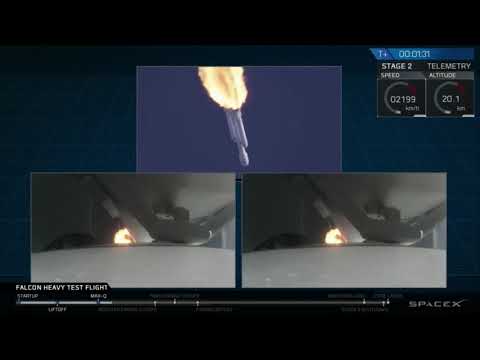 The heavy-lift rocket is Elon Musk's key to human spaceflight with a goal of reaching Mars.
In a historic first, SpaceX launched the world's most powerful operational rocket from Kennedy Space Center in Florida on Tuesday. By nailing the giant rocket's first flight, and landing its two side boosters on the ground, the Hawthorne company set the stage for faster and cheaper launches of satellites — particularly lucrative national security satellites and other cargo.
The test payload for the demonstration mission was SpaceX founder and Chief Executive Elon Musk's midnight cherry Tesla Roadster. The car was shown by remote camera separating from the rocket and heading out toward Mars, a dummy "Starman" behind the wheel, wearing a SpaceX-designed spacesuit that will eventually be worn by astronauts riding in the company's Dragon 2 capsule. A sign saying "Don't Panic!" in all capital letters was seen on the dashboard console.
"I had this image of just a giant explosion on the pad with a wheel bouncing down the road," Musk said during a post-launch news conference Tuesday afternoon. "Fortunately, that's not what happened."
After liftoff, SpaceX attempted to land all three of Falcon Heavy's boosters back on Earth — two on land and one on a floating platform at sea. Musk had described the attempt as "synchronized aerial ballet." About eight minutes after liftoff, the two side boosters set down simultaneously on land.
The rocket's center core, which was set to touch down on a floating sea platform, did not fare as well. During the news conference, Musk said the booster hit the water at a speed of about 300 mph and was about 328 feet away from the floating platform, taking out two of the drone ship's thrusters and showering the deck with shrapnel.
Musk said two of three engines on the core did not ignite during the landing attempt. But he said the company was not planning to reuse the core or the two side boosters from this particular mission.
The launch occurred at 12:45 p.m. PST from Launch Complex 39A, the same launch pad where the Saturn V rocket last lifted off to take astronauts to the moon 45 years ago. The launch was originally set for 10:30 a.m. Tuesday, but it was delayed several times Tuesday to wait out high upper-atmosphere winds.
About 4 minutes after launch, the rocket's fairing — the clamshell-like covering that protects payloads at the top of the rocket — deployed successfully.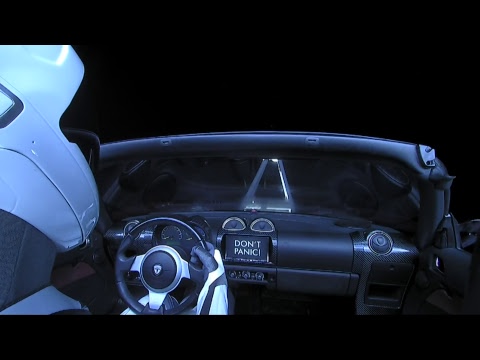 On a conference call with reporters Monday afternoon, Musk said the Tesla would do a "grand tour" through the Van Allen belts, an area of high radiation that surrounds the Earth, as part of a six-hour coast in deep space that is intended to demonstrate to the U.S. Air Force that Falcon Heavy can meet specific orbit-insertion requirements.
If the car survives that environment, then it will continue on to an elliptical orbit around the sun that at times will come close to Mars, with an "extremely tiny" chance it will hit the Red Planet, though Musk said, "I wouldn't hold your breath."
The journey of Starman and the Tesla is being live-streamed by SpaceX on YouTube. About 2:50 p.m. Pacific time, the car and its driver were seen drifting through space with Earth looming behind.
Musk said Tuesday that he thought the payload was "silly and fun."
"I think the imagery of it is something that's going to get people excited around the world," he said. "It's still tripping me out."
Falcon Heavy is the most powerful U.S. rocket since the Saturn V. First announced to the public in 2011, Falcon Heavy was expected to generate 5.1 million pounds of thrust at liftoff and be capable of carrying more than 140,000 pounds to low-Earth orbit.
The launch of Falcon Heavy sets SpaceX up as an even more powerful competitor in the private space industry, particularly in terms of heavy-lift capacity. Although other companies, such as Jeff Bezos' Blue Origin and Orbital ATK, are also developing giant rockets to hoist heavy payloads to space, Tuesday's successful launch gives SpaceX several years of lead time, said Marco Caceres, senior space analyst at Teal Group.
"It's just changing the whole game," he said. "The fact that you have a brand-new rocket that is the most powerful rocket and it's a success on the first try, that's big news."
With its large payload capacity, the Falcon Heavy is expected to help SpaceX win contracts that require more capability than its workhorse Falcon 9 rocket.
"When you're talking about highly classified payloads or special missions, you really want to be sure you've got capacity," Ellen Tauscher, former U.S. undersecretary of state for arms control and international security, who serves on SpaceX's board of advisors, said Tuesday.
Analysts have said that the commercial launch market for large satellites is tight and that SpaceX would need to secure new opportunities, such as NASA planetary missions, to maximize its investment in Falcon Heavy — which, on Tuesday, Musk pegged at more than half a billion dollars. But its huge payload capacity and price tag — launches start at $90 million — could change things, said Bill Ostrove, aerospace and defense analyst at Forecast International.
"With a price point at that level, we don't know what's going to develop going forward," he said.
Falcon Heavy won't even be the largest rocket SpaceX intends to build. On Tuesday, Musk said the rocket's successful test flight gave him confidence in the company's upcoming BFR spaceship and rocket system, which he has said will carry people to colonize Mars.
Musk first promised that a demonstration flight of the massive rocket would occur in 2012. But SpaceX, whose full name is Space Exploration Technologies Corp., found that development of the 27-engine behemoth was more difficult than initially expected.
After a successful static fire almost two weeks ago, anticipation had been building for Falcon Heavy's first flight. By noon Pacific time Monday, Kennedy Space Center's visitor center tweeted that no more tickets were available to watch the launch from designated viewing spots.
Musk tried to temper expectations, going as far as to say that there was a "good chance" the rocket would not make it to orbit on the first flight and that he hoped the spacecraft made it "far enough away from the pad that it does not cause pad damage."
"I would even consider that a win, to be honest," he told an audience at a space conference in Washington this summer.
Tauscher, who as a representative for California's 10th Congressional District served on the House Armed Services Committee, said Tuesday that the launch would be an opportunity to learn.
"You have to be innovative," she said. "You have to be willing to do tests that give you the answers you're looking for."
On Monday, Musk told reporters he didn't feel that stressed about the launch.
"I feel quite giddy and happy, actually," Musk said. "We've done everything we could to maximize the chance of success for this mission."
Twitter: @smasunaga
---
UPDATES:
5:15 p.m.: This article was updated with post-launch news conference comments from SpaceX Chief Executive Elon Musk.
3:15 p.m.: This article was updated with comments from analyst Bill Ostrove.
2:40 p.m.: This article was updated with more details from the launch and comments from analyst Marco Caceres.
1:25 p.m.: This article was updated with more details from the launch.
1:10 p.m.: This article was updated with the launch.
10:45 a.m.: This article was updated with another launch delay.
10:05 a.m.: This article was updated with another launch delay and with comments from Ellen Tauscher, a member of SpaceX's board of advisors.
9:10 a.m.: This article was updated with a launch delay.
This article was originally published at 5 a.m.