What's next for SpaceX and the Falcon 9 rocket that landed on a barge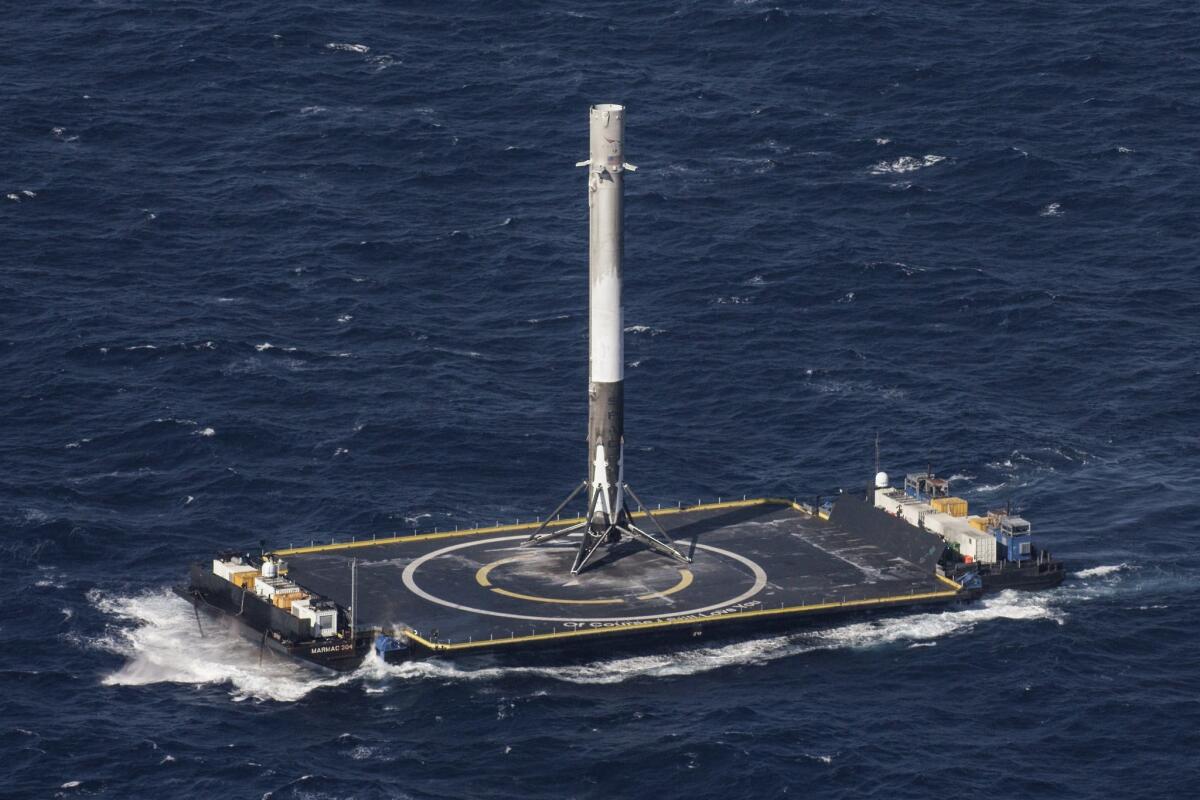 SpaceX finally stuck a sea landing Friday, when the company's first-stage booster glided smoothly to a hover before landing on a floating droneship.
Now the aerospace company will prepare the booster for a second flight -- a move that could be key to the company's plans for cheaper space tourism, satellite launch and eventually flights to Mars.
In a post-launch press conference Friday, company Chief Executive Elon Musk said the Falcon 9 first-stage could be relaunched on an orbital mission as early as June.
SIGN UP for the free California Inc. business newsletter >>
"In the future, hopefully we'll be able to relaunch them within a few weeks," he said.
The first-stage booster landed on a droneship in the Atlantic Ocean on Friday during a mission to deliver 7,000 pounds of cargo in the Dragon spacecraft to the International Space Station.
This was the first time the Hawthorne company had achieved a sea landing, marking a milestone for reusable rocketry. In December, SpaceX's first stage booster landed on solid ground at Cape Canaveral, Fla.
The booster is expected to arrive soon in Port Canaveral, Fla., aboard the droneship. It would then go through a series of 10 test fires on land, ideally at Cape Canaveral.
If all goes well, the company will consider it qualified for reuse and relaunch, Musk said.
He said SpaceX thinks the rocket will be used by a "paying customer," but that the company will have to have some "discussions."
However, Marco Caceres, senior space analyst at the Teal Group, said it's more likely that the reused rocket will see a test launch with a test dummy as a payload.
"When you launch something into orbit and you lift off, there's a lot of shaking, a lot of stress on the structure, so I don't know that they would want to risk reusing it on a mission where they have to do something important," he said.
Musk called Friday's landing "another step toward the stars."
"In order for us to really open up access to space, we've got to achieve full and rapid reusability," he said. "And being able to do that for the primary rocket booster is going to have a huge impact on cost."
The starting price for a Falcon 9 rocket is $61.2 million. SpaceX President Gwynne Shotwell has said the company expects that cost to decrease by 30% with a reusable rocket.
In Friday's press conference, Musk estimated that "almost everything" on the booster will be good for 10 to 20 missions, though with "minor refurbishment you could get to 100."
Caceres said the SpaceX sea landing puts added pressure on competitors.
The company already has cheaper launch vehicles and a diverse clientele that most rivals don't have, including government, commercial and military customers.
Rival space company Blue Origin, which is headed by Amazon.com Inc. Chief Executive Jeff Bezos, has landed its reusable rocket three times on land, but not during a commercial flight with a payload.
Private companies such as Blue Origin and SpaceX are also at an advantage because they don't have to answer to shareholders, who are more risk-adverse, Caceres said.
"I guess now other companies like Boeing and Lockheed and Arianespace have to be really serious about developing their own reusable technology," he said. "The problem is that costs money. And that doesn't happen overnight –- you have to be willing to suffer some failures."
SpaceX will attempt a sea landing in its next two missions, though Musk cautioned that those will be tough to stick based on the high velocity.
For more business news, follow @smasunaga.
ALSO
ICYMI: Here's why raising the retirement age is a terrible idea
Despite Tesla frenzy, electric car sales are far from robust
Tesla issues safety recall for Model X: Back seats could fold forward in a sudden stop