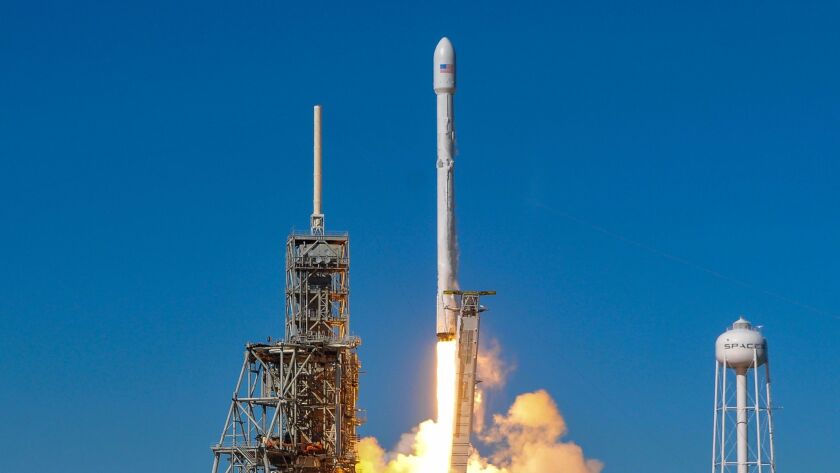 SpaceX confirmed that a new variant of its Merlin engine failed in a pre-test procedure on Saturday, resulting in an explosion at the company's rocket development facility in Texas.
SpaceX said in a statement Wednesday that the company experienced "an anomaly" during a qualification test set-up of a Merlin engine at the firm's facility in McGregor, Texas. The company said there were no injuries and that the incident was not expected to affect the company's launch schedule.
The engine being tested is part of the company's newest version of the Falcon 9 rocket and was designated specifically for qualification testing. It was not assigned to any particular mission and SpaceX has not yet released a date for that new version of the rocket.
The Falcon 9 rockets that SpaceX flies, known as Block 4, were not affected in the test.
"We are now conducting a thorough and fully transparent investigation of the root cause," SpaceX said in the statement.
The company indicated that it was conducting a pre-test operation known as a LOX drop, which involves pouring liquid oxygen into the engine to see if there are any leaks. A fire occurred during the process, though the cause is still unclear. The engine had not yet been ignited.
The Washington Post first reported the news.
Analysts said this incident is less of a concern than SpaceX's prior two failures — a launch-pad explosion last year that destroyed a Falcon 9 rocket and a satellite, and an explosion during a 2015 launch for NASA that destroyed the rocket and the supplies it was carrying to the International Space Station.
"As long as it's not a major design flaw, then I wouldn't necessarily call it a setback," said Marco Caceres, senior space analyst at Teal Group. "I would say it's something that happens in the normal course of testing. That's the whole purpose of the testing program."
Qualification tests are generally used to test new designs, changes in operating conditions or even slight modifications to a part, said Richard Wirz, director of the plasma and space propulsion laboratory at UCLA and a professor in the university's mechanical and aerospace engineering department.
In an email, Justin Karl, a design engineer at Kennedy Space Center, said the company should "consider itself lucky that they got this failure data point on their test stand" and under controlled conditions instead of during a launch.
"Despite the fact that this indicates that the Merlin family of engines isn't perfect, SpaceX will be able to make good use of what they learn from the incident in improving their design and processes," he said in the email.
SpaceX uses nine Merlin engines to power the first stage of its workhorse Falcon 9 rocket. It plans to use 27 Merlin engines in the first stage of its upcoming Falcon Heavy rocket.
Though this particular incident is unlikely to scare away customers, Caceres said it may make some people a bit antsy, just because of SpaceX's role in NASA, military and commercial launches.
"Given that there is so much reliance on SpaceX, any little thing that doesn't go according to plan is going to make people a little nervous," he said. "But when they really stop and think about it, I don't think it'll have too much impact."
It will take SpaceX about two to four weeks to repair the damage done to one of the test bays that was used Saturday. The company has multiple test stands at that facility. Qualification testing on components for the newer version of the Falcon 9 will be halted during the investigation.
SpaceX has notified a number of government agencies about the incident, including NASA, the Federal Aviation Administration and the U.S. Air Force, which said it had personnel observing the test.
Twitter: @smasunaga
---