Starbucks to open its first U.S. sign language store this year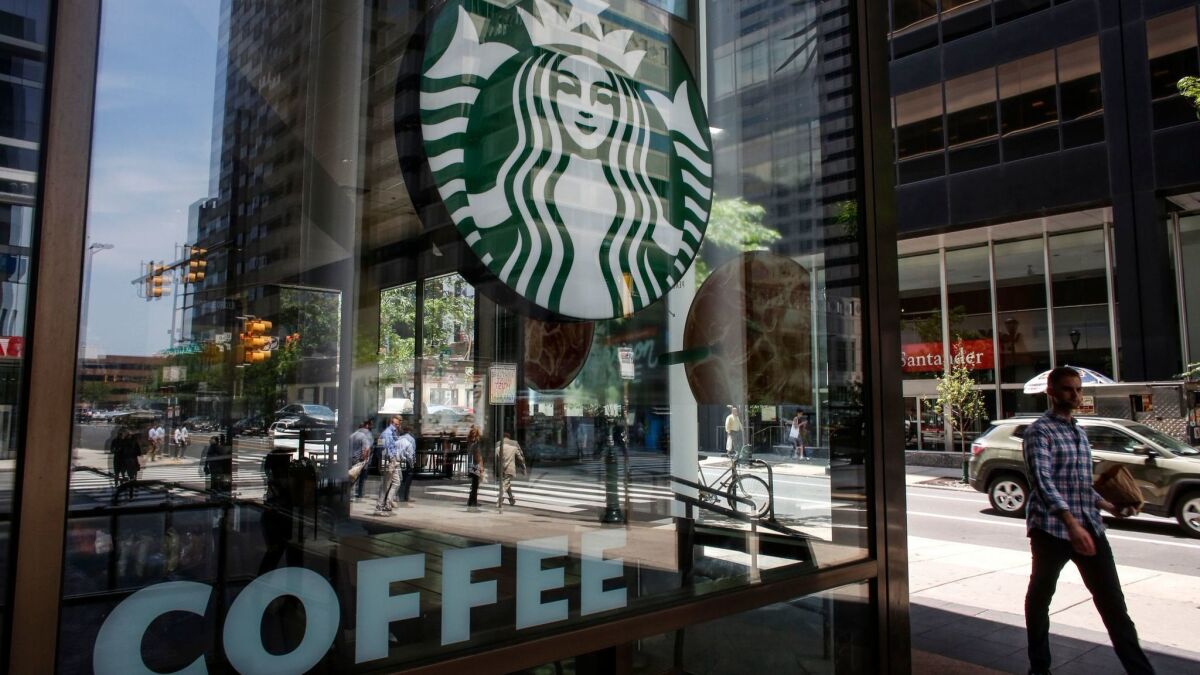 Washington Post
Reporting from Washington —
Starbucks has more than 8,000 stores nationwide. One of them will soon be able to interact with customers entirely in American Sign Language.
Starbucks' first signing store in the United States, near Gallaudet University in Washington, D.C., will hire 20 to 25 deaf, hard of hearing and hearing partners with the requirement that they all be proficient in American Sign Language. Roughly 200 current employees self-identify as deaf or hard of hearing, according to a company respresentative, including at Starbucks stores, roasting plants and regional and corporate offices across the world. Now Starbucks says the store — set to open in Washington in October — will boost hiring and accessibility for deaf and hard of hearing employees and customers alike.
"This is a historic moment in Starbucks ongoing journey to connect with the deaf and hard of hearing community, hire and engage deaf and hard of hearing partners, and continue to find ways to be more inclusive, accessible and welcoming to all," said Rossann Williams, Starbucks executive vice president of U.S. Retail.
Gallaudet, a 150-year old institution, is the world's only university designed for deaf and hard of hearing students. The campus of 1,900 students is located in northeast Washington.
The store will feature art and a mug designed by a deaf artist. Deaf employees will wear aprons that show "Starbucks" spelled in sign language. Hearing employees proficient in sign language will wear pins showing they can sign.
A visual display will walk customers through their orders, and a similar display will show customers that their orders are ready, in place of baristas calling out a name or order.
Howard Rosenblum, chief executive of the National Assn. of the Deaf, said ASL is one of the most-used languages in the country and is not limited to deaf people. He said the store is one way for businesses like Starbucks to bring people together and learn how to communicate with one another, whether they are deaf or hearing.
"Starbucks' first signing store can show other corporations that including deaf people is good for business and can increase its market share," Rosenblum said. "Hiring deaf people or people with disability should not be viewed as a charity but as a way to improve a corporation's reach across different segments of the market."
The store mirrors Starbucks' first signing store globally, which opened in Kuala Lumpur, Malaysia, in 2016.
One former employee named Kevin, who is blind and deaf and worked as a consultant on the Washington signing store, said that a group of Starbucks employees went to Malaysia in 2017 to learn how to model that store in the United States.
Inclusion of deaf customers and partners is yet another goal Starbucks has announced in the past few months. After two young black men were arrested at a Philadelphia store in mid-April, Starbucks closed 8,000 stores nationwide for an afternoon of racial bias training at the end of May. Starbucks also introduced new guidelines allowing customers to sit in stores and use the restroom without making a purchase, and outlined when employees should (and should not) call 911.
Siegel writes for the Washington Post.
---
Sign up for the California Politics newsletter to get exclusive analysis from our reporters.
You may occasionally receive promotional content from the Los Angeles Times.