Commerce Department urges Trump to impose tariffs or quotas on steel and aluminum imports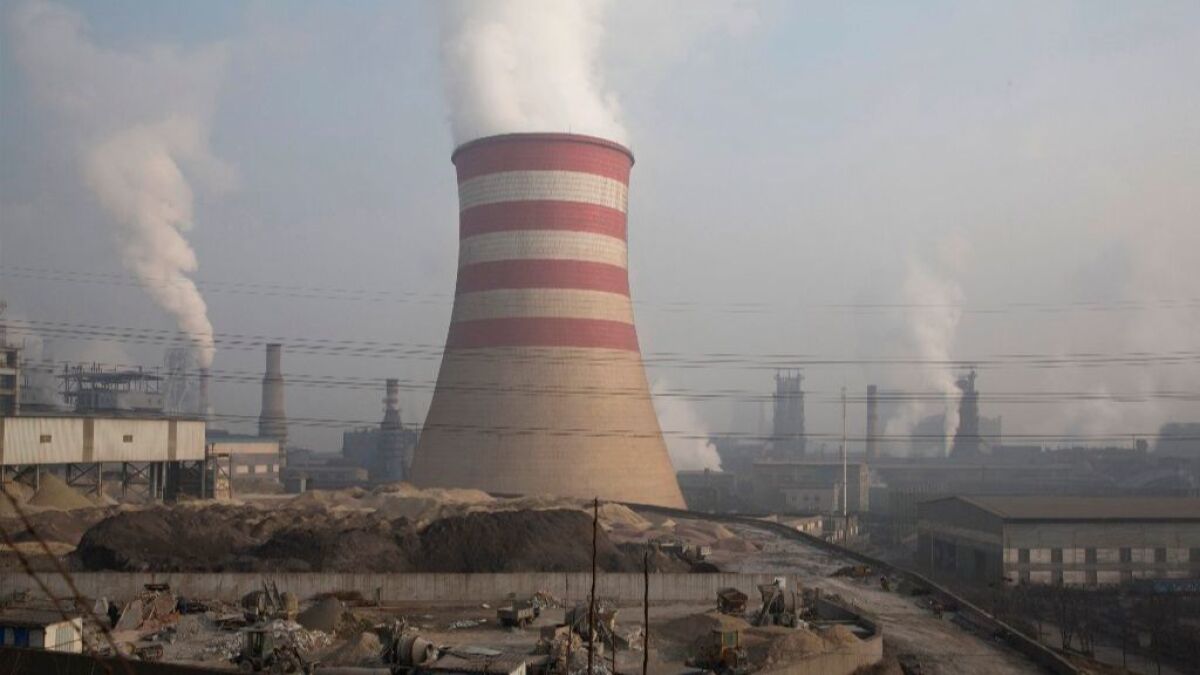 Reporting from Washington —
The Commerce Department is urging President Trump to consider hefty tariffs and quotas to limit the import of steel and aluminum, after concluding that the rising flow of those foreign-made products constitutes a threat to America's national security.
The recommendations were contained in a report released Friday by Commerce Secretary Wilbur Ross, whose agency tapped a rarely used provision of U.S. trade law in investigating whether steel and aluminum imports could pose harm to the country's defense or security interests.
Trump has promised to take more aggressive trade actions to protect American manufacturers, and the findings by Commerce give the president wide discretion to curb imports, although he could decide not to take any action at all. Trump has until mid-April to issue his decision.
Domestic steel and aluminum manufacturers, along with lawmakers from big steel-producing states, have been pressing Trump to apply stiff measures against foreign producers, particularly targeting China.
The Commerce Department's recommendations to Trump listed three options for steel: a 24% tariff on all imports from all countries; a targeted tariff of at least 53% on imports from a dozen trading partners, plus quotas on steel shipments from other nations; or a global quota that equals 63% of each country's steel exports to the U.S. in 2017.
Ross also recommended three options on aluminum tariffs and quotas, although they were less restrictive.
During a news briefing Friday, Ross would not say which of these options he preferred, noting that Trump would be the "sole judge" of that.
"Now that Secretary Ross' report has been released, the president must act urgently to stop trade cheats from undermining our steel companies and steelworkers," said Sen. Sherrod Brown (D-Ohio), who, with 18 other members of Congress, met with Trump earlier this week to discuss the steel and aluminum cases.
Some lawmakers urged caution. And U.S. metal importers, car makers and other users of steel and aluminum have warned that tariffs and quotas would ultimately lead to higher prices for American consumers and lost jobs.
"We are concerned that the Department of Commerce's recommendations may have unintended consequences for domestic tire manufacturers and the workers and industries they support," Anne Forristall Luke, president of the U.S. Tire Manufacturers Assn., said in a statement Friday. Domestic steel mills are unable to produce the kinds of quality steel necessary to make tires, she said.
Trade analysts worry that severe actions could trigger retaliation from other countries, especially given the controversial nature of justifying trade restrictions based on national security grounds. If Trump levies restrictive tariffs or quotas, the U.S. will almost certainly face challenges brought to the World Trade Organization, the global arbiter of trade disputes.
In preparing the report, Ross said his department had gone through the usual inter-agency consultations, but he acknowledged that not everybody in the administration agreed with his conclusion.
Since the early days of the Trump White House, there have been signs of deep internal divisions on how aggressively to follow through on the president's campaign promise to overhaul an American trade policy that he has denounced as feeble and harmful to American interests.
Ross announced the launch of the steel investigation in April. There was little doubt that the results would support the case that imports present a threat, given the administration's concern about rising amounts of foreign steel and its broad interpretation of "national security."
The report said that domestic steel production is crucial not just for national defense requirements but for U.S. infrastructure that includes transportation systems, the electric power grid and water systems.
Steel imports increased at a double-digit rate in the first 10 months of last year, accounting for more than 30% of U.S. consumption, according to the report.
Ross said that the goal of any tariffs and quotas would be to increase the domestic production capacity of steel to 80%, from the current 73% level. If that rate of manufacturing capacity were reached, Ross estimated that American steel factory employment would grow by about 10%. Domestic steel makers employ roughly 140,000 people.
China is by far the world's biggest manufacturer of steel, and its private and state-owned mills have been producing well beyond the country's own needs and global demand, which have put downward pressure on prices.
At the same time, Chinese steel exports to the U.S. have fallen sharply in recent years, in part because of an array of previously imposed tariffs for dumping and unfair government subsidies. Last year China accounted for only about 2.5% of about $29 billion of foreign steel entering American shores. That put China at No. 11, far behind U.S. steel imports from Canada, Brazil, Russia and Mexico.
Ross said, however, that those numbers did not reflect the actual harm caused by Chinese steel sloshing around the world. Some products are shipped to the U.S. via other countries, he argued, and China's huge excess production of steel has had other effects distorting the global market.
Even accounting for so-called trans-shipments, analysts say that Chinese steel entering the United States still amounted to a relatively small amount, and that Beijing would probably respond to tariffs or quotas in a measured way.
Ross, for his part, seemed unconcerned about the possibility of retaliation. But the last time a U.S. president imposed global steel sanctions was in March 2002 when President George W. Bush levied tariffs of up to 30% on various types of imported steel, making good on a campaign promise to aid beleaguered steel manufacturers and workers amid a surge of imports.
U.S. steel prices jumped nearly 70% by mid-summer, but months later the WTO ruled the action illegal and Europe threatened to retaliate with tariffs of its own, on Florida citrus, motorcycles made in Wisconsin, and other U.S. goods. Shortly afterward, Bush pulled the tariffs, 16 months earlier than the three-year period they were set to remain in effect.
Ross said his recommendations to Trump had no time limit.
Follow me at @dleelatimes
---
Sign up for the California Politics newsletter to get exclusive analysis from our reporters.
You may occasionally receive promotional content from the Los Angeles Times.