Trump postpones decision on steel tariffs for allies and EU for another month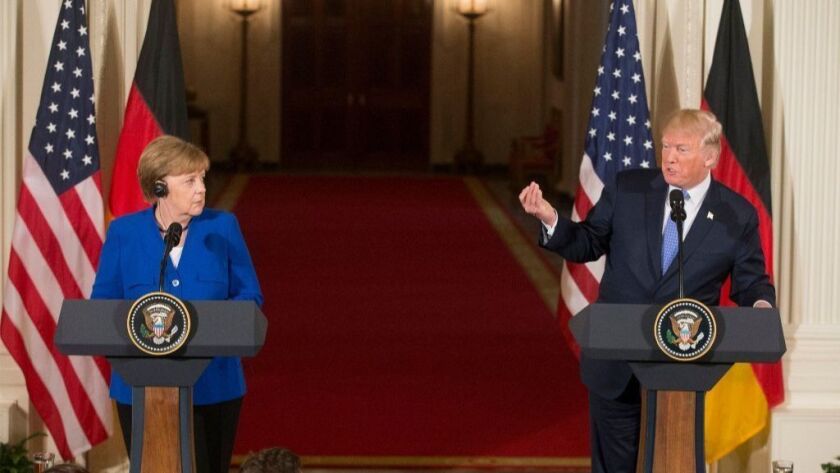 Reporting from Washington —
President Trump has decided to postpone for another month the decision about whether to impose steep tariffs on steel and aluminum imported from Canada, Mexico and the European Union, the White House announced Monday evening.
The decision, coming just a few hours before the previous temporary tariff exemption was set to expire at midnight, will prolong the uncertainty and to some degree the tensions that have built up since Trump issued 25% tariffs on imported steel and 10% on aluminum from all but a handful of countries and the large EU trading bloc.
Trump ordered the tariffs on March 22, citing a threat to national security and making plain that he intended to use the duties, or threat of them, as leverage to win concessions from American trading partners.
The Trump administration said that it had reached an agreement in principle with three other countries that had received a similar tariff exemption — Australia, Argentina and Brazil — and that these deals would be finalized shortly.
South Korea won a permanent exemption of the metals tariffs based on a previously reached deal in which Seoul agreed to a quota to export no more than 70% of the average volume of steel sent to the U.S. over the prior three years.
But Canada, Mexico and the EU are three of the largest suppliers of steel to the U.S. The delay in imposing the tariffs came after pleas and the threat of retaliation from European allies, as well as signs that Canada and Mexico were moving closer to the U.S. position in renegotiating the North American Free Trade Agreement.
If Trump had decided to let the exemption lapse and the tariffs take effect, the 28-member EU was expected to respond with countertariffs, raising the risk of a serious trade conflict at a time when the Trump administration is also pursuing a high-stakes battle to press China to make major economic reforms. Trump's top trade and finance officials are set to travel to Beijing for meetings starting Thursday with Chinese leaders.
The EU already has prepared a list of American products it would target, including blue jeans, motorcycles, orange juice and whiskey, totaling about $3.5 billion, commensurate with the value of EU metal exports to the U.S. that could be subject to penalties.
Last week, French President Emmanuel Macron and German Chancellor Angela Merkel sought to persuade Trump to lift the duties during meetings with the president in Washington, but there was no signal that Trump was about to give either a pass on the tariffs.
Trump ordered the tariffs to protect domestic producers from foreign competition, part of his broader "America First" campaign that includes getting tough on trade. Many analysts and the Trump administration see China and its overproduction as the source of a global steel glut that has put downward pressure on prices and contributed to rising imports of the commodity in the U.S.
Many end users of steel as well as metal producers on both sides of the Atlantic have been grappling with uncertainty, awaiting the president's decision. Separately, hundreds of steel buyers in the U.S. have applied for tariff waivers on specific imported products that are unavailable or hard to source domestically.
When Merkel visited last week, as in prior meetings with her, Trump repeatedly complained that trade with the EU has been unfair and lopsided. The EU's surplus in merchandise trade with the United States totaled $147 billion in 2016, and $92 billion when trade in services is included.
Overall, U.S. trade with the EU exceeds $1 trillion a year, so tariffs on a few billion dollars of steel and aluminum, by themselves, were expected to have a modest economic effect. But steel, like farm goods, is a politically sensitive product for many nations, and what worries analysts is the potential for an escalation of trade tensions and a deterioration of trans-Atlantic relations that could have broader repercussions.
Trade experts are divided on how quickly the EU might respond with tit-for-tat tariffs should Trump end up imposing tariffs. And if the EU does retaliate, would that prompt Trump to up the ante by slapping penalties on more European imports, similar to what he did with China?
Statements from EU commissioners in Brussels, where trade and economic policies for the union are made, suggest that they would be patient and refrain from retaliating quickly to pursue continued negotiations, said Gabriel Felbermayr, a trade specialist who directs the Ifo Center for International Economics in Munich.
"They don't want to escalate. The volume [of steel] is too small to risk a trade war," he said.
Felbermayr said Trump has some grounds for seeking fairer trade, noting that the U.S. tariff on imported cars is 2.5% while the comparable EU duty is 10%. American duties on imported trucks, however, are 25%, compared with 10% by the EU. As such, the Trump administration and the EU could talk about a bilateral trade agreement on merchandise and possibly also farm goods, he said.
Regardless of what happens with steel tariffs, Felbermayr is not optimistic that U.S.-EU trade relations will improve, in large part because of Trump's paramount goal of significantly reducing the bilateral trade deficit — which few experts predict will happen anytime soon — and the president's attacks on the multilateral trading system, the World Trade Organization, which European leaders want to sustain.
Jacob Kirkegaard, a European economy expert at the Peterson Institute for International Economics in Washington, interpreted the tariff postponement as good news for the EU, an indication that the administration wanted to wait until after its trip to China. It "suggests that they mostly care about the fight with China," he said.
He expected the EU to retaliate quickly if tariffs are imposed and said EU politicians will be reluctant to accept a voluntary quota like South Korea, or make other concessions that will hurt their standing at home.
"Donald Trump is toxic in Europe," he said. "Any political leader who does things to suck up to Trump or appease him would suffer political consequences."
Furthermore, Kirkegaard said, a brewing conflict with the EU will only complicate Trump's efforts to confront China on trade. "The Chinese will say [to the Europeans], 'Why are you helping the bully?'"
The Trump administration is also contending with a trade campaign in North America as it seeks to revamp NAFTA, the 24-year-old agreement, to deliver more favorable returns to the United States. Top trade officials representing the three countries are scheduled to reconvene next Monday in Washington amid signs that the parties are close to announcing an agreement in principle.
Canada is the largest individual nation supplying steel and aluminum to the United States, and Mexico is also a big exporter of steel. U.S. steel imports totaled about $29 billion in 2016, and imports of aluminum were about $13.6 billion.
The White House said Monday that Treasury Secretary Steven T. Mnuchin, U.S. Trade Representative Robert Lighthizer and trade advisor Peter Navarro would be among a high-level delegation going to Beijing this week, a third front in Trump's trade assault.
Follow me at @dleelatimes
---
UPDATES:
6:55 p.m.: This story was updated with reaction from analysts and additional background.
This story was originally published at 5:25 p.m.
---
For reporting and exclusive analysis from bureau chief John Myers, get our California Politics newsletter.
You may occasionally receive promotional content from the Los Angeles Times.