Stock indexes end mostly lower as energy companies climb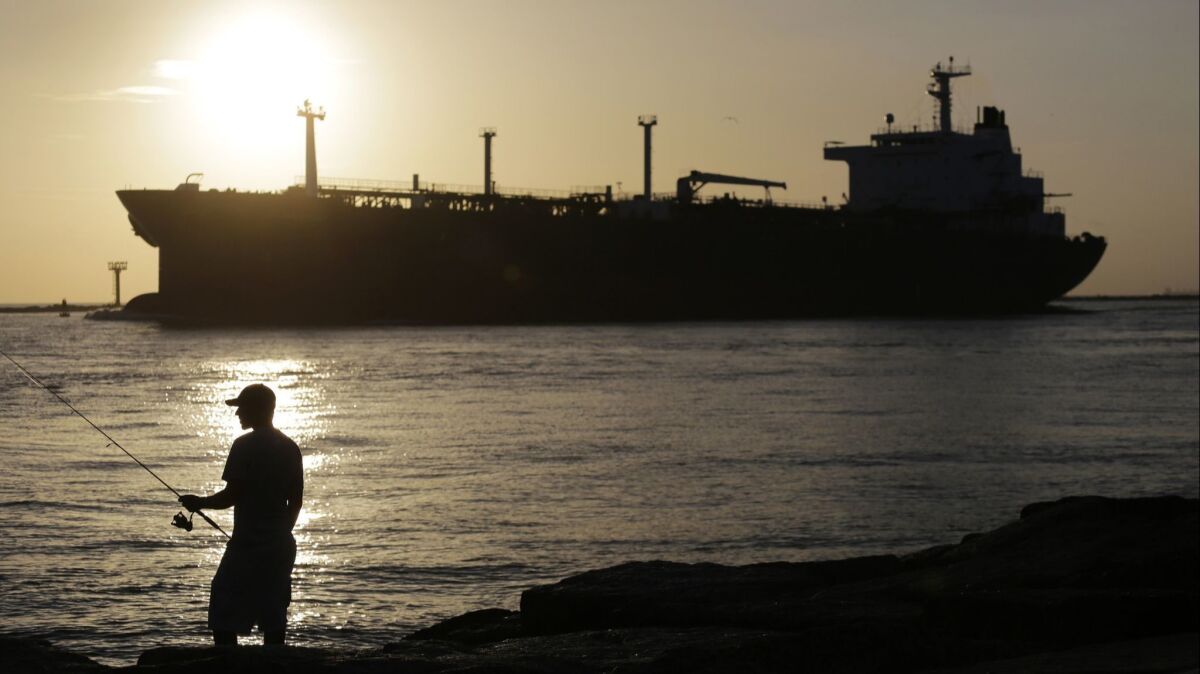 Wall Street capped a day of mostly sideways trading Monday with a slight gain for the benchmark S&P 500 index, as an increase in crude oil prices sent energy companies broadly higher.
Energy sector stocks climbed as the price of crude oil hit its highest level since October after the U.S. government moved to further block Iranian oil exports.
Even with the surge in energy stocks, losses in banks, real estate companies and elsewhere in the market led to a mostly lower finish for the major U.S. indexes. Smaller company stocks fell more than the rest of the market.
Homebuilders slumped following a report showing that sales of previously owned U.S. homes fell in March.
Monday's listless day of trading was in line with a relatively calm stretch for the U.S. stock market in recent weeks. The market has been hovering near all-time highs after following up a nearly 20% plummet late last year with a nearly mirror-opposite rebound.
Investors are focused on a cavalcade of corporate earnings reports this week and new data that will give them a read on how much U.S. economic growth slowed during the first three months of the year.
The S&P 500 wavered between gains and losses for much of the day before eking out a gain of 2.94 points, or 0.1%, to 2,907.97. The Dow Jones Industrial Average fell 48.49 points, or 0.2%, to 26,511.05. The Nasdaq composite gained 17.2 points, or 0.2%, to 8,015.27. The Russell 2000 index of small-cap stocks dropped 5.7 points, or 0.4%, to 1,560.04.
Bond prices fell. The yield on the 10-year Treasury rose to 2.59% from 2.55% late Thursday.
Energy futures closed broadly higher. Benchmark U.S. crude surged 2.7% to settle at $65.70 per barrel. The leap tacks further gains onto the price of oil, which has been climbing since dropping below $43 in late December. Brent crude rose 2.9% to close at $74.04 per barrel.
The Trump administration said it will no longer exempt any countries from U.S. sanctions if they continue to buy Iranian oil, including China and Japan, the world's second- and third-largest economies.
President Trump made the move with the intent of bringing Iran's oil exports to zero. Reducing Iran's exports could increase demand for oil from U.S. allies Saudi Arabia and the United Arab Emirates but would heighten political tensions.
The rally in oil prices helped drive energy stocks higher, leading the other 10 sectors in the S&P 500 with a gain of 2.1%. Marathon Oil climbed 6.6% and Exxon Mobil rose 2.2%.
Bigger moves may be ahead, with a crush of corporate earnings reports due this week. More than a quarter of the companies in the S&P 500 are scheduled to report, including Amazon.com, Exxon Mobil and Facebook.
Expectations are low for earnings in general, and analysts are forecasting the first drop in profit for the S&P 500 in nearly three years. But most companies are reporting stronger profits than Wall Street had been expecting, which is typical.
Later this week, investors will also get a preliminary read on the economy's strength during the first quarter of the year. Economists expect the report to show that growth slowed to 1.8% from 2.2% in the fourth quarter of last year.
Gold inched 0.1% higher to $1,277.60 per ounce, silver rose 0.1% to $14.98 per ounce and copper fell 0.6% to $2.90 per pound.
The dollar edged up to 111.94 Japanese yen from 111.93 yen late Friday. The euro strengthened to $1.1259 from $1.1246.
Sign up for the California Politics newsletter to get exclusive analysis from our reporters.
You may occasionally receive promotional content from the Los Angeles Times.