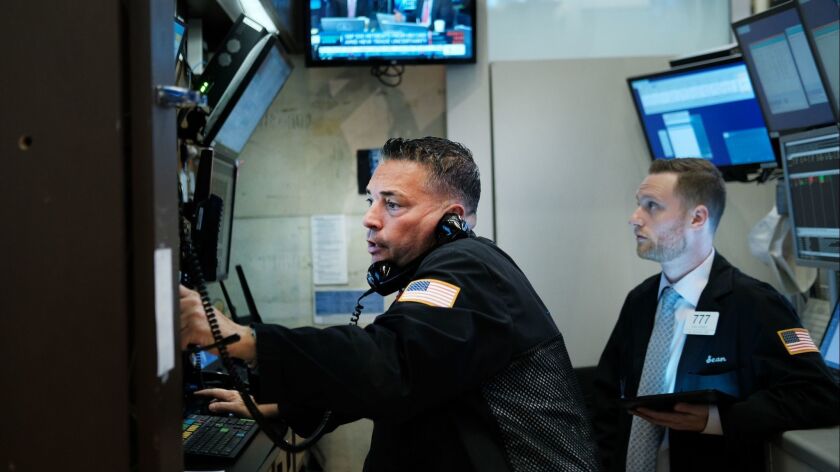 Stocks shook off an early wobble to eke out small gains Tuesday, nudging the Standard & Poor's 500 index to an all-time high for the second straight day.
The S&P 500 rose 8.68 points, or 0.3%, to close at 2,973.01. That's the benchmark index's seventh record high this year. The Dow Jones industrial average gained 69.25 points, or 0.3%, to 26,786.68. The Nasdaq composite added 17.93 points, or 0.2%, to 8,109.09.
Trading was subdued ahead of the Fourth of July holiday in the U.S. on Thursday. Markets will close early Wednesday.
Investors drove a strong comeback in stocks last month and have continued to do so this week on expectations that the Federal Reserve will cut interest rates amid signs of a slowing global economy and uncertainty over multiple U.S. trade disputes.
Traders are waiting to see what will come from the latest truce in the U.S.-China trade war. They're also looking ahead to a key government jobs report due out Friday, among other potential market-moving developments in the next few weeks.
Companies are lining up to tell investors in upcoming weeks how much profit they made during the spring. Expectations are generally low, and this could be the first time in three years that S&P 500 companies report a back-to-back decline in overall earnings, according to FactSet.
Communications, technology and consumer goods companies accounted for much of the market's gains Tuesday. Verizon rose 2.6%, Cisco Systems gained 2% and Philip Morris International added 2.3%.
Energy stocks fell broadly after U.S. crude oil prices slid nearly 5% a day after OPEC agreed to extend a cut in production levels for nine months. Marathon Oil dropped 4.9% and Concho Resources lost 4.3%.
Lighting company Acuity Brands sank 7.8% despite reporting stronger profit for its latest quarter than analysts expected. Revenue was below expectations, and the company cited "ongoing angst generated by trade policy issues" in the market.
Delta Air Lines climbed 1.3% after it gave a profit forecast for the just-completed quarter that was stronger than analysts had been expecting. The carrier said revenue during the quarter was at the high end of its initial expectations, while costs other than fuel were up just 1% to 2%.
The yield on the 10-year Treasury note fell to 1.97% from 2.03% late Monday. The yield is now close to its lowest level since the 2016 election.
In commodities trading, benchmark crude oil fell $2.84 to $56.25 a barrel. Brent crude, the international standard, lost $2.66 to $62.40 a barrel.
The price of gold rose $18.70 to $1,408 an ounce and silver gained 5 cents to $15.15 an ounce.
The dollar fell to 107.84 Japanese yen from 108.46 yen Friday. The euro rose to $1.1291 from $1.1286.
---