Tejon Ranch targets commercial development for growth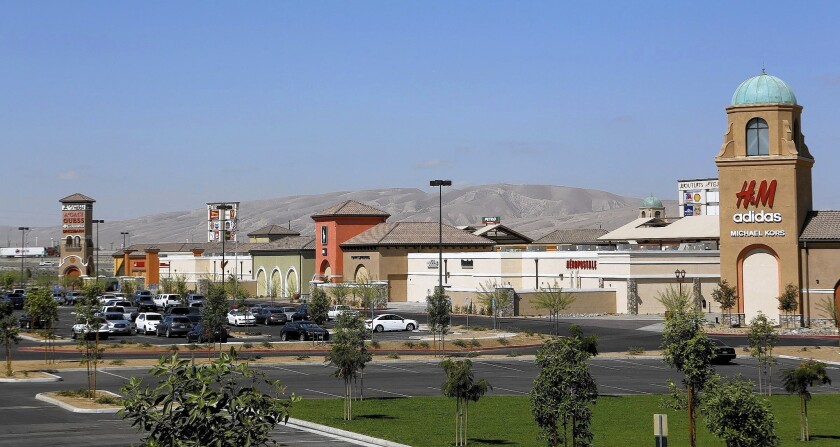 When Tejon Ranch Co. Chief Executive Gregory S. Bielli needs to explain company operations, it usually involves a drive along California 138 to the 1850s-era adobe house built by Edward F. Beale north of Los Angeles.
Beale was the first U.S. citizen to own the land that became Tejon Ranch, the state's largest single property of its kind. The trip through the unique habitat helps visitors grasp the company's long history and the land's special importance to California environmentalists, Bielli said.
"I do that to show them how long ago this land was put together into a ranch," said Bielli, who took over as Tejon Ranch Co.'s chief executive in January. "You have to look at the ranch in that context."
Today, Tejon Ranch Co. is a real estate development and agribusiness company trying to take commercial advantage of the roughly 10% of its land that is available for development, including a prime location along the Interstate-5 corridor. The rest is to be preserved under a landmark agreement with environmental groups.
Tejon Ranch land is also a major way station for cargo passing north and east from the Los Angeles and Long Beach seaports. Retail giants with warehouses there include Ikea, Wal-Mart and Target.
But Bielli says that the company's goal is to be more than a pit stop for drivers and a link along the nation's retail supply chain.
The company's Outlets at Tejon Ranch opened in August as a 320,000-square-foot outdoor shopping center. The Outlets has more than 70 retailers on 43 acres of land, Bielli said, and marks an important step.
"The Outlets bring in an entirely new kind of consumer to stay, shop and get exposed to the ranch as opposed to just stopping at one of the drive-throughs," he said. New retail space of this kind, Bielli added, is "another great way to give exposure to the ranch."
Tejon Ranch has four business segments: commercial and industrial real estate development; resort development; mineral resources development; and farming and ranching. In all, the company owns 270,000 acres, bigger than the city of Los Angeles.
The ranch comprises territory covered by four Mexican land grants from the 1840s. The company's name, and that of the Tejon Pass that runs through its land, comes from the Spanish word for badger.
The company was founded in 1936 and is based in Lebec, Calif. It went public in 1973.
Times Mirror Co., which published the Los Angeles Times, owned nearly a third of Tejon Ranch's shares before selling them in 1997.
The latest
In July, the company bought out its partner in the Tejon Mountain Village project for $70 million. The Village is slated to include a 26,000-acre residential and resort community.
During the second quarter ended June 30, the company reported revenue of $8 million, up from $7.5 million a year earlier. But net income fell to $874,000 from $2.1 million, attributed to volatile farming income and the timing of real estate sales and leases.
Accomplishments
In 2008, the company reached an agreement with a broad coalition of environmentalists that protected about 240,000 acres, or about 90% of the company's land, from development. The pact to preserve the Tehachapi Mountains wilderness area drew criticism from some within the conservation community who said it didn't do enough to preserve condor habitat.
Tejon Ranch land just past the Grapevine is one of the country's busiest freeway rest stops. It includes a collection of gas stations and fast-food restaurants.
The site where Interstate 5 meets California 99 draws 14 million people a year out of their cars. The Starbucks there is one of the busiest in the U.S., Bielli said.
Challenges
Despite the agreement with environmentalists, the company still has work to do to convince critics that its projects make good environmental sense.
"I think the biggest challenge that we face is external. It's about how we're going to bring new projects online," Bielli said.
"You want it to be a new lifestyle, a new opportunity, something that the consumer is attracted to. But it has to be done in a way that is sensitive to the environmental legacy of the ranch. The challenge is in making sure that we are doing it right."
Analysts
Tejon Ranch Co. does not attract regular coverage from Wall Street analysts.
Twitter: @RonWLATimes
---
Your guide to our clean energy future
Get our Boiling Point newsletter for the latest on the power sector, water wars and more — and what they mean for California.
You may occasionally receive promotional content from the Los Angeles Times.