How retail employees prepare for the busiest — and craziest — time of the year: Black Friday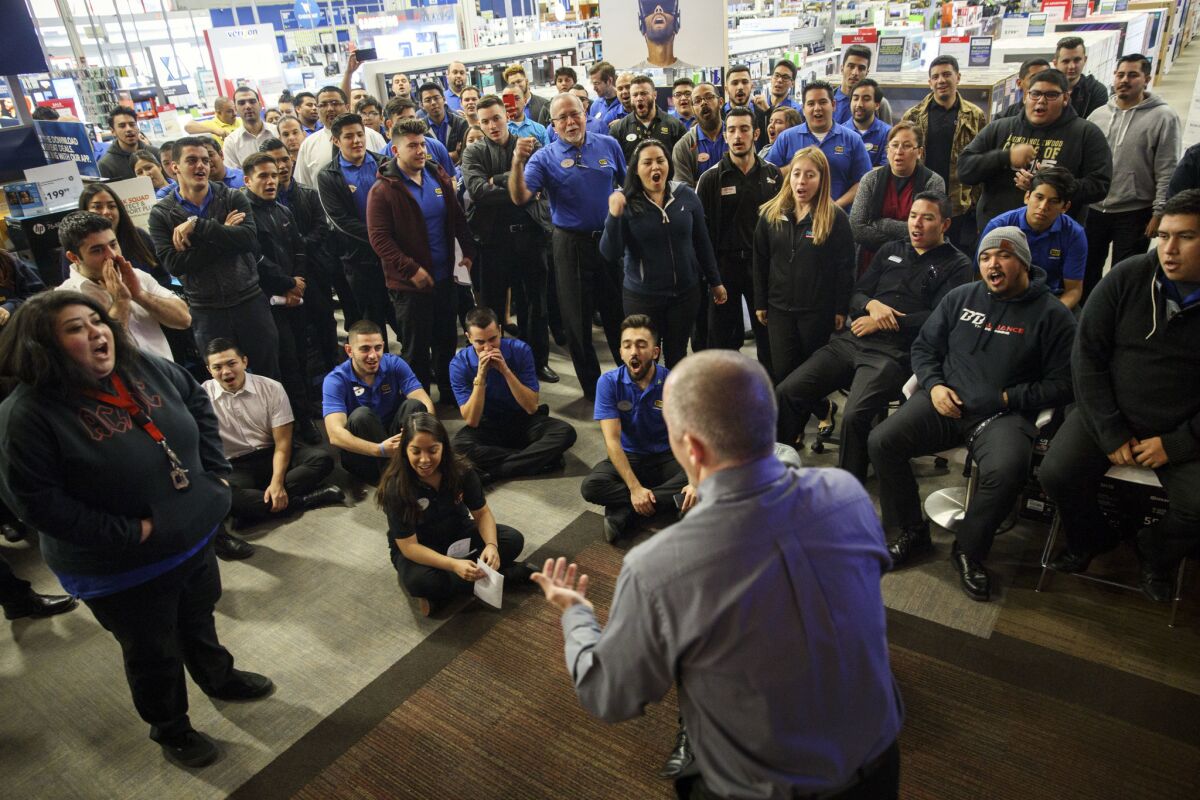 Hours before the Best Buy in Atwater Village opened for business, employees peppered store managers with pointed questions. What if a customer wants more than one doorbuster item? What happens if a cash register swells with so many bills it can't be closed?
Anxious employees rattled off concerns as their bosses laid out the game plan for some of the most important days of the retail year: Thanksgiving weekend.
When Best Buy and other retailers open their doors on Thanksgiving Day and Black Friday, it kicks off a shopping period that can account for up to 40% of annual revenue — making or breaking the year.
The rise of e-commerce means Black Friday deals are no longer necessarily the steepest of the season. But the hype still draws crowds — so it's critical for brick-and-mortar stores to make the shopping experience as seamless as possible or risk losing those customers to online competitors.
Thanksgiving and Black Friday are kind of like the Super Bowl. We prepare for it even months out.
— Adrienne O'Hara, executive director of corporate communications at Toys R Us
At the Atwater Village store, some 2,000 shoppers walk in on a typical weekday; that can climb to 6,000 or more each day from Thanksgiving through Sunday, said general manager Art Jamgochian.
That's why Best Buy stores across the country stage what Jamgochian calls a "dry run" — essentially a dress rehearsal-cum-pep rally to practice controlling the chaos that begins at 5 p.m. Thursday.
On rehearsal day last weekend, about 200 employees gathered in the home theater department at the back of the store. Many, tucked into hoodies to ward off the morning chill, sipped cups of coffee.
"I know you'd rather be in bed," Jamgochian said. "But just like any major sports team, we have to practice before the major event."
Store managers quickly ran through some highlights for Best Buy: pushing Geek Squad protection, handing out tickets for popular doorbuster items and telling shoppers about extended returns for holiday purchases (all reasons, Jamgochian said, why "there's no reason for the customer not to buy today"). A store diagram helps employees visualize the expected checkout line, highlighted in black marker, which will extend far beyond the registers and snake through the aisles to the back of the store.
Similar meetings, on a smaller scale, have been going on at other retailers across the country.
Target has multiple "huddles" with store employees to keep them up-to-date about scheduling and merchandising decisions before Black Friday, said Carmen Moch, senior group vice president of stores. At Toys R Us, stores map out a Black Friday plan of attack — including how many seasonal workers to hire — by August, said Adrienne O'Hara, executive director of corporate communications. Each location also holds a rally to dispense last-minute information and pep up staff before doors open on Thanksgiving at 5 p.m.
"Thanksgiving and Black Friday are kind of like the Super Bowl," O'Hara said. "We prepare for it even months out."
Retailers plan carefully to avoid stampedes or the kind of shopper-on-shopper violence that repels customers and attracts negative media coverage.
Best Buy, like many retailers, is hoping to avoid that by letting only about 30 shoppers in at a time when doors first open. Within half an hour, a few hundred will be roaming the aisles. "Safety is important," Jamgochian said. "We don't want anyone trampled."
Wal-Mart has been the site of such chaos. In 2011, a woman at a Porter Ranch store pepper-sprayed several customers in what authorities described as a "shopping rage" incident.
In recent years, the retail giant has worked with "nationally recognized crowd management experts" to develop Black Friday plans on the store level, Wal-Mart spokesman Randy Hargrove said.
Each location has spaced out its special sale products in order to smooth traffic flow. Wal-Mart also lets shoppers see the store's layout via an app to help them navigate.
Starting in 2013, Wal-Mart began handing out wristbands for its doorbuster items. Instead of waiting in line until doors open, shoppers who queue up early can turn in those wristbands for products within two hours of the sale kicking off at 6 p.m.
"It gives customers certainty that if you get a wristband you will be able to get that product," Hargrove said. "That takes some of the angst out of the equation."
Careful choreography to ensure a smooth and safe shopping experience has become increasingly important as shoppers weary of jammed parking lots and elbow-to-elbow crowds turn to online retailers.
For Best Buy, a successful holiday season could signal a continued upswing from its years-long turnaround plan. The company has shown recent success in e-commerce by offering services such as free home visits to help customers choose the best technology. In its third quarter, the chain posted a 24% jump in U.S. online sales — boosting both sales and profit.
The National Retail Federation predicts November and December sales will grow 3.6% to $655.8 billion, slightly up from the same period in 2015.
For retail employees, working on Thanksgiving means time away from family and friends. Frustrated workers in recent years have started petitions urging stores to open later. Many retailers, including Best Buy, will pay hourly employees time-and-a-half on Thanksgiving. In California, a measure that would have given retail and grocery employees double pay for working Thanksgiving was defeated by state lawmakers Wednesday.
At the Atwater Village prep session, about 100 workers trooped outside to role-play customers and strikers — Best Buy's term for workers who, before the store opens, walk down the line chatting with customers. A clutch of blue-shirted employees stood by the sliding doors, ready to hand off shopping carts like a relay race.
Steve Pacheco, a Microsoft expert doubling as a striker for the holiday weekend, stopped every few feet to talk to an employee acting as a shopper.
"What are you buying here today?" he asked, before suggesting the customer might like to add cables, a hard drive, or a protection plan to the purchase. He scribbles an imaginary shopping list on a nonexistent sheet of paper and hands it to a customer.
"You make sure everything is written down so they don't forget," Pacheco said.
Some employees, warming up to their roles as sometimes-surly holiday customers, started shouting questions to their co-workers, who are encouraged to remain calm even in the most adverse conditions.
"Is this your first time working here?" one yelled. "You're not really helping me, sir!" another blurted out. One shopper huffed: "I'm going to Costco now!"
His co-worker laughed. "Costco is closed on Thanksgiving," he said.
Follow Shan on Twitter @ByShanLi
ALSO
Finding the best holiday shopping deals online can vary by the day
See which stores will be open Thanksgiving Day — and why others are waiting until Black Friday
Grab a free Black Friday pass (before they're gone) to one of 116 California parks
Sign up for the California Politics newsletter to get exclusive analysis from our reporters.
You may occasionally receive promotional content from the Los Angeles Times.