Stress: Bad for you, good for these businesses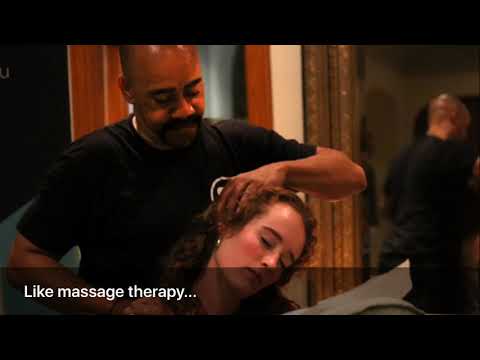 Many businesses that help people cope with the strains of modern life report increasing revenue, particularly since the November election.
When weeks had passed and her anger about the presidential election still hadn't subsided, Jill Weiss figured she had two options: She could keep replacing broken home furniture or she could find a therapeutic way to put a whupping on something.
Now, the 63-year-old, 90-pound 5-footer dons her "ironic pink" gloves weekly and steps into a boxing ring near Universal City. Unlike other newcomers to the sweet science, who shyly paw the air as if they were afraid it might hit back, Weiss is throwing leather with bad intentions.
"I just imagine I'm beating the heck out of any number of people," Weiss said, noting that each hour-long lesson leaves her spent and relaxed. "My arms are like Jell-O and I feel so much better because the endorphins are just kicking. Boxing is very satisfying, hearing that smack of the glove."
We live in stressful times, what with political polarization, terrorist attacks, crippling student debt, retirement savings fears and a growing sense that everyone else just might be nuts.
The populace's anxiety level isn't monitored the way consumer confidence and retail spending are. But many businesses that help people cope with the strains of modern life report increasing revenue, particularly since the November election.
Among those benefiting is retired boxing champ Ricky Quiles, who trained with the likes of Julio Cesar Chavez, Ray Mancini and Oscar de la Hoya. His Ricky's Boxing Gym, which is open to people training for competition or just looking for a workout, has absorbed a barrage of new clients, including Weiss.
"Been training since 7 a.m.," Quiles said on a recent weekday afternoon as he prepared to start the day's seventh hour-long private lesson.
"I'm finding a lot more people who say they're feeling stressed out," Quiles said, "from work life, home life, marriage life, relationship life, L.A. life, every kind of life. Boxing provides a lot of stress relief and, come on, who doesn't want to punch something when they're angry?"
Others turn to more gentle stress-relief delivery systems. Yoga, for a variety of reasons, surged to more than 36 million U.S. practitioners last year from 20.4 million in 2012, according to the 2016 Yoga in America Study conducted by Yoga Journal and Yoga Alliance.
Some yoga studio owners say their students are complaining about acute feelings of distress.
"I've just been noticing over the past several months that the stress levels of our customers seems high," said May Chu, owner of Yoga Therapy & Wellness in Culver City. "And in Los Angeles, you are naturally experiencing a lot of stress already and you have little time to stop and think about your feelings."
Chu is seeing more newcomers, and those who are already on board are signing up for additional sessions.
"I'm pretty booked up with three new clients this past week. There is no room for random drop-in clients," Chu said recently. "Some are coming three times a week" for private sessions that run $130 for 75 minutes.
About eight in 10 clients report that "managing stress is the primary reason they are coming in," Chu said. "They want to feel calm. Some just say they are here to find some peace."
Massage Envy, a franchise chain with 25,000 massage therapists at 1,100 locations in 49 states, reports having trouble hiring massage therapists quickly enough to meet demand. The Scottsdale, Ariz., company expects franchise owners will hire 3,500 more in the next year.
To help ease the physical strain on employees, Massage Envy is implementing a regimen focusing on proper warm-up before performing massages and recovery techniques for after, as well as body mechanics.
"They told us they need to do something," said Ron Precht, spokesman for the American Massage Therapy Assn., which is helping develop the regimen. "They are having too many burnouts among their therapists."
The pressure is being felt throughout the industry, Precht said.
"Anecdotally, we are hearing that business is way up for therapists," he said. "I had 12 therapists approach me at our last conference, and they were all stressed and tense about the growing number of clients they were trying to serve."
Animal behaviorist David Codr said his company, Dog Gone Problems, has been fielding an increasing number of calls from people reporting new and puzzling shenanigans by their animals, such as more barking.
"They are mirrors of the guardians," Codr said, using his word for owners. "Their guardians need to recognize that the dogs are responding to our stress."
"If we are stressed, they are thinking 'I have to pick up the slack. ... I'll be in charge of security,'" said Codr, who operates in Southern California and in the Omaha area. His advice, besides relaxing, is to provide animals with more structure and clear boundaries.
In 2002, when Float Lab opened its first flotation therapy spa and tank showroom in Venice, "I thought we would sell thousands," owner Craig "Crash" Hoefler said. "Nobody wanted one. No one would even get in one."
But the silent, dark, saline floating experience has staged a comeback. Float Lab opened a second location in Westwood in 2014, and rival float houses keep popping up.
Hoefler shrugs when asked to explain the renewed interest in floating.
"We're all going through something, man," he said. "I just don't know what."
Twitter: @RonWLATimes
ALSO
What to expect in the workplace in 2017
Companies start implanting microchips into workers' bodies
5 mental tricks to help you manage stress and be more 'mindful' in 2017