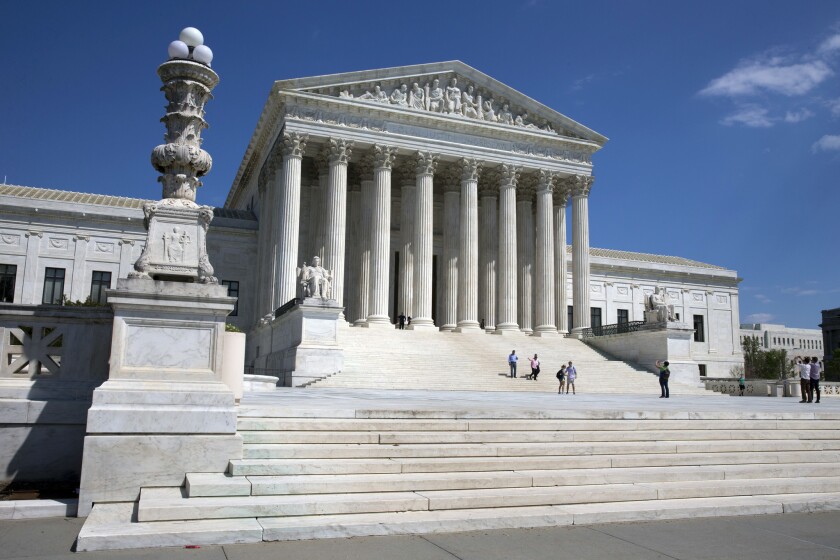 Reporting from Washington —
The Supreme Court on Tuesday upheld the broad reach of insider trading laws, ruling that family and friends of corporate insiders can be prosecuted for profiting on secret stock tips even if they don't pay money or other compensation for the information.
The unanimous decision affirmed the conviction of a Chicago man who made $1.5 million in stock profits by trading on confidential tips that originated from his brother-in-law, an investment banker in California.
The justices rejected claims of defense lawyers who argued that there was no crime because no money exchanged hands between the insider and the stock trader.
Instead, the court said exchanges within a family are like gifts and have value, even if no dollars are paid.
The decision, the high court's first on insider trading in nearly two decades, is a major victory for federal prosecutors who have sought to bring insider-trading charges against a wider network of people who profit from confidential tips, including those who are not insiders themselves or have not paid to obtain the valuable information.
Those cases had been threatened by an adverse 2014 ruling from the U.S. 2nd Circuit Court of Appeals in New York, which threw out insider trading convictions of two Wall Street hedge-fund managers in part because no tangible payoff could be identified.
But in Tuesday's opinion, the high court said it disagreed with the 2nd Circuit's approach and endorsed a broader reading of the laws against insider trading.
"This is a big win for the government," said Howard Schiffman, a Washington attorney and former trial attorney for the Securities and Exchange Commission. "These cases normally involve family and friends. If you are going to steal confidential information, who will you give it to you? A brother. A girlfriend. A college roommate. That's why this is significant."
But he added that the Supreme Court did not try to resolve the issue of liability for "remote" traders who benefit from inside information but do not necessarily know it was illegally leaked. He said prosecutors still face significant hurdles if they seek to bring charges against people who did not deal directly with an insider, but learned confidential information that was passed on from others.
In the case decided Tuesday, it was clear that the stock trader knew the source of the confidential tips, even though the information was passed through a third party.
Bassam Salman, a grocery wholesaler in Chicago, traded on confidential information about upcoming mergers in the healthcare industry that came from his brother-in-law, Maher Kara, who dealt with corporations in his work with Citigroup. He passed on the information to an older brother, who in turn informed Salman. Salman's sister was married to Kara.
The court said they used "code words to communicate the information. " All three were indicted by federal prosecutors for a conspiracy to violate the securities laws.
The two brothers pleaded guilty and testified at Salman's trial. He was convicted of securities fraud, sentenced to three years in prison and forced to repay $730,000.
He appealed on the grounds that he had not paid his brother-in-law for stock tips or engaged in any exchange of a "valuable nature." He characterized the tips as shared information within a family.
The 9th Circuit Court rejected his appeal, and the Supreme Court did the same Tuesday in Salman vs. United States.
Justice Samuel A. Alito Jr. explained that the Citigroup banker violated his duty of trust by disclosing confidential information, and that his brother-in-law knowingly profited from this breach.
"Here, by disclosing confidential information as a gift to this brother with the expectation that he would trade on it, Maher breached his duty of trust and confidence to Citigroup and its clients — a duty Salman acquired, and breached himself, by trading on the information with the full knowledge that it had been improperly disclosed," he wrote.
His opinion relied heavily on a 1983 ruling in Dirks vs. SEC in which the court first set out the "gift giving principle" in insider trading cases.
The justices steered clear of a broader discussion of the law in this area. Congress has not passed a law spelling out the crime of insider trading. So federal prosecutors and judges have relied on regulations and court precedents that grew out the Depression-era laws against "fraud or deceit" in the buying and selling of stocks.
The late Justice Antonin Scalia often said he was troubled by the court's devising rules for a crime that was not written into law. But without him, the eight justices focused narrowly on the issue before them and resolved the Salman case based on precedents from the 1980s.
Twitter: DavidGSavage
ALSO:
Supreme Court: Samsung doesn't owe Apple $400 million for copying iPhone look
Supreme Court grants emergency order to block transgender male student in Virginia from using boys' restroom
Can Trump put another Justice Scalia on the Supreme Court?
---
UPDATES:
2:35 p.m.: This article was updated with additional background and analysis.
This article was originally published at 8:20 a.m.
---