Despite red flags at some California surgery centers, watchdogs issued gold seals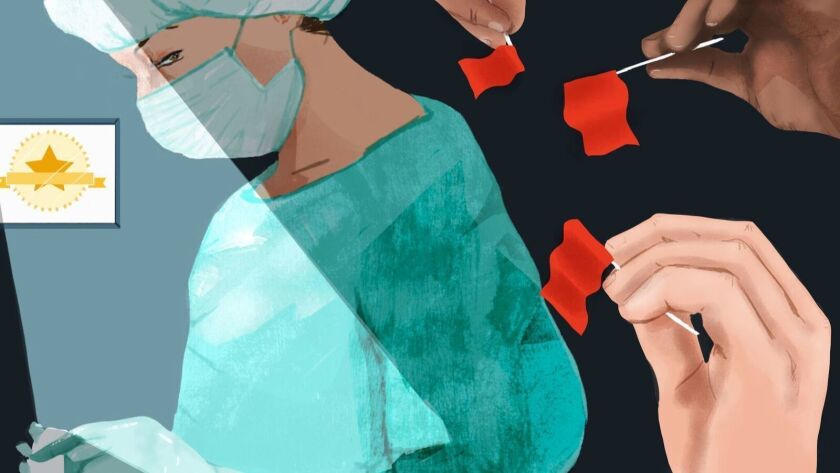 Kaiser Health News
At his surgery center near San Diego, Rodney Davis wore scrubs, was referred to as "Dr. Rod" and carried the title of director of surgery. But he was a physician assistant, not a doctor, who anesthetized patients and performed liposuction with little input from his supervising doctor, court records show.
His surgical work ended, though, in 2016 when an administrative judge stripped Davis of his license, concluding it was the only way to "protect the public." State officials also accused two former medical directors of Pacific Liposculpture of enabling Davis to act as a doctor.
One powerful authority in California took a different view. The state-approved private accreditation agency that oversees the center left its approval in place. So the center is still operating and Davis remains an owner and administrator, state records show.
Davis declined to comment for this story and denied wrongdoing in administrative and civil court proceedings.
California is the only state with more than 1,000 surgery centers that has given private accreditors a lead role in oversight.
That approach to oversight has created a troubling legacy of laxity, an investigation by Kaiser Health News shows. In case after case, as federal or state authorities waved red flags, state-approved accreditation agencies affixed gold seals of approval, according to a KHN review of hundreds of pages of doctors' disciplinary records, court files and accreditor reports — which are public only for California surgery centers.
One accreditation inspector called a doctor's anesthesia technique "impressive" just months before the state medical board accused her of "gross negligence" for putting patients in deep sedation without the training to save them if they stopped breathing.
In another case, Medicare officials declared a state of "immediate jeopardy" at a center that put an untrained receptionist in charge of disinfecting surgical scopes, a Medicare inspection report says. Its accreditor renewed its approval within a week.
Since 2010, at least 102 patients have died after care in California's surgery centers, state records show. Such facilities perform a variety of outpatient surgeries and now outnumber hospitals nationally.
State Sen. Jerry Hill, a San Francisco Bay Area Democrat, chairs the committee that oversees the state Medical Board, which reviews and approves the state's surgery center accreditation agencies every three years.
Briefed on the investigation's findings, Hill said this "definitely warrants a deeper examination into what's going on at the surgery centers and how the accreditation process is working today — and [whether it's] providing the patient protection I was hoping for when we established it."
Surgery centers safely perform millions of procedures ranging from sinus surgery to knee replacements. Many patients go to a center if a doctor refers them or an insurer advises them of potential cost savings.
California's oversight of surgery centers was upended about a decade ago when a physician's legal victory led the Department of Public Health to conclude it could no longer license doctor-owned surgery centers.
In 2011, state lawmakers came up with a new oversight scheme, mandating that the state medical board approve the private accreditors that would be on the front lines of oversight. Today, five accreditors are allowed to both inspect surgery centers and to grant or deny surgery centers approval to operate. (Centers can also operate with just Medicare approval.)
The new rules meant the state health department — which oversees hospitals — would no longer license surgery centers, aside from about 40 that are not doctor-owned. Medicare still certifies hundreds of centers that treat seniors, and officials from the state medical board still probe complaints about physicians.
With the change in California, the state-approved accreditation agencies got a guaranteed source of income, since the centers each pay their accrediting agency about $15,000 every three years for their oversight role. Large accreditors get most of their funding from those payments.
In turn, the accreditors made their inspection reports open to the public on a state website.
Those reports show that accreditors, at times, were at odds with other officials.
On May 1, 2012, the Institute for Medical Quality, or IMQ, a San Francisco-based accreditor, inspected Advanced Medical Spa in Rocklin, Calif. The inspectors were required to check whether the person administering anesthesia was "qualified and working within their scope of practice."
The inspector's note says the surgeon's wife, a pediatrician, was performing "conscious sedation" anesthesia and said her technique with the drug propofol was "impressive." The standard was marked as "met" and accreditation was awarded through 2015.
A month later, the state medical board launched an investigation of the pediatrician, Dr. Yessennia Candelaria, over complaints that she was handling anesthesia for plastic surgery procedures without "requisite training in anesthesia, including propofol," the board's records show.
Investigators for the Medical Board of California found that before and after the accreditor's review, Candelaria was using propofol to put patients in a state of "deep sedation" even though she didn't have the "advanced airway" training to rescue them if their breathing shut down. Medical board authorities deemed the lapse "gross negligence" in an accusation filed in 2014.
Candelaria's medical license was put on probation for seven years. Medical board authorities recently moved to revoke her license over unauthorized prescribing, and she has not yet filed a written response.
An attorney for Candelaria declined to comment and Candelaria did not respond to a request for comment. In February 2013, IMQ revoked its approval of Advanced Medical Spa.
The following month, Candelaria and her husband, Dr. Efrain Gonzalez, were arrested in a separate criminal case. Gonzalez was charged with 37 felony counts that included mayhem and conspiracy. Candelaria was charged with 24 felony counts, including mayhem and grand theft by false pretense.
Gonzalez pleaded guilty to three felonies and was sentenced to three months of house arrest in the criminal case and surrendered his medical license. Charges were ultimately dismissed against Candelaria, who pleaded not guilty.
Victoria Samper, vice president of ambulatory programs with IMQ, said she could not comment on specific facilities. But she did note that California law allows doctors to practice outside of the field they initially train in.
The medical board said in a statement that the private accreditor who dubbed Candelaria's technique "impressive" reviewed her work with a different patient than those cited in the board's accusation.
Accreditation agencies have stood by eight California surgery centers facing the federal Medicare program's harshest consequence — "involuntary decertification." It's a rare sanction that amounts to being deemed unfit to care for seniors.
On March 22, 2016, California Department of Public of Health inspectors notified federal authorities about a state of "immediate jeopardy" at Digestive Diagnostic Center, a small endoscopy center south of San Francisco.
A state inspection report said the center had pressed its new receptionist into duty to disinfect medical devices that probe patients' colons — with no formal training.
Something else happened that day as well. The Accreditation Association for Ambulatory Health Care, or AAAHC, renewed its approval of the center, which the agency describes as a "widely recognized symbol of quality" to patients and health insurers.
Medicare involuntarily decertified the facility a month later, which meant the federal agency would no longer pay for seniors' care at the center. But with private accreditation still in place, private insurers would be likely to continue funding care there.
Dr. Michael Bishop, a former California medical board member, said the case exposes a gap in state oversight if a center falls below one overseer's standard but meets another's. "You want no one to have easier [approval] process than any other one," he said. "That's quite egregious."
Kevin Calisher, president of the surgery center management firm Calisher & Associates, said his company took over management of the center in 2017, and that he could not comment on Medicare's findings.
AAAHC said in a statement that it could not discuss individual facilities.
The medical board's statement said it "will be looking into the matter."
On April 9, 2015, an inspector from AAAHC arrived to perform an initial inspection of Pacific Liposculpture, which had been operating since 2011.
The inspectors' checklist included a review of complaints filed against the center by a state "licensure board." Davis had already been publicly accused by the state physician assistant board of engaging in the unlawful practice of medicine.
The inspector checked the box for "substantial compliance" and awarded the center approval through April 2018.
That decision was "enraging actually, outrageous," said Todd Glanz, a San Diego-area attorney. He represents a patient, Cecilia O'Neill, who went to the center for liposuction a few weeks after it was accredited.
O'Neill returned a few days after her May 28, 2015, procedure, complaining of pain, dizziness and signs of infection, her lawsuit alleges. But she claims her condition got worse. On June 9, 2015, she went to an emergency room, where she was told she had sepsis and needed emergency surgery followed by a stay in the ICU, according to her lawsuit.
Davis and Dr. Harrison Robbins, the facility's former medical director and other owner, have denied wrongdoing and are fighting the ongoing lawsuit.
The following year, Davis faced an administrative hearing over whether he should keep his license as a physician assistant. A central issue was whether he truly worked under a doctor's supervision, as the law requires, or hired a figurehead who would exert little control.
One 2010 email discussed in court was by Davis, saying he hoped his new supervising physician, Dr. Jerrell Borup, would not be "another clumsy physician getting in the way."
His attorney presented experts and argued that he did not mislead anyone about his credentials, he had the appropriate legal agreement with his supervising doctor and should keep his license. At its conclusion, the administrative judge revoked his license and reached a searing conclusion.
Davis "purposefully and intentionally set out to create a business arrangement that looked legitimate on paper," Judge Susan Boyle wrote, "but allowed him to manipulate the system and run a liposuction business without the interference of a physician."
The two former medical directors of the center were accused by the Medical Board of California of "aiding and abetting" Davis' unlicensed practice of medicine. Neither doctor actively supervised Davis, who performed all the procedures, the accusations say.
One of the former medical directors, Borup, surrendered his license in 2016. The other, Dr. Harrison Robbins, is fighting the medical board's similar case against him. The controversy did not deter AAAHC, which earlier this year approved the center through April 2021.
Robert Frank, a San Diego attorney who represented Davis and Robbins, said Robbins has retired and the public should have no concerns about Davis' ongoing administrative role at Pacific Liposculpture.
"[Davis] knows the business, he knows the procedure and he knows he's being watched and scrutinized" during the ongoing legal case, Frank said.
Davis contested his license revocation, saying the administrative judge's findings weren't supported by the evidence at his hearing. He lost that case in Sacramento Superior Court. He's now challenging that decision in appeals court.
Jewett is a senior correspondent for Kaiser Health News, an editorially independent publication of the Kaiser Family Foundation.
---
Your guide to our new economic reality.
Get our free business newsletter for insights and tips for getting by.
You may occasionally receive promotional content from the Los Angeles Times.