Tariffs are pounding this Trump-friendly industry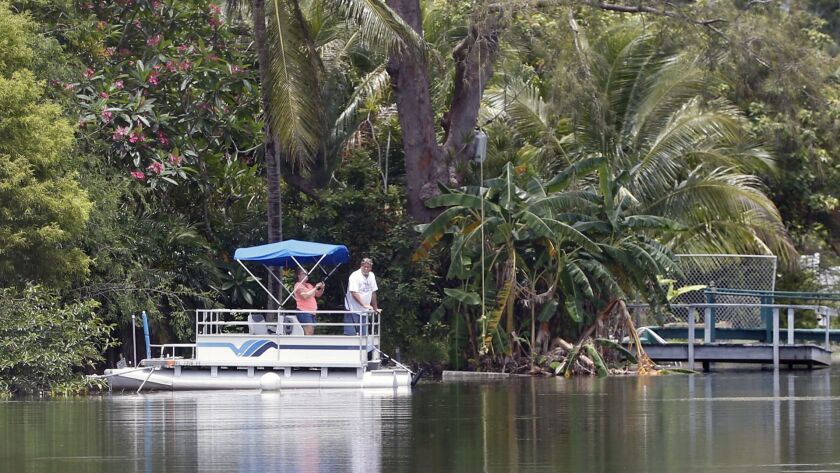 Bloomberg
They're President Trump's kind of business. They dominate the domestic market, rack up a trade surplus by selling to foreigners, and do a lot of their manufacturing in states that voted for him.
But American builders of recreational boats are getting caught up in Trump's trade war. With every escalation, they've taken a fresh hit.
The industry employs about 150,000 people directly and provides livelihoods for half a million more. It produces 95% of the boats sold in the U.S. (contrast that with cars, little more than half of which are domestically made), and squeezed out $1.5 billion of exports last year too, according to the National Marine Manufacturers Assn.
It uses a lot of aluminum — so Trump's initial salvo in March, slapping duties on imported metals, added to costs. Then came the itemized China tariffs. Hundreds of parts, from ball-bearings to engines and GPS navigation systems, went up in price. Meanwhile, Trump's trade targets started firing back. Canada, Mexico and the European Union each had a list of U.S. goods to penalize, and recreational boats featured in all of them.
Trouble selling overseas
The EU's charge is 25%. "A showstopper," Stephen Heese calls it.
Heese is president of Chris-Craft in Sarasota, Fla., which has been making boats since 1874. It has been sending them over to Europe almost as long (including in the 1940s when the company switched production from luxury yachts to military vessels, including some of the landing craft used on D-Day.)
About a third of its markets are outside the United States. Those exports have ground to a halt, Heese said. European dealers have to write a tariff check to customs as soon as they take delivery. With retail prices averaging about $300,000, it's simply too big a markup for most of them, he said. And "if the dealer doesn't have the boat in stock to show, the customer can't see it."
Now owned by Winnebago Industries Inc., Chris-Craft employs some 400 people, three-quarters of them in manufacturing. It's headquartered on Sarasota's 15th Street, a neighborhood once dotted with boat makers, though only a few are left. Out front, there's a "Help Wanted" sign. But the story is more complex.
The company had been planning to create some 30 new positions. Then it lost $3 million in overseas orders as a result of the tariffs and froze all hiring plans. Later, U.S. dealers picked up some of the slack, according to Heese, and Chris-Craft ended up adding about 20 people.
'Full impact'
Heese is more concerned about EU charges than the higher cost of parts as a result of Trump's tariffs. At Bertram Yachts in Tampa, Fla., Chief Executive Peter Truslow said he's worried about both.
A lot of the components for Bertram's high-end boats come from China, including most of the fiberglass they're made of, Truslow said. The import tariffs "are a concern," he said. "We haven't felt the full impact yet." Meanwhile, the company is missing out on $8 million of European sales.
At Bertram, that's the equivalent of just two boats. Its customers are rich. But most of its 90 employees are "hardworking factory workers or engineers who are doing exactly what we need in terms of the American economy: exporting, manufacturing, creating value," Truslow said. "Our industry tends not to get a lot of sympathy. But the people that work in it should."
Looking for a sympathetic ear
Pontoon boats are at the opposite end of the market. They're one of the main production lines at Smoker Craft, based in Indiana's Elkhart County, known as the RV capital of the world.
A typical pontoon might sell for about $30,000, but that could soon rise to as much as $37,000, according to CEO Doug Smoker. That's largely because of the rising cost of aluminum, "the No. 1 commodity" that goes into his boats. (Five years ago, Smoker moved to all-American purchasing wherever feasible, but the company is still getting squeezed, because demand for U.S.-made aluminum surged with the tariffs, pushing prices up.)
Nonetheless, Smoker figured the company was in decent shape — until retaliatory tariffs were imposed by Canada, where more than a quarter of his fishing boats are sold. He rushed as much inventory as he could north of the border. But since the levies went into effect July 1, sales there have "dried up."
American boat builders have taken their grievances to the Trump administration, with mixed results.
Smoker said he met with Commerce Secretary Wilbur Ross and felt he got a fair hearing. But Thomas Dammrich, president of the National Marine Manufacturers Assn., said the industry has "not found a very sympathetic ear." He said the message from the administration has been clear: Boat builders may have to endure some pain in order to fix wider problems of unfair trade.
An optional purchase
Adam Garthaus, director of assembly at Chris-Craft, said he is sympathetic to some of the president's economic goals. "But you've got to be careful what you leverage," he said. "You've got to understand what it does to people's lives."
Even in the home market, sales are under threat from the rise in costs. The National Marine Manufacturers Assn. estimates that about two-thirds of boat owners make $100,000 a year or less.
Boats are highly price-elastic, said Dammrich. Chris-Craft quality assurance manager Butch Decker, who has worked for the company for more than 30 years, puts it differently.
"Nobody really needs a boat," he said. With the tariffs, "people are going to spend their money on other stuff."
Pickert writes for Bloomberg.
---
Your guide to our new economic reality.
Get our free business newsletter for insights and tips for getting by.
You may occasionally receive promotional content from the Los Angeles Times.