Killing Obamacare's coverage mandate will cut enrollment but leave California's marketplace stable, study says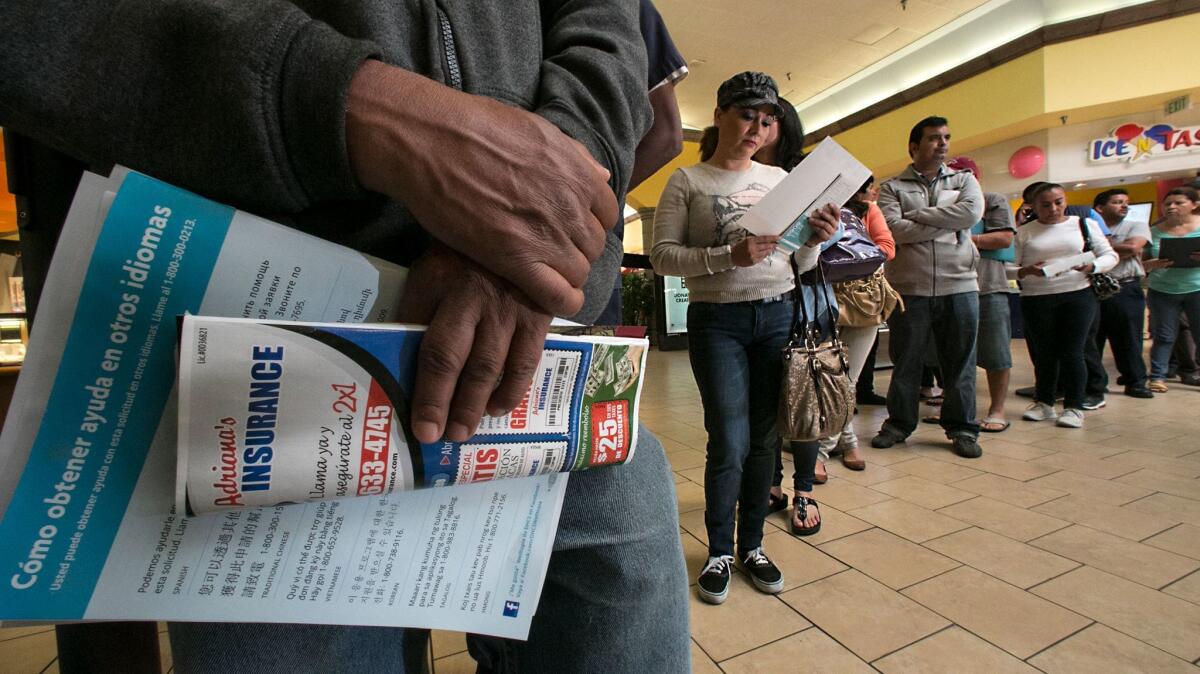 California's individual health insurance market will probably see a sharp drop in enrollment but should remain stable after Congress eliminated the requirement for individuals to carry coverage, a Harvard-led study published Thursday found.
The federal tax reform act in December removed the individual mandate and the financial penalties that consumers faced under the Affordable Care Act, or Obamacare, starting in 2019.
That led industry leaders to worry about whether healthier consumers will buy insurance, and thus, whether their lack of interest in enrolling without a penalty will drive up premium costs.
The study — published in Health Affairs and conducted in partnership with Covered California, the state's insurance exchange — is the first national attempt to measure the potential impact of removing the individual mandate. The California Health Care Foundation provided funding for the 2017 survey and data analysis.
In surveying California consumers, the researchers found that a larger percentage of people who had lower healthcare costs would not have signed up for individual plans last year without the mandate than those with higher costs, most of whom still would have bought coverage.
Overall, the removal of the individual mandate could result in 378,000 fewer Californians with health insurance in the individual market, including about 250,000 people who currently have insurance through Covered California.
Covered California Executive Director Peter V. Lee said in a statement that he expects the number of people with insurance to fall more than that, including people covered by Medi-Cal, the state's version of Medicaid. That's because many consumers find out they're eligible for Medi-Cal while shopping for coverage through Covered California.
California would continue to have a stable market, he said, partly because so many people in the exchange have their premiums paid or partly paid through subsidies, or premium tax credits. Over the years, 85% to 90% of Covered California consumers have received some level of financial help.
But the thousands leaving the marketplace — many of them relatively healthy — would drive up premiums for people who stay in.
"The consumers who leave the market would be rolling the dice, hoping they would remain healthy, but the fact is that many of them will lose that bet," Lee said. "The real penalty is not what the IRS will collect through the coming year for being uninsured, but rather showing up at the hospital with no insurance and leaving with a massive debt."
With the individual market tilted toward less-healthy people, California marketplace plans could see premium increases for 2019 of between 12% and 16%. In California, premiums for people who don't qualify for subsidies have risen an average of almost 9% per year between 2014 and 2018.
Both the researchers and Lee noted that other federal healthcare policy changes could have an impact as well on premium costs and the number of consumers willing to sign up. At least one independent healthcare expert expressed skepticism about the study's findings because it looked solely at the impact of the elimination of the individual mandate and associated penalties.
The Trump administration also has proposed allowing the sale of insurance plans that wouldn't be required to meet certain standards set by the Affordable Care Act, such as covering "essential benefits" that Obamacare plans are required to have. These slimmed-down plans would probably allow insurers to reject people with preexisting conditions.
The plans would be less expensive, which could be attractive to healthier consumers.
"California can ban those plans if they want to, but I'm always a little bit hesitant about projections that just look at one issue or one factor that would go into an insurer's decision about what to charge," said Sabrina Corlette, a Georgetown University research professor with no ties to the study. "Obviously they're looking at a multitude of issues and policies affecting their pricing."