Tesla-SolarCity merger embodies Elon Musk's audacious plan for clean energy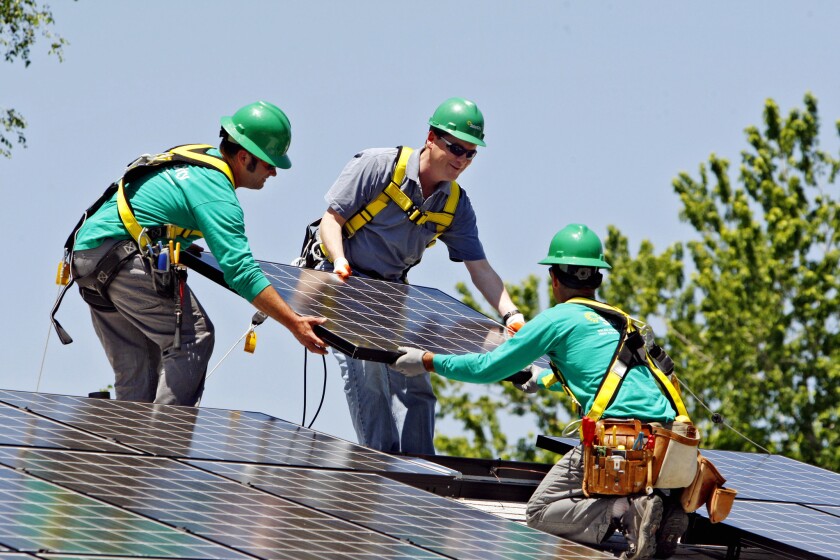 Reporting from San Francisco —
In a few years, everyone will know whether the planned merger of Tesla Motors Inc. and SolarCity Corp. became a rousing tale of ambition and success or went down as one of biggest busts in business history.
The $2.6-billion all-stock deal, announced Monday, combines the prominent electric car company with the nation's largest provider of solar rooftop panels, creating a one-stop shop for clean energy customers.
Size-wise, it's no huge deal. Conceptually, it's audacious.
It aims to create a vertically integrated company with a nationwide network of retail stores that sell electric automobiles, rooftop solar systems, wall-mounted storage units for backup power in the home and electric charging stations that channel energy from the sun to the car — most of it manufactured by Tesla itself.
Its success depends on high-volume sales of its $35,000 Model 3 car, due by the end of next year, but for which the assembly line has not yet been built.
It depends on the smooth completion and operation of the so-called Gigafactory 1, a giant battery factory now rising in a dry-grass no-man's land outside Reno, which, when completed, will be one of the largest buildings in the world measured by the amount of land it covers.
And it depends on high demand from consumers for both its cars and for solar power systems.
The marriage has great potential, but critics say it's starting out with money troubles. Neither company is profitable and, more seriously, cash flow is being sustained more through drumming up investment capital and less through product sales.
"There are just a lot of real-world production and sales and volume challenges these companies have to meet," said Karl Brauer, senior analyst at Kelley Blue Book. "The merger doesn't solve these challenges."
The deal has been fraught with criticism since it was first proposed by Elon Musk — Tesla's founder and SolarCity's chairman — in June, with critics calling the move a bailout of SolarCity by Tesla investors.
SolarCity's stock plummeted 7.4%, to $24.72, on Monday; it also lowered its guidance for the year. Tesla's shares fell $4.78, or 2%, to $230.01.
The independent members of both companies' boards approved the deal, which will give SolarCity stockholders 0.11 of a Tesla share per SolarCity share. The final price came in a bit lower than the original offer of $2.8 billion.
Observers also wonder whether Musk -- who runs the SpaceX rocket ship company as well -- has too much on his plate.
In a conference call Monday morning with stock analysts, Musk said Palo Alto-based Tesla is making breakthroughs in manufacturing processes that will shrink the amount of space needed to build parts by two-thirds, improving quality and the capital needed for a specific output. After the combination, SolarCity will share in those improvements. Musk calls the effort "the machine that builds the machine."
Machines aside, supporters say the plan makes sense strategically: Customers would be able to buy a single system to generate solar power from Tesla rooftop installations, store the energy in Tesla batteries and transfer the energy into their Tesla electric cars. It would also be possible to buy pieces separately.
Analysts said SolarCity could benefit from the strong Tesla brand, making Tesla showrooms an all-in-one shop for energy storage and electric car sales and giving increased visibility to the solar firm. Tesla's experience with power electronics could also translate into lower installation costs for SolarCity.
"The longer-term opportunity is to sell people a home energy management system," said Jeff Osborne, managing director at Cowen and Co.
There are other, albeit more speculative, reasons for the union. Musk, who has bridled at the constraints involved in running a public company, will have one fewer to oversee. And if the cash issues grow more serious, he'd have one fewer company to save.
Raising money, however, could be easier.
"When you're a lender, you obviously want more assets to lend against," said Michael Morosi, senior analyst at Avondale Partners. "Having that scale, having that umbrella, will most certainly make it easier for SolarCity to fund its operations."
Although the price for SolarCity is "not lofty," Morosi said — a result of the solar panel firm's financial position — there is logic behind the deal as the market for both companies' products looks to be more intertwined.
"To own a transportation company in isolation from an energy company maybe doesn't make strategic sense anymore," he said.
Tesla said that it expects the deal to close in the fourth quarter and result in cost synergies of $150 million in the first year after the deal closes.
The acquisition is a family affair. Musk owns about 21% of SolarCity and serves as chairman. His cousins Lyndon R. Rive and Peter J. Rive are SolarCity's chief executive and chief technology officer, respectively.
Countering critics who have said the deal presents conflicts of interest, Musk said Monday that it will ease concerns about Tesla and SolarCity selling products and services to one another. "The point of the merger is to get rid of the conflicts of interest," he said.
The proposal must still be approved by a majority of the disinterested shareholders of Tesla and SolarCity and requires regulatory approval. It also contains a "go shop" provision that gives SolarCity 45 days to "solicit, discuss or negotiate alternative proposals from third parties."
"If someone were to come in and make a higher offer, more than like a one-penny-higher offer, I guess the independent board members would be compelled to accept, and we'd have to find another path," Musk said Monday during the conference call.
He added that he is committed to voting his shares according to what the independent directors recommend.
As to his Hawthorne-based rocket launch company, Space Exploration Technologies Corp., known as SpaceX, Musk said Monday that he will "never" merge Tesla and SpaceX. "There is no product rationale for doing so," he said on Twitter.
ALSO
Uber China to join rival Didi Chuxing in $35-billion deal
German company plugs into L.A. area for its electricity storage operation
Looking for work? Airlines will need 617,000 pilots over next 20 years
---
UPDATES:
2:05 p.m.: This article was updated with closing stock prices and additional comments from analysts.
9:15 a.m.: This article was updated with comments from analysts and from Elon Musk and with more recent stock prices.
8:20 a.m.: This article was updated with comments from Elon Musk and more recent stock prices.
8 a.m.: This article was updated with stock prices.
7:23 a.m.: This article was updated with comments from analysts and additional information about the deal.
6:40 a.m.: This article was updated throughout with Times staff reporting.
This article was originally published at 5 a.m.
---
For reporting and exclusive analysis from bureau chief John Myers, get our California Politics newsletter.
You may occasionally receive promotional content from the Los Angeles Times.