German company plugs into L.A. area for its electricity storage operation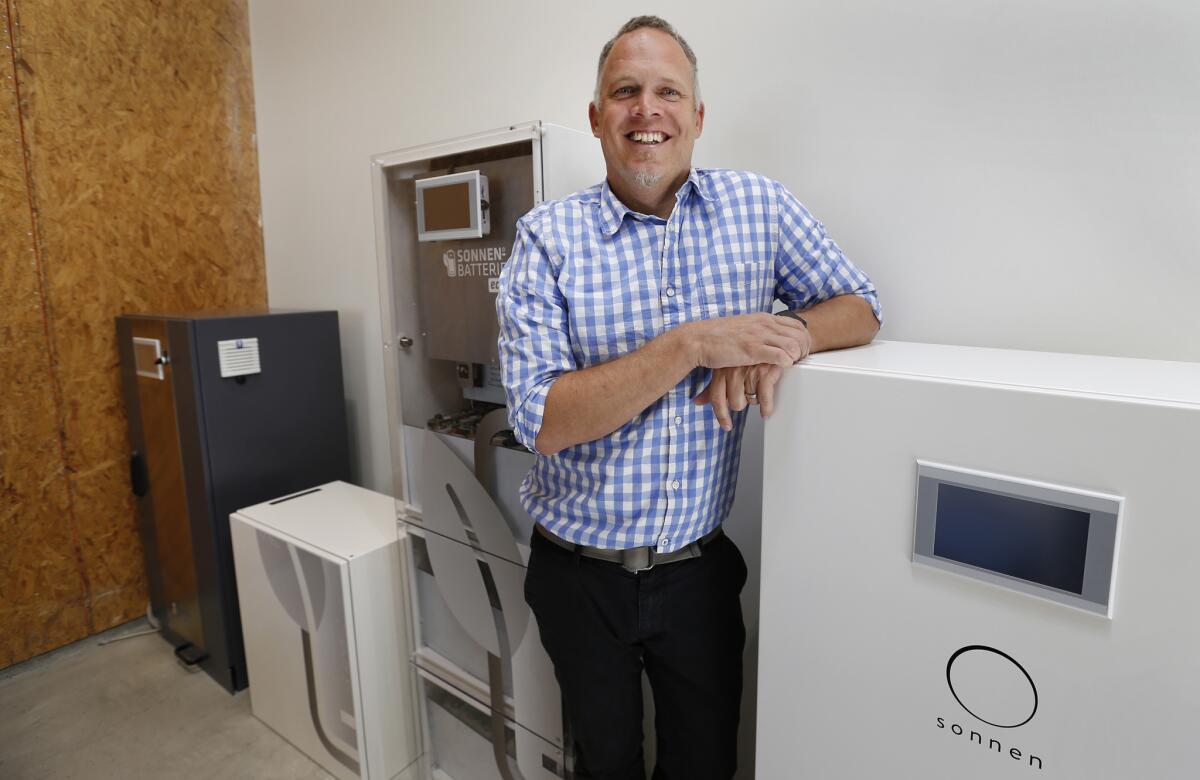 Los Angeles billionaire Elon Musk is driving development of more than just electric cars: The head of Tesla Motors Inc. often grabs headlines with his company's Powerwall battery, designed to let homeowners stash electricity from their solar panels for later use.
But a North Hollywood operation has been quietly beating Musk and Tesla when it comes to selling residential electricity storage batteries.
Sonnen Inc., which emerged on the world stage half a dozen years ago in Bavaria, Germany, has sold 13,000 residential storage batteries worldwide at a current pace of about 900 a month. U.S. sales, managed out of the Sonnen's American headquarters in North Hollywood, account for about a quarter of the monthly tally.
Tesla is still ramping up Powerwall production but delivered 2,500 Powerwall systems worldwide in the first three months of the year, according to a May shareholder letter. Sonnen sold 2,600 residential batteries during the same period, a company record.
"Elon Musk has the name," said Boris von Bormann, chief executive of Sonnen Inc. He didn't bother to stifle a grin as he added: "Yes, we are the leader."
With little fanfare, Sonnen rolled out its U.S. operations less than a year ago and opened the Southern California office in January. The company already has expanded its offerings to include commercial electricity storage, which should be ready for delivery by the end of the year.
But the primary driver is the residential storage market, for which Sonnen offers Sony-built batteries with storage capacity of 4 kilowatt hours up to 16 kilowatt hours. Prices range from just under $6,000 to $24,000. Sonnen does not offer direct sales but rather operates through installers.
Pursuit of affordable energy storage is considered the most significant step in the electricity industry's evolution.
Storage allows those who generate power — whether utilities or homeowners with solar panels on their roofs — to control when and how the electricity is used. Renewable energy from sun or wind is notoriously variable, cutting off when the rays or gusts disappear.
"I think it's far more urgent than most people realize," said Brad Heavner, policy director for the California Solar Energy Industries Assn.
"In order for the solar market to continue to grow as it has been, we need storage fast," Heavner said. "If we don't stay on the game we're going to be caught unable to deliver power at the right time."
The California Independent System Operator, which manages much of the state's electric grid, has warned that without storage, electricity produced at solar and wind farms might have to be reduced or shut down by 2024.
And rooftop solar continues strong growth.
Southern California Edison, for instance, connects 4,000 to 5,000 new homeowner or business solar power systems each month.
San Diego Gas & Electric has led the state's three shareholder owned utilities in reaching 5% of its electricity generation from so-called rooftop solar.
To Von Bormann, a native of Hamburg, Germany, who joined Sonnen three years ago, the future for his product couldn't be brighter.
See the most-read stories in Business this hour >>
In January, Sonnen announced partnerships with top U.S. manufacturers and developers, including SolarWorld, the largest crystalline-silicon solar manufacturer in the country; PetersenDean, the nation's largest residential roofing company; and Spruce, a leader in solar and efficiency financing.
"We are all resolved to offer complete solar solutions that include and promote the arrival of storage," Erin Clark, president of PetersenDean's fast-growing solar division, said in a statement.
Musk proposes to follow a similar track with Tesla's announcement to buy SolarCity, which is run by Musk's cousin Lyndon Rive. Musk is SolarCity's chairman.
Other firms, such as Adara Power in San Jose, are vying for market share.
Matt Roberts, executive director for the Energy Storage Assn., in Washington, D.C., said the residential storage market currently makes up about 20% of the industry, while utility scale storage has been than driver at 80%. By 2020, Roberts said he expects residential storage to claim 60% of the market.
He said it's harder for the right-now consumer to think about electricity in terms of, "You can put something in a box and use it later."
But Roberts said Sonnen is helping to lead that focus on storage.
"Boris and the team at Sonnen have been a driving force. They've definitely played a leading role in Germany, and they've absolutely been finding a lot of success in the U.S."
Von Bormann is quick to credit Musk and Tesla with helping to spark interest in energy storage.
"Don't get me wrong," he said. "Musk has been good for the industry. He is pushing the technology forward."
Though storage prices are high, Von Bormann said his company has experienced an 80% cost reduction from 2010 to 2016 and another 80% reduction in cost in the last 24 to 36 months.
And just as with solar systems, the storage systems can be purchased with no-money-down financing, through leasing programs or tied to property tax bills. If coupled with a solar or wind system, it is also eligible for the 30% federal tax credit.
"It's important for people to understand this is already happening," said the 44-year-old Von Bormann, who has worked eight years in the solar business after 17 years in international trade. "We've been delivering for six years now."
Sonnen's unit is simple. It fits in with the décor of most any home. The unit's stylish cabinet typically sits next to a fuse box.
The technology uses lithium-ion batteries that store excess power generated by solar panels for nighttime use.
The smallest unit is roughly the size of a large poster at about 3 feet by 2 feet, projecting about 9 inches from the wall. The larger units run about the size of large refrigerator.
In addition to storage, Sonnen offers smart technology that allows for management of energy usage within the home, such as controlling the time to use appliances to reduce electricity.
Although Sonnen set up its U.S. headquarters in the L.A. area with expectation of strong sales in California, the company has attracted buyers in other states such as Utah, Missouri and South Dakota, as well as in Canada and the Caribbean.
Sonnen's typical customers so far aren't seeking to rid themselves of their utility companies and disconnect from the electric grid. Some in rural areas are using the system for electric independence, but most see it as backup power, Von Bormann said.
Consumers have good reason to remain connected to the grid, Von Bormann said. He points to the German consumers who can use the Internet to trade electricity they have generated and stored, something that could develop in the United States in the future.
For now, critics of the utility industry see the technology as the ultimate challenge to the centralized electricity model.
"It's remarkable that it's happening so quickly," said Bill Powers, an energy management expert who runs San Diego-based Powers Engineering. "Every time that somebody puts a battery pack with a [solar] system, that's independence."
For more energy news, follow Ivan Penn on Twitter: @ivanlpenn
MORE FROM BUSINESS
German company plugs into L.A. area for its electricity storage operation
Closing the Bank of Mom and Dad
Looking for work? Airlines will need 617,000 pilots over next 20 years