Record online Cyber Monday sales cap retail's strong holiday weekend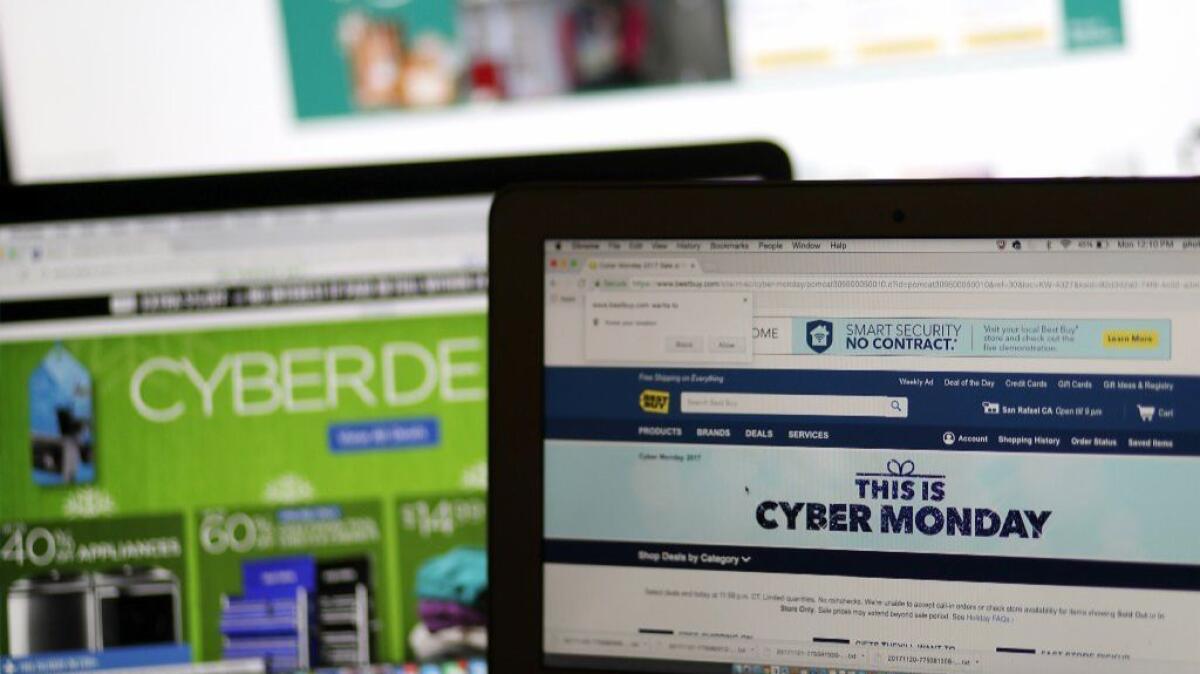 Record online shopping on Cyber Monday, especially on smartphones, capped a strong Thanksgiving weekend of holiday retail sales nationwide, data released Tuesday showed.
Lured by retailers' steep price cuts on everything from televisions to toys, about 174 million Americans shopped in physical stores and online from Thursday through Monday, topping earlier forecasts by 6%, the National Retail Federation said.
Shoppers spent an average of $335.47 over the five-day period that began Thanksgiving Day, and the biggest spenders were "older millennials" in the 25-34 age group, the NRF said based on a survey it conducted with Prosper Insights & Analytics.
A year ago, the NRF estimated that 154 million Americans shopped during the Thanksgiving weekend and spent an average $289.19, but the trade group said it had changed the survey's methodology in the last year so the estimates aren't comparable. Still, the latest figures were in step with an upswing in Thanksgiving weekend sales.
Online sales alone hit a record $6.59 billion on Monday, making it the largest online shopping day in U.S. history, the research firm Adobe Analytics said. That was up nearly $1 billion, or 16.8%, from the last year's Cyber Monday.
"From good weather across the country to low unemployment and strong consumer confidence, the climate was right — literally and figuratively — for consumers to tackle their holiday shopping lists online and in stores," NRF President Matthew Shay said in a statement.
U.S. holiday retail sales overall (for November and December) are expected to rise between 3.6% and 4% this year to as much as $682 billion, the NRF has estimated.
While the weekend was a good start for the U.S. retail industry, which typically garners up to 40% of its annual sales during the November-December holidays, it remains to be seen whether this year's holiday spending will be enough to brake retailing's ongoing struggles.
Major retailers such as Macy's Inc. are grappling with an excess number of physical stores and enormous competition from online retailers led by Amazon.com. The most popular day for in-store shopping was Black Friday with 77 million consumers participating, the NRF said.
From Nov. 1 through Cyber Monday, Americans spent $50 billion in online shopping, a 16.8% increase from a year earlier, Adobe said. And on Cyber Monday alone, $2 billion of those online purchases were made with a smartphone.
Shoppers were enticed by sharp pre-Black Friday discounts that were offered on certain days leading up to the holiday weekend and then brought back on Black Friday itself through Cyber Monday.
Cyber Monday was coined by NRF staffers in 2005 when they noticed that many consumers, stymied at the time with slow internet speeds at home during the Thanksgiving weekend, shopped more heavily when they returned Monday to work or school, where they had faster computer speeds. Retailers seized on the trend and began heavily promoting Cyber Monday sales.
Now, "the past Cyber Monday behavior of shopping on your work computer during the day is almost completely reversed," Taylor Schreiner, director of Adobe Digital Insights, said via email.
"This year, mobile shopping was dominant both in the morning and afternoon, and desktop-only staged a comeback in the evening when people were home," he said.
"Smartphones have become the de facto device for mobile shopping, while tablets continue to be more used as entertainment and gaming devices," Schreiner said.
Adobe said the top-selling items online on Cyber Monday included the Nintendo Switch video-game console, the Playstation 4/4 Pro game player and Hatchimals Colleggtibles figures, along with video-streaming devices such as Google Chromecast and Roku.
The heaviest online price cuts on Cyber Monday were on TVs, which were discounted 20.7% on average, Adobe said.
Twitter: @PeltzLATimes