Theme parks count on mournful visitors to take one last ride aboard dying attractions
When Amanda Haney was a kid, the teeth-baring dinosaurs on Jurassic Park — The Ride at Universal Studios Hollywood seemed all too real. These days, the Fullerton sales executive is feeling more sad than scared about the attraction's Sept. 3 extinction.
"I like how the ride is like a condensed version of the movie, and it plays to your emotions," said Haney, 29.
Universal Studios Hollywood is pushing Haney and other fans of the boat ride through a land of prehistoric monsters to enjoy a last scare — and throw more dollars into the theme park's coffers.
Through television and online ads, Universal Studios Hollywood has been hyping the final days of the 22-year-old ride, a promotional campaign that includes the sale of $27 T-shirts emblazoned with "Road to Extinction." The park also put out a video of a couple that got engaged after riding the attraction 62 consecutive times.
It has long made financial sense for theme parks to heavily advertise the opening of attractions. But in the last few years, the $55-billion industry increasingly has promoted when attractions go away.
The motivation: Supercharge attendance and revenues by tapping into fans' nostalgia, and sometimes, their anger.
"If it's a famous or premier attraction that has a huge ridership, they are more likely to get a big send-off," said Martin Lewison, a theme park expert and business management professor at Farmingdale State College in New York.
Efforts by theme parks to spotlight the pending demise of aging attractions have been helped by the dominance of social media, he said.
Theme parks usually launch such campaigns with a blog post, a Twitter message or a Facebook ad that gets shared by thousands — even millions — of theme park fans. Soon enough, lines of mournful visitors begin to grow in front of the near-departed.
The send-off campaigns may include VIP after-hours parties on the last day of a ride, featuring booze and selfie opportunities, plus the option for fans to buy special farewell merchandise.
But not every ride that closes gets promoted. Attractions are usually shuttered, industry experts say, because they draw few riders, cause too many injuries or cost too much to maintain.
Luigi's Flying Tires at Disney California Adventure in Anaheim lifted visitors in tire-shaped bumper cars floating on a cushion of air — like an air-hockey game with humans. But the Cars Land feature was plagued by poor reviews and numerous injuries. It quietly disappeared in February 2015, less than three years after it opened.
More often, theme parks trumpet when attractions will close so that they can be upgraded with new technology to draw even more fans. That way, they can double-dip at the promotion trough.
Four years ago, Six Flags Magic Mountain in Valencia launched a campaign to herald the closure of its giant wooden roller coaster, Colossus. The ride underwent a nine-month makeover with new steel tracks that allowed for barrel roll inversions and a near-vertical drop. The ride was redubbed Twisted Colossus.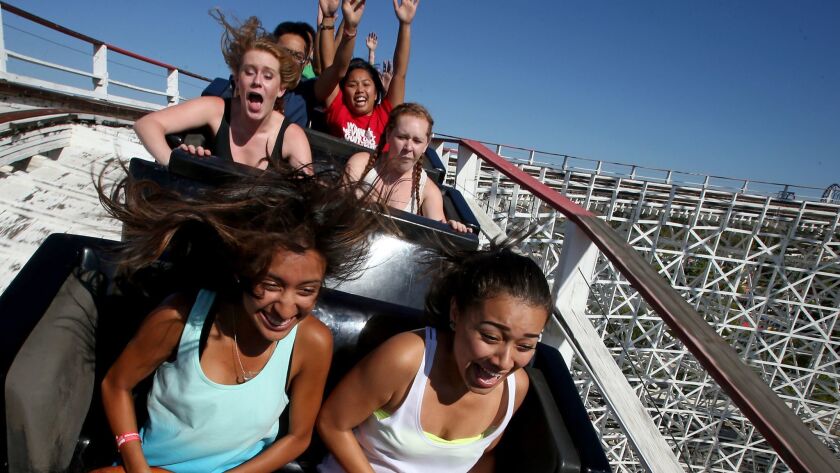 At Disney California Adventure Park, some fans were outraged by the July 2016 announcement that Twilight Zone Tower of Terror, an elevator-drop ride based on the old "Twilight Zone" television show, would land for good the following January so that the attraction could be overhauled to feature superheroes from Marvel's "Guardians of the Galaxy."
Within hours, multiple Save the Tower of Terror petitions on Change.org had garnered more than 20,000 signatures.
But Walt Disney Co. harnessed that enthusiasm. For weeks, Disney reminded potential parkgoers that the ride, which depicted a haunted Hollywood hotel, would check out on Jan. 2, 2017.
On the last few days before it closed, the attraction drew so many fans that wait times exceeded three hours.
On the night before the attraction closed, Disneyland Resort threw an after-hours party at a cost of $95 a person, complete with a red carpet, faux paparazzi, desserts, mixed drinks and the chance to pose with costumed characters such as the chipmunks Chip and Dale. A paperweight in the form of an extra-large hotel key sold for $37.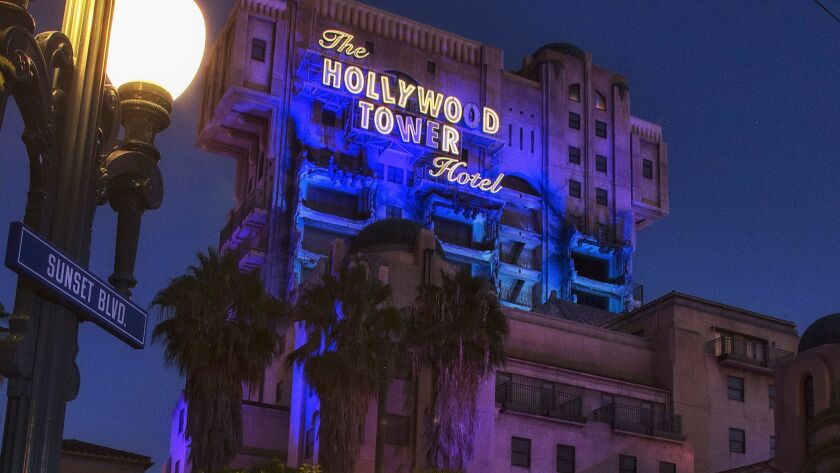 "Last-chance opportunities provide our high-affinity guests ways to honor their favorite attractions before we create new experiences," Disneyland spokeswoman Liz Jaeger said.
The attraction reopened later that year with new features, a snazzy facade and the name Guardians of the Galaxy — Mission: Breakout. Wait times during the first month stretched up to 5 hours.
The trend is not unique to Southern California theme parks.
In Florida, Universal Studios' Island of Adventure announced on the park's blog site last year that a roller coaster called Dragon Challenge was going to be replaced in 2019 by a thrill ride designed to complement the surrounding area, known as the Wizarding World of Harry Potter — Hogsmeade.
"In the meantime, make sure you come out and take your last ride on Dragon Challenge before it closes," the park said on the blog site.
On the last day of the ride's operation, dozens of ride fans gathered outside of its entrance to give speeches and sing a warbly version of "Na Na Hey Hey Kiss Him Goodbye."
Theme park representatives say they promote the final days of an aging ride to give fans a chance to experience the attraction before it closes and to bring attention to the new, improved, so-good-you'll-never-miss-the-old-thing replacement.
"Announcing that a ride is closing gives those super fans an opportunity to get in a final ride with friends and family, and this also generates fun buzz and excitement in the market about what is to come," said Neal Thurman, president of Six Flags Magic Mountain and adjacent water park Hurricane Harbor.
But Lewison and other industry experts say the hoopla is also meant to boost attendance and promote the sale of merchandise.
"It's simply a hope to get people to come out," Dennis Speigel, president of International Theme Park Services, said of the strategy.
As part of Six Flags Magic Mountain's 2014 promotion for the closure of the Colossus roller coaster, the park installed signs throughout the park with the message "36-year reign ending," and sent messages through social media and radio ads telling fans that they had until Aug. 16 to get a final ride.
A few days before the closing, the park invited 24 enthusiasts to take part in a 36-hour marathon ride of the coaster. Small wooden chunks of the coaster were handed out to reporters as souvenirs. Season pass holders and employees were invited to ride it one last time after the park closed to the public.
The strategy hasn't always worked as planned.
In 2002, Six Flags Great America in Gurnee, Ill., announced it was closing a roller coaster called Whizzer because of increasing maintenance costs and to make way for a new ride with a Superman theme. But public outcry over the ride's closure forced the park to change course and instead close another roller coaster to clear space for the new Superman: Ultimate Flight coaster.
At Universal Studios Hollywood, no final send-off party has been planned before Jurassic Park — The Ride closes but park representatives say they expect big crowds on the final day of operation, giving them the opportunity to tout its replacement, a ride themed to the newest chapter in the Jurassic franchise.
"While the closure of our Jurassic Park ride is bittersweet," park President Karen Irwin said, "Universal Studios Hollywood is excited about the 2019 arrival of the new Jurassic World-inspired thrill ride that will capture the spirit of the popular ride while taking it to the next level from both a technological and immersive perspective."
To read more about the travel and tourism industries, follow @hugomartin on Twitter.
---
For reporting and exclusive analysis from bureau chief John Myers, get our California Politics newsletter.
You may occasionally receive promotional content from the Los Angeles Times.