Techie dishes on Google's grub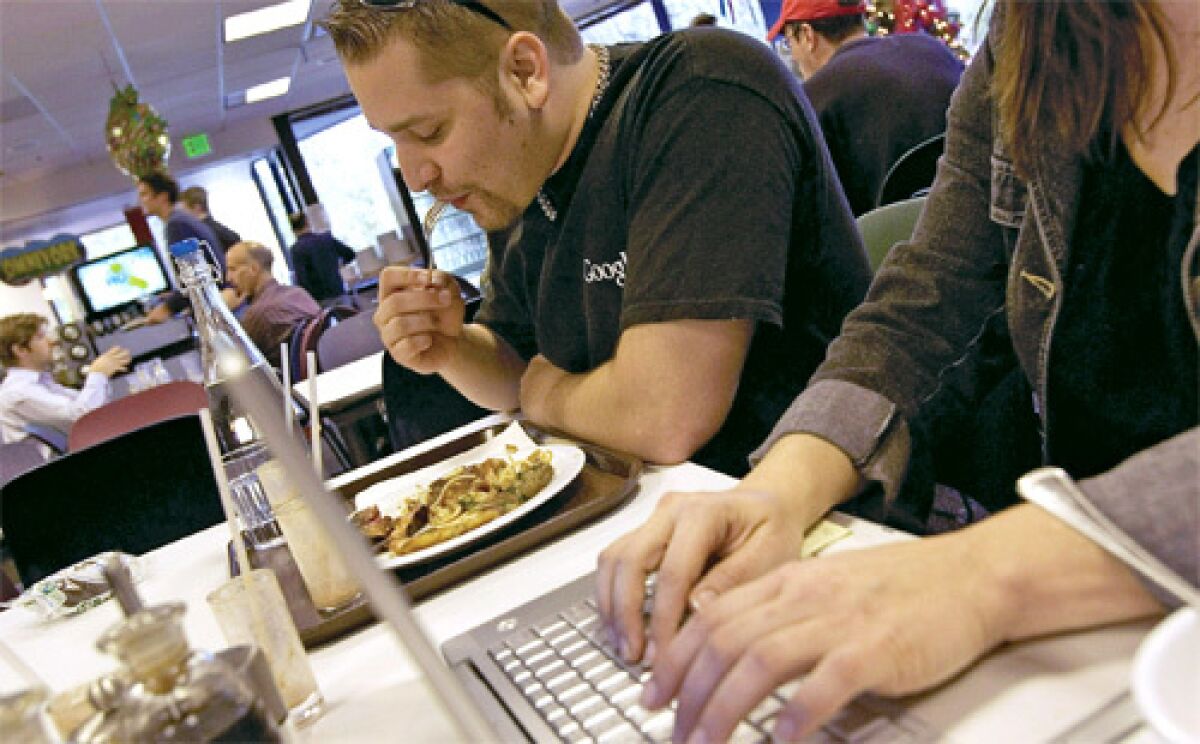 Los Angeles Times Staff Writer
MOUNTAIN VIEW, Calif. —
Nearly everyone on Google Inc.'s sprawling campus here knows Thunder Parley, at least by reputation. But it's not his unusual name, outgoing personality or skills as a software engineer that make him stand out.
He is the most famous foodie at a company that takes gastronomy nearly as seriously as Web-search algorithms.
Parley was raised in a small New England town on Life cereal and SpaghettiOs. He used to think Taco Bell was authentic Mexican fare, and he never ate salmon except out of a can.
But now he draws crowds to dishes offered in Google's 17 cafeterias by championing them in reviews he posts to an internal e-mail list about food. Many of Parley's personal favorites, such as a brined, slow-cooked beef daube, find their way into regular rotation. He described a sweet concoction known as the Google bar in such mouthwatering terms that 600 vanished in half an hour.
As a result, the strapping, gregarious computer programmer is becoming as influential to the company's hundreds of chefs and culinary staffers as the Michelin and Zagat reviewers are to restaurateurs.
Google chefs compete good-naturedly to entice Parley to their cafes, according to John Dickman, Google's global food service manager. The farther their cafe is from Parley's cubicle, the greater the bragging rights.
"You're kind of blessed if you have Thunder in your building," said Scott Giambastiani, the executive chef who runs Google's Pure Ingredient Cafe, which specializes in all-natural food and beverages.
Google, which has nourished employees with free food for nearly a decade, is grooming a new generation of discriminating palates. For example, software engineer and committed carnivore Ian Langworth was so inspired by a particularly well-prepared quail dish that he created a program called TastyMeats. It scans cafe menus on Google's intranet and generates a daily e-mail that tells its 140 subscribers where they can find meat dishes each day.
Offering gourmet meals at no charge is Google's most celebrated employee perk. Parley, 27, takes full advantage. He eats as many meals as he can there, checking out the menus, then hitting at least three cafes each day, sometimes all in one lunch hour.
When he travels for business, he still reads the daily offerings and laments what he's missing.
He is careful to measure portions and work out regularly at the Google gym. He does that to avoid the dreaded "Google 15" -- a reference to the pounds new employees often put on amid unlimited supplies of free grub -- but also to make room for one cafe's homemade ice cream, sorbet and frozen yogurt.
Parley did not come to Google a seasoned food connoisseur. But his informal epicurean education not only fueled an appreciation for fine food, it earned him a place on a hiring committee that interviews chefs. Parley won't give away his interviewing questions or techniques. But, he says, the chefs are surprised to learn at the end of the meeting that he's an engineer trained in gigabytes, not savory bites.
The oldest of five children, Parley grew up in a coupon-clipping household in Windsor Locks, Conn., where he did cost-per-ounce calculations in his head to help his mom, Gail, get more for less on grocery shopping expeditions. He says his mom and her father, Elzidor "Al" Miner, greatly influenced his early culinary inclinations. Both used to cook for all nine family members who lived together under one roof.
Parley excelled in middle-school home economics class and cooked his own meals at the amusement park where he worked after school. In high school, friends started calling him Thunder. He legally adopted the name while attending Pepperdine University, where he majored in computer science and math. When he wasn't at the keyboard, he relished playing drinking games while watching "Iron Chef" on the Food Channel.
Launching his career, he developed software for Hewlett-Packard Co. for five years. Then, in 2005, he joined Google. Surrounded by the international cornucopia of food around him, his tastes shifted from Subway sandwiches to a decidedly more sophisticated menu ranging from arugula to zabaglione.
Soon he was making the rounds of the Google cafes, feasting on good food and delving into the fine points of how it was made. So taken was he with Google's artisanal cuisine that he began to sample foods from all over the world. He even learned to love Brussels sprouts.
Google's culinary staffers greet his arrival with grins and back pats. They say other engineers are seldom as open and expressive as Parley, so he provides valuable tips on how to improve the food and service. And they have come to consider him one of their team.
Cooks at the Pure Ingredient Cafe bottled a hot sauce they created with enough heat to satisfy Parley, who douses nearly everything with it. The nutrition label, which bears Parley's endorsement and scanned signature, reads: "Serving size, 1 tablespoon. Unless you are Thunder. If so, suggested serving is 1 bottle."
What began as a culinary caper has blended into his lifestyle. Parley, who had tried foie gras only once before joining Google, has struck up friendships with such accomplished chefs as Jean-Claude Balek, who has the words tattooed on his knuckles. Some food habits have become so ingrained that colleagues know to track him down at the Lunch Box, a Google sandwich joint, on Reuben Tuesdays.
Parley has discovered the joy of dreaming up his own creations. On a recent trip home he wowed his family by preparing baked chicken breasts in a seasoned mushroom and Chardonnay sauce served over whole-grain pasta with a side of steamed vegetables (hot sauce optional).
"I didn't know he could cook," said his sister, Leanne Monat.
"I have just been very lucky to have been able to learn what I have in this environment," Parley said.
Not that fine dining has turned him off to the simpler pleasures of his fast-food youth. The difference: He now prepares macaroni and cheese from scratch instead of a box, sometimes tossing in black truffles and bacon for good measure.
"I still love a good cheeseburger," Parley said with a grin. "You can take the man out of the trailer park. . . ."
Sign up for the California Politics newsletter to get exclusive analysis from our reporters.
You may occasionally receive promotional content from the Los Angeles Times.