Trader Joe's halting some Chinese imports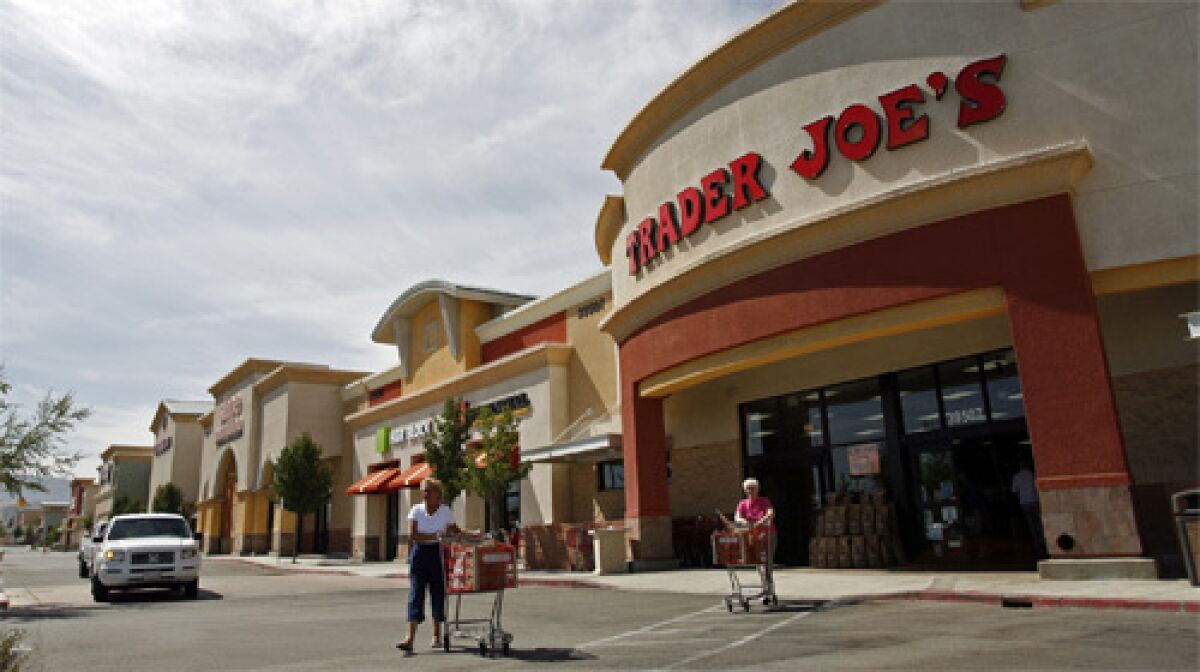 Los Angeles Times Staff Writer
Trader Joe's is taking some of its Chinese food off the menu.
The Monrovia-based grocery store chain, known for its selection of budget gourmet and ethnic offerings, said Monday that it would phase out the sale of single-ingredient items -- such as garlic and spinach -- that are imported from China.
"Our customers have voiced their concerns about products from this region and we have listened," the company said in a statement.
The statement didn't detail what those concerns were or identify the products about which customers complained. Executives with the company declined to comment on specifics of the move.
In the last year, imports from China have been under increased scrutiny because of a string of discoveries of tainted goods from that country.
Mattel Inc. and other toy makers recalled millions of Chinese-made toys when it was determined they were contaminated with lead paint. Pet food made from Chinese grain was found to be laced with melamine, a chemical that made the food appear to have high protein levels, and sickened or killed thousands of cats and dogs.
As for food for human consumption, some Trader Joe's regulars said Monday that they had never thought to be worried. "I didn't know they were buying food from China in the first place," Ken Blickenstaff said as he was leaving his car to shop at the Trader Joe's in Upland. "It does make a difference."
Blickenstaff added that he had been concerned about the use of pesticides in China and that, whenever possible, he buys food grown locally.
Food safety experts said there was cause for concern. They cited the application in China of excess or dangerous pesticides, improper use of sewage for fertilizer and the use of illegal antibiotics in seafood farming.
"China also still has a problem with corruption," said Jaydee Hanson, a policy analyst for the Center for Food Safety in Washington.
Since last year U.S. regulators have restricted Chinese imports of shrimp, eel and catfish because they were found to have unacceptable amounts of antibiotics and other chemical residues. Last summer California health officials warned people not to eat fresh ginger from China after samples were found to contain a toxic pesticide.
China is the sixth-leading supplier of agricultural products to the U.S. Including seafood, it is the third-largest supplier of imported food, according to Caroline Smith DeWaal, food safety director at the Center for Science in the Public Interest in Washington.
Trader Joe's, which has about 300 stores around the country, plans to phase out any single-ingredient food items sourced from mainland China by April 1. It will replace the goods with "products from other regions until our customers feel as confident as we do about the quality and safety of Chinese products," the statement said.
The company will continue to stock products that include Chinese ingredients. Shoppers haven't complained about those, a spokeswoman said.
The move by Trader Joe's could be good news for Christopher Ranch, a Gilroy, Calif.-based garlic farm that is one of the nation's largest domestic producers. William Christopher, a co-owner of the farm, said the ranch had been having trouble meeting stores' demand for domestic garlic.
"This is what we are hearing from our customers, both wholesale and retail. They want California garlic," he said. Christopher said he planted about 3,500 acres of garlic last year and probably would increase that this year.
Other chains won't be following Trader Joe's lead. Whole Foods Market said in a statement that it was "in a different situation" when it came to products from China.
"We don't carry them in our fresh meat, seafood or produce departments and we offer a very, very small amount in our grocery department," the Austin, Texas-based seller of natural and organic groceries said. Whole Foods added that it didn't make sense "to stop the progress we have made with sourcing select high-quality products for our private-label brands that come from China and other global partners."
Likewise, El Segundo-based Fresh & Easy Neighborhood Market, the Trader Joe's competitor owned by British grocer Tesco, said it would continue to sell food imported from China.
jerry.hirsch@latimes.com Times staff writer Don Lee contributed to this report from China.
---
Sign up for the California Politics newsletter to get exclusive analysis from our reporters.
You may occasionally receive promotional content from the Los Angeles Times.