Toys R Us blew a hole in the toy industry, but 2019 looks a little better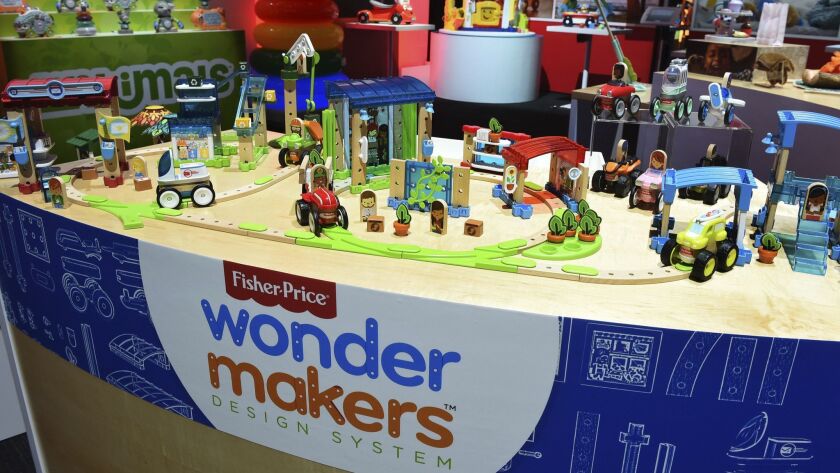 Bloomberg
After trekking to Manhattan every February from his headquarters in Coconut Creek, Fla., for the largest trade show in the U.S. toy industry, Gary Atkinson decided to skip this year's event. And for good reason: Toys R Us Inc., once his largest customer, wouldn't be there.
But the chief executive of Singing Machine Co. reversed course after learning that the hole left by the U.S. liquidation of Toys R Us is, in some ways, filling in. Companies such as Kroger Co. — which owns grocery chains including Ralphs and boosted its toy offerings last year — sent bigger teams to Toy Fair New York, which began Friday. Others retailers are attending the trade show for the first time. Rented exhibition space at the Jacob K. Javits Convention Center jumped 10% to an all-time record of 447,000 square feet.
That pushed Atkinson to spend more on the show, including renting a Mercedes Benz to promote the debut of a Carpool Karaoke microphone gadget based on the hit segment from CBS' "The Late Late Show With James Corden."
"Last year, everyone got caught unexpectedly and didn't have time to react" to the end of the nation's biggest standalone toy chain, Atkinson said. "With a full cycle to get prepared, maybe this is the year where retailers really take advantage. I hope so."
'Doubly important'
The toy fair comes on the heels of an abysmal Christmas season in the wake of Toys R Us' demise: Retail toy sales in major global markets fell 6% in the fourth quarter, according to researcher NPD Group. Results were worse for toymakers such as Hasbro Inc., which saw revenue sink 12% last year. Meanwhile, Mattel Inc.'s sales fell 7.6% as its stock plummeted 35%.
Mattel had another dose of bad news Friday: It gave disappointing earnings guidance for full-year 2019, and its shares dived 18.3% to $13.82. Before that guidance, it was the top-performing stock in the Standard & Poor's 500 index this year.
With the absence of Toys R Us, "we're all trying to figure out ways to make up that lost revenue," said Keith Meggs, chief executive of Far Out Toys Inc., which was founded in 2017. This year, Toy Fair is "doubly important."
Still, the toy industry's prospects look brighter early in 2019. Many expect Amazon.com Inc., Target Corp. and Walmart Inc. to expand toy offerings. Last year, the retail giants were more cautious and didn't have as much time to ramp up ordering, which weighed on toymakers' results. The remnant of Toys R Us is looking for partners to revive the brand in the United States and other regions.
An opportunity
And then there is Scott Mazerall.
A year ago, the 41-year-old ran an 800-foot toy boutique at a mall in Kingston, Mass., near Plymouth Rock. But the closing last summer of a nearby Toys R Us store jump-started his expansion plans. By October, he had moved into a 12,000-foot location in a former Gap store in the same shopping center. That gave him space to buy more from the world's biggest toy companies, including Hasbro and Mattel, and sales more than tripled during the holidays.
The woes at Toys R Us "provided an opportunity," said Mazerall, who runs Maziply Toys with his wife. Now he's planning to open more locations, possibly through franchising, and wants to have 15 stores in five years. "There is no reason we can't duplicate what we've done here."
Narrower scope
The overall industry, however, still has plenty of hurdles. Toys R Us, with its wide assortment, gave toymakers of all sizes the chance to test items. The chain took more chances. Without it, many innovative products aren't likely to get off the ground. That is pushing toy companies to reduce product lines.
"Reality is starting to set in, in regards to how important Toys R Us was to the industry," said Jay Foreman, CEO of toymaker Basic Fun. "It's just hard to really replace that type of exposure."
Even Isaac Larian is still fretting about the collapse of Toys R Us. The chief executive of MGA Entertainment — the closely held Van Nuys company whose L.O.L. Surprise is the most sought-after toy on the planet — doubts the gap left by the toy chain will ever be fully filled.
"Mass merchants have limited space for toys, and they won't buy deep," Larian said. "We have the hottest toy and they are constantly out of stock."
Independent retailers
One side benefit of the toy industry's upheaval is that independent shops have newfound life, Larian said.
Patrick Holland, a former creative director for an internet company, runs two toy stores with his wife in the Chattanooga, Tenn., area. After Toys R Us was out of the picture, revenue at Holland's stores rose about 8% in the fourth quarter.
"Ahead of Toy Fair, I'm getting bombarded with emails," said Holland, who runs Mountain Top Toys and Learning Express Toys and is considering a third location. "Toymakers that may not have been as cordial in the past are much more open after seeing we are still around and are growing."
Many of the independent shops are offering the kind of experience that critics said Toys R Us should have employed. The stores throw block parties and offer face painting and free gift wrapping. Toys are out of the boxes too, so kids can play with them.
"The big opportunity here is that parents are finding these services that they didn't really knew existed before," said Mazerall, who has also seen solicitations from toymakers jump. "We're going to expand."
---
Your guide to our new economic reality.
Get our free business newsletter for insights and tips for getting by.
You may occasionally receive promotional content from the Los Angeles Times.