Toys R Us ex-CEO is trying to reboot the company, sources say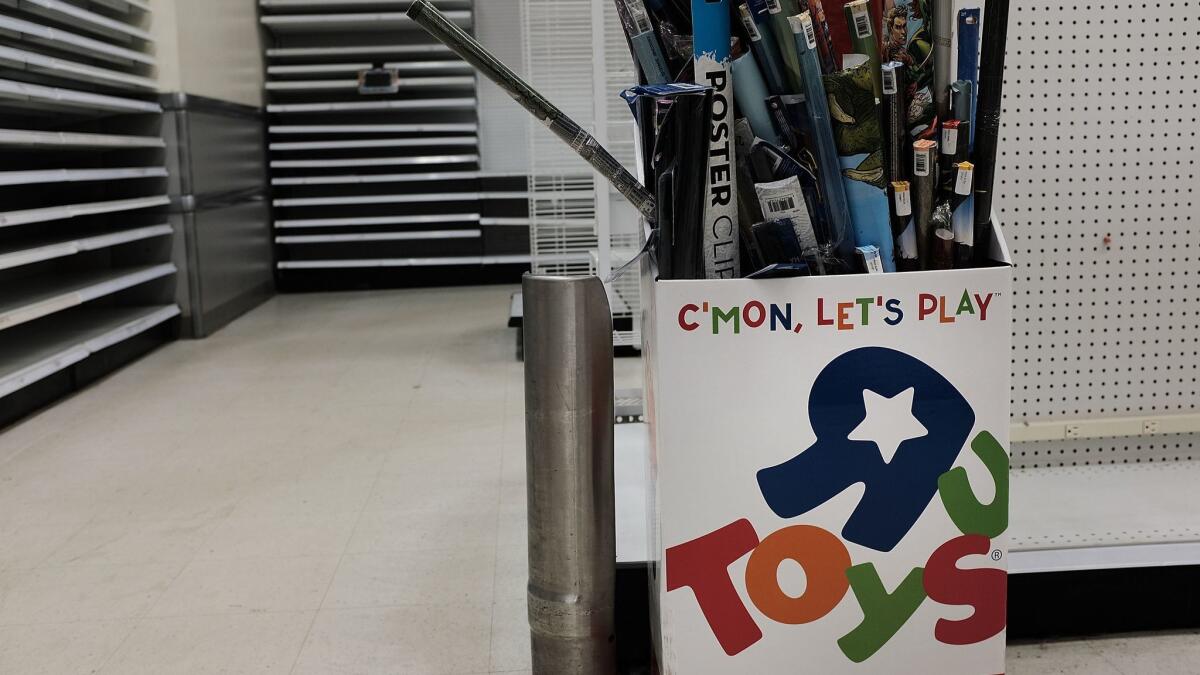 A revival of Toys R Us might be in the works.
Jerry Storch, a former chief executive officer of the defunct toy chain, has been working with multiple investors on a plan to reboot the retailer in the United States, according to people familiar with the situation who asked not to be named because the talks are private. Credit Suisse Group AG is being used as a financial advisor and the discussions have included Fairfax Financial Holdings Ltd., the investment firm that acquired the Canadian unit of Toys R Us, some of the people said.
Any comeback is considered to face long odds because of how far the former market giant has fallen, the people said. There are also concerns that it might be too late to restart the business in time for this Christmas shopping season, they said.
For a successful revival, Storch's group would have to win a bankruptcy auction for the chain's intellectual property in about a month. The real estate portfolio is being sold separately, the people said. Frequently, when a retail chain sells off its brand names and logos, little is done with them. Competitors often buy up the rights to keep another rival from using them.
But that doesn't appear to be the case with Toys R Us — a liquidation that's leaving billions of dollars in revenue up for grabs. Competition for its brands, including Babies R Us, is expected, according to some of the people. That interest illustrates how many observers saw the retailer's business as a salvageable one, at least without the unsustainable debt load that pushed it into bankruptcy.
Representatives for Fairfax, Toys R Us and Storch declined to comment. Credit Suisse didn't immediately respond to a request for comment.
California toy mogul Isaac Larian had led a group of investors in trying to buy several hundred Toys R Us stores from the bankrupt retailer, but he gave up on the effort last month after he and the company's debt holders were unable to reach an agreement. Larian is the founder and chief executive of MGA Entertainment Inc., the Los Angeles company that makes Bratz dolls and the popular LOL Surprise toy line.
Past experience
Storch took over Toys R Us shortly after Bain Capital, KKR & Co. and Vornado Realty Trust took the chain private in a debt-laden 2005 deal. During his tenure, earnings before interest, taxes, depreciation and amortization hit $1 billion. After he left in early 2013, the retailer failed to approach that level again.
Storch has recruited other former executives to the effort. He also has engaged shopping-center landlords about leasing space, the people said.
His plan centers on having several hundred stores that house toy and baby brands under one roof, one of the people said. The company began combining the two units when Storch was CEO as a way to create a one-stop shopping experience for parents of multiple children. At the end of last year, the company had about 200 such hybrid locations in the United States.
Party City is making a play
Meanwhile, Party City Holdco Inc. is going after the gaping hole left by Toys R Us' demise in the United States.
Party City plans to operate 50 pop-up toy stores from September through the holiday shopping season, possibly in former locations of the defunct chain, executives said in an interview. The assortment will include top brands from Hasbro Inc. and Mattel Inc. and plenty of Santa suits and stockings for Christmas.
Party City is also adding more toys to its website as part of a push into the category. If the pop-up pilot goes well, the company probably will expand the format next year.
"There have been years and years of a standalone toy store that is now gone," said Ryan Vero, Party City's president of retail. "Customers are going to be looking for something to fill that void, and we intend to do that."
One of the big questions since Toys R Us began liquidating its U.S. business this year was which retailers would go after its customers. So far, there have been few signs that other major outlets for toys, such as Walmart Inc. or Target Corp., were expanding offerings.
That's likely to change, but for now, Party City is making the plunge. The company considered the strategy for several years and then accelerated plans with the struggles of the last national toy chain, whose jingle "I don't want to grow up, I'm a Toys R Us kid" became part of the American lexicon in the 1980s. The longtime industry leader not only faced increasing competition from Walmart and Amazon.com Inc., but also was buried under $5 billion in debt from a 2005 leveraged buyout.
Party City — which has more than 900 stores, including franchises, in the United States and Canada — has also been running temporary Halloween City locations for the last decade. Last year, about 250 pop-ups generated $54 million of Party City's $2.37 billion in total sales.
The Halloween pop-ups make it easier for Party City to test what it's calling Toy City, because the company already hires seasonal workers and leases locations. The Halloween concept often gets placed in former big-box stores, and at about 10,000 square feet, it doesn't use all the space. So under the same roof, there was room to add 5,000 square feet of toys and Christmas gear.
Executives also predict they'll have an easier time hiring temporary workers because they can now offer work from mid-August to early January instead of ending just after Halloween. It will also give the company an advantage in leasing better locations because landlords are looking for a toy presence to replace Toys R Us, according to Chief Financial Officer Dan Sullivan.
"For the landlord, it's a toy store in the center for the fourth quarter," Sullivan said. "There's not much more attractive than that."
Shares of Party City have climbed 13.6% this year, outpacing the 1.6% gain in the Standard & Poor's 500 index.
---
UPDATES:
3:20 p.m.: This article was updated with Party City's stock movement.
11:45 a.m.: This article was updated with Party City's plan to open pop-up stores.
This article was originally published at 11:20 a.m.